Program Overview - What to Expect
Academics

CLS is first and foremost a rigorous academic program. In the span of one summer, institutes typically cover the amount of material that would be covered in an academic year at a U.S. college or university. You will have approximately twenty hours of language class per week, with two to three hours of homework each night.
Language Policy
The more often you speak a foreign language, the faster your language skills improve. For this reason, you will be required to sign the CLS Language Policy during your on-site orientation stating that you agree to use the CLS language at all times in certain settings. These locations may vary by site but will likely include:
In CLS classes
When speaking with local instructors, staff, and officials
On the grounds of the CLS institute, in all facilities (including classrooms, hallways, and all common areas)
On group excursions and trips
With your language partner and with your host family or roommate
While you are required to speak the CLS language only in these certain circumstances, you should make an effort to use the language at all times. As a recipient of a Critical Language Scholarship, you are expected to adhere to the spirit of the language policy, even when you are not at home, on campus, or involved in formal program activities. We understand that sometimes you may be frustrated and tired of speaking the CLS language. Occasionally, you might even feel that you are not improving. We urge you to be patient and keep trying. You will make progress if you constantly use the language. If you are feeling overwhelmed by the language policy, we encourage you to reach out to your Resident Director for advice and support.
"The total immersion environment is unparalleled for language learning. These 2-3 weeks have already provided me with at least a whole semester's worth of improvement. Particularly, the language pledge is especially effective." 2022 Tainan participant

---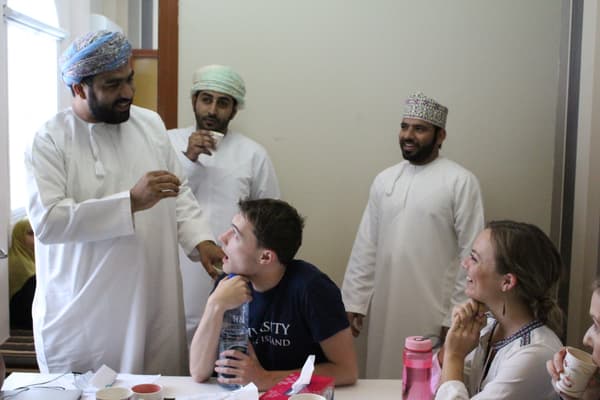 Students in class in Ibri, Oman.
Group-Based Program
As a CLS participant, you will be part of a group ranging from 5 to 30 students, depending on the language and location. Participants in your group will come from all regions of the United States and will have diverse backgrounds and identities. CLS is a good opportunity to expand your network of people across the United States who share an interest in your target language. It's also a great way to learn about the diversity of the United States as you get to know other Americans with perspectives and backgrounds different from your own.
During the CLS Program, all your classes and activities will be done in groups, and everyone will share the same general schedule. Everything on the program is designed for language learning in a group setting. Please be aware that you may have less flexibility with your schedule than you are used to, and activities and topics may not always align directly with your field of study or your personal interests.
The CLS Program is intended to be a cooperative experience, and it is important that all cohort members support one another's learning throughout the program. Positive and respectful group dynamics will help everyone in the cohort focus on advancing their language skills and make the most of their cultural immersion experience. Remember that you will likely cross paths with members of your cohort after the program in your personal, academic, or professional paths, and your CLS cohort can serve as a great network for your career.
"As a student from Wisconsin, actually some of the most culturally diverse moments are speaking with other Americans from other parts of the United States. For instance, a lot of what the Chinese teachers know about America comes from the coastal United States, so therefore if I encountered narratives that were common, I would do my best to provide alternative viewpoints that some rural or small-town Americans of different socioeconomic classes might possess and use Mandarin to accomplish this. I felt that our teachers were very helpful in teaching us how to have multi-faceted and civil discussions in Mandarin Chinese." 2019 Changchun participant
Excursions and Activities
Cultural activities and excursions are designed to provide insight into various aspects of the host community's culture and history and at the same time support language learning. Activities and events are conducted in the CLS language even for groups that include absolute beginners. Although this can certainly be challenging, CLS Program staff will help you prepare to make the most of these opportunities. You will likely have one overnight excursion and several day trips or afternoon excursions in addition to weekly cultural activities. You will receive more information about excursions at your on-site orientation. Please remember that participation in all excursions and activities is mandatory.

It is important to consider in advance what kinds of special needs you might have while travelling and during program-arranged activities and excursions. If you have any special needs (such as medication that needs to be kept cold, or other special arrangements) we encourage you to speak with your medical professional in advance to consider what accommodations may be necessary and to talk through those accommodations with your Program Officer in advance of the program. This will allow you to gain more insight into what is available in your host community and any additional factors you may need to take into account. Once on-site, we also encourage you to inform your Resident Director and institute staff well in advance of an excursion that might require accommodations.


Language Partners
Language partners are local students or other community members who are carefully selected to work closely with CLS participants on a weekly basis to practice speaking in a less formal setting. Language partners support participants' studies and enhance their conversational skills. Language partners also play an important role in acquainting students with their host community's culture by providing insights into the host city itself, as well as family traditions and daily life. Language partners are required to speak with participants in the target language and will be prohibited from speaking in English per the language policy.

"My language partner is very knowledgeable and open-minded. We speak about aspects of the Tanzanian culture, history, society and places to visit. I also like the fact that he is humble enough to research when he does not have direct answers to my questions. I always learn new words and/or new sentences during our meetings." 2022 Arusha participant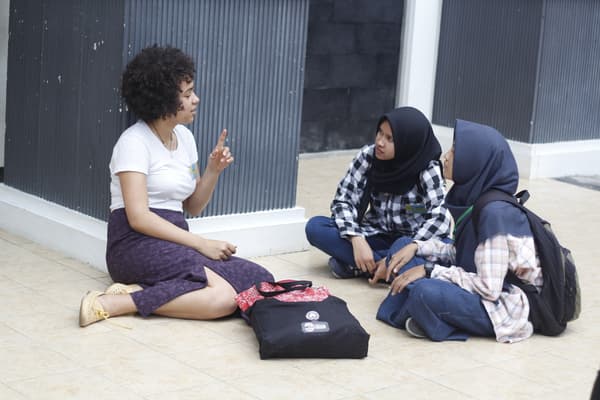 Students sharing conversation with language partners in Malang, Indonesia.
Housing

All CLS participants are required to live in program provided housing throughout the summer program. In most years, the majority of program participants live either with a host family or in an apartment or dorm with roommates from the CLS Program or host institute. Due to the global pandemic, housing for the 2023 programs may differ, with participants at some sites living in a hotel or dormitory in single or double-occupancy rooms with fellow participants, if host families are not feasible. In a few cases, an initial quarantine period will be required in government appointed facilities. Living conditions in each CLS host community differ, but students should generally expect to have less privacy than they may be used to in the U.S. and to need to adapt to the local environment, including different levels of accessibility to air conditioning, hot water, and Wi-Fi. Most participants will need to take public transportation each day from their housing to the host institution. Experiencing daily life in the host community is sometimes challenging, but it is a great opportunity to learn more about society and cultural norms.
Meals

Some meals during the program will be provided by the CLS Program and will typically reflect the ingredients common to and culinary practices of each host community. Each site will be different, and funds will be included in the CLS stipend to offset the cost of meals that are not provided by the host institution or as part of your housing. If you have any dietary concerns, please see the "Allergies and Specific Diets" section.

Independent Travel
You may wish to travel independently during your free time. Typically, CLS participants are welcome to pursue limited independent travel on designated days that does not interfere with their full participation in the CLS Program or violate program policies. Depending on local conditions related to the global pandemic, independent travel opportunities may be limited or independent travel may not be permitted at all. If independent travel is permitted, participants are required to submit an independent travel form to the Resident Director at least 48 hours before traveling outside the host city. The independent travel form asks participants to indicate when and where they plan to travel, how they plan to get there, any additional contact information during the travel, and when they intend to return. Should a student present an independent travel plan that is unrealistic or inadvisable, they will be asked to revise their plan and submit an updated form.
Travel to any area deemed unsafe or off-limits by the U.S. or other authorities is not permitted. More information about this will be provided during pre-program orientation and on-site orientation. If travel restrictions exist in your host country or location, they will be included in the Site-Specific Policies you will be asked to sign when you arrive. The American Embassy or Consulate may also provide information about areas where travel advisories have been issued. Please note that CLS, in consultation with the U.S. Department of State, may add or change travel restrictions at any time before or during the summer program.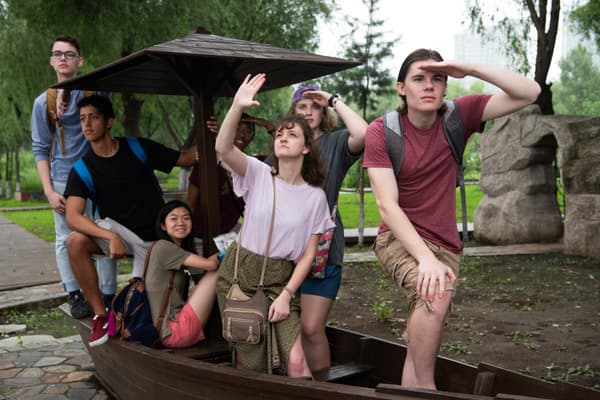 Aboard a land-bound boat in Tiger Park, Harbin.