Planning for Your Health and Safety
The health and safety of participants is the CLS Program's highest priority. The CLS Program and institutes abroad have put many measures in place to help ensure safety while students are on the program, but participants themselves play a key role in safeguarding their own health, safety, and wellness. In advance of the program students should consider all aspects of their own health, speak with their medical professionals, carefully review all program-provided materials, and research their host country or location ahead of time in order to become familiar with risks they will likely encounter during the program.
Physical Health
As noted in the section "Medical Review", all students will be required to work with their medical professionals during the acceptance process to complete and submit forms related to their health. This may include primary care providers as well as specialists and mental health professionals. In addition to reviewing your own health and planning for specific concerns that you might have, you should also consider the environment of your host community as well as the potential health risks posed by COVID-19. Spend time researching the weather, air and water quality, cuisine, and communicable diseases common in the region you will travel to and discuss these considerations with your physician. A good place to start to explore these topics are the U.S. Department of State's country pages (https://travel.state.gov/content/travel/en/traveladvisories/traveladvisories.html/) and the Center for Disease Control and Prevention page for each country (https://wwwnc.cdc.gov/travel/destinations/list/).
Vaccines
During the medical review process and before going abroad we strongly recommend that you review your immunization record with your health care professional. It is important that your immunizations for common diseases are up to date. Many countries around the world have had recent outbreaks of communicable diseases that are less common in the U.S., such as measles. If your immunizations are not up to date, you may be at risk of contracting a serious, potentially life-threatening, but preventable disease. For the 2023 summer program, it is strongly recommended that all participants receive COVID-19 vaccinations if they are available to you.
Prescription Medications
If you take prescription medicine, you must make arrangements to bring a complete supply for your entire stay abroad, including a little extra in case you lose some.
Prescription medicine should be kept in the original packaging labeled with your name and prescription information. Look up the generic name of the medicine if it has one and keep that information with you. Do not repackage prescription or over-the-counter medication to save space. Customs officials may question you about any medication that you are carrying, whether prescription or over-the-counter. Also note the following:
Ask your doctor for a letter that explains that you have a prescription for this medicine.
Doctors may be unable to write prescriptions for large supplies of certain medications. If you cannot obtain a sufficient supply of your prescription, contact American Councils immediately, well before your program begins.
It is your responsibility to bring all necessary medications on the CLS Program. American Councils cannot deliver medications to you during the CLS Program and certain medications may not be allowed into your program site by mail. If you leave without a sufficient supply of necessary medication and are unable to obtain it abroad, you may need to return to the United States to obtain the medication, resulting in the termination of your scholarship.
Allergies and Specific Diets

If there are foods you absolutely cannot eat or prefer not to eat, it is important to explain your specific needs in your medical and housing forms, which you will be required to complete using the AIS Forms portal once you have accepted your CLS award. This will help the in-country staff prepare for your arrival and match you with a host family, if applicable. It is also important to let your Resident Director and hosts know about any dietary restrictions when you first arrive. Even so, experience with vegetarianism and other dietary considerations vary around the world. If you are a vegetarian and are offered meat, you might consider explaining to your hosts that you do not eat meat for health reasons if you do not want to discuss your dietary needs in more detail.
Allergies
If you report a severe, life-threatening allergy to CLS staff, you will receive an allergy card that explains your allergy in the target language. You should carry the card with you throughout the program. Prior to travel you should learn the names of the foods or other allergens that cause a reaction in your CLS language and be prepared to share that information with staff at restaurants, cafeterias, etc.
If you are allergic to a specific food, such as nuts or dairy, you should explain that eating this food could cause serious illness or a medical emergency. Many people in your host community are likely unfamiliar with certain food allergies, so you will need to clearly state that it is a medical condition and not simply a preference. If you have any doubts about the ingredients of a dish, you should consider not eating it as it may inadvertently cause an allergic reaction.
If you have been prescribed an Epinephrine Auto-Injector or Epi Pen, it is important that you bring it with you on the CLS Program. We suggest bringing multiple Epi Pens, as they are not available in many CLS host countries and locations. Should you lose an Epi Pen, or use it, it may not be possible to obtain more Epi Pens in the host country or location. If you have an insufficient supply of Epi Pens speak with your health care professional and explain to them that you will spend the summer in a different country where Epi Pens may not be available.
Special Diets
You may find that sometimes people in your host community may be unclear about what exactly it means to be vegetarian, kosher, or to require a low-sodium diet. Although the restrictions may be obvious to you, they may not be to your host, so be prepared to explain any dietary restrictions and to offer examples of the kinds of foods you can eat.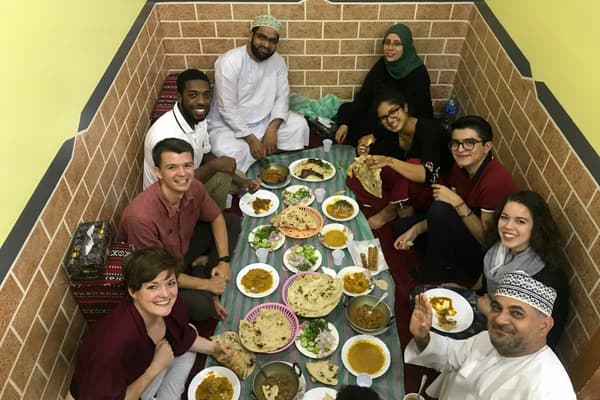 Students enjoy dinner with their teachers in Ibri, Oman.
HIV and Sexually Transmitted Infections
The decision to engage in sexual activity while abroad entails certain risks, including sexually transmitted infections (STIs). In some countries, the level of public awareness about STIs and their symptoms and transmission may be low, and the real figures, such as for HIV, may be much higher than what the local government reports.
If you choose to engage in sexual activity abroad, you should plan ahead to review options for contraceptives. You should bring any prescription contraceptives with you from the United States and consider bringing condoms with you.
Mental Health

Staying mentally and emotionally healthy while you are abroad is key to having a successful CLS experience. You should note that mental healthcare resources in your host community may differ significantly from mental healthcare resources in the United States. Mental health specialists and counselors may not be available, and providers who are available may not have adequate English language skills to meet your needs or may approach assessment and treatment for mental healthcare in ways that differ from your current care. If you have a pre-existing condition, you should talk to your healthcare provider and make a plan to continue your care during the summer. CLS staff will also provide you with information about resources you can use to access a limited number of counseling services by phone while abroad.
Emotional Well-being
Studying in an intensive program, constantly speaking a foreign language, and navigating life in a new environment will naturally result in feelings of stress, frustration, and being "out of sorts" at times. We encourage students to research topics related to their unique situations and think in advance about what they can do on program to mitigate stress and maintain a balanced outlook, but also to consider alternatives in the event that familiar strategies are unrealistic or unavailable in the new environment. We also encourage all students to maintain healthy habits by eating well, getting enough rest, and connecting with family and friends while they are abroad.
The Alumni Support Network can be a great resource for tips about reducing stress, eating healthy, getting exercise, and other activities that may help you stay healthy in your host site. Speaking to CLS alumni in advance of the program can help you come up with ideas for staying mentally and physically healthy while abroad. Your CLS Program Officer will provide more information in the site-specific pre-program virtual orientation webinars and the site-specific handbook about what is available in the host city and the types of activities that are realistic for students given the cultural norms. You can also reach out with any specific concerns or questions directly to the Program Officer. While you are on the program the CLS institute staff will seek to foster a supportive and encouraging environment for you throughout the program and are there to help. However, please remember that CLS staff are not trained medical or mental healthcare providers.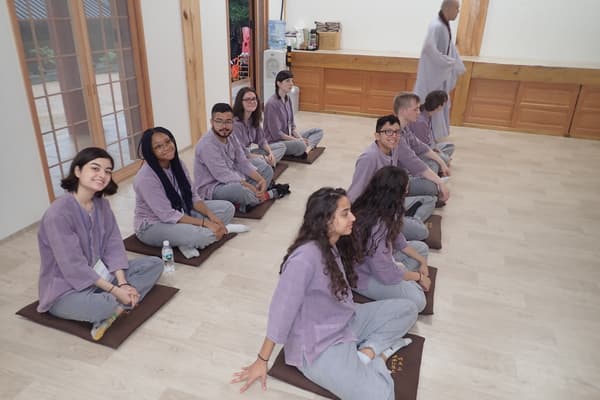 CLS Korean participants visit a temple in Busan, South Korea.
Accident and Sickness Coverage (ASPE)
All CLS participants are strongly encouraged to have primary health coverage. Your regular health coverage will be supplemented by limited emergency and accident medical coverage from the Accident and Sickness Program for Exchanges (ASPE) provided by the Bureau of Educational and Cultural Affairs of the U.S. Department of State. ASPE works primarily on a reimbursement basis. Participants should be prepared to pay up to approximately $500 for medical treatment out of pocket.
Leaving your CLS country during the program is prohibited, and if you do leave, all ASPE benefits cease. In addition, ASPE coverage is only provided during the period of the program. If you plan to do independent travel after completing the program, you are responsible for purchasing your own medical coverage. Please also note that ASPE is only valid in your host country and during the international portion of your travel; it does not cover participants during their time in the U.S., including during domestic travel before or after the international flight. CLS staff will provide you with more information about ASPE in the spring.
Your health coverage during the CLS Program does not include a dental plan. We recommend that you visit your dentist before leaving for the CLS Program.