Accepting your CLS Award
If you are selected as a finalist, you will have to decide whether to accept or decline your CLS award, and you will be required to complete either the Accept or Decline Form through the American Councils AIS Forms portal. If you choose to accept the award, your Accept Form will require you to confirm biographical information, as well as read through and agree to CLS's Terms and Conditions. Once you have accepted your award, you will be able to access additional required forms through your online portal.

Medical Review
CLS finalists are required to complete a medical review after accepting their award. The medical review process will require coordinating with one or more medical professionals, such as primary care providers, specialists, or mental health professionals, to complete mandatory forms. Completing the necessary forms offers the opportunity for students to think about any medical conditions that they may experience on the program and plan in advance with their medical professional for those conditions. Many students with medical and mental health conditions have successfully completed the CLS Program but planning in advance for these kinds of needs is an important step in the preparation process.
Once a student completes the required forms and submits them to the AIS Forms portal, they are reviewed by a CLS-contracted medical professional. Should the CLS-contracted medical professional have any follow-up questions, CLS Program staff will be in touch individually with the student to explain what is needed.
It is important to keep in mind that it often takes time to schedule appointments, and you may need to make multiple visits to your provider(s) if any follow-up is required. We encourage all students to make appointments with their medical professionals as soon as possible after receiving access to and reviewing the required medical forms.
Disability Accommodations
Many students with a variety of disabilities have successfully completed the CLS Program. Finalists seeking accommodations are encouraged to communicate with CLS Program staff about accommodation needs as soon as possible. A section of the acceptance form asks finalists to outline any disability accommodation needs and to provide certification from their home institution's Office of Disability Services. Further conversations may be necessary with institute staff overseas, program staff in Washington, D.C. and the participant to clarify specific needs and solutions, as local conditions and availability of services in each CLS host community may differ from what is commonly available in the U.S.
Official Transcript
CLS finalists are required to submit an official transcript from their college or university. Both hard copy and official e-transcripts are accepted. CLS does not accept official transcripts directly from finalists. Transcripts must be sent to CLS from a finalist's college or university or via a third party e-transcript delivery service.
Housing Form
As a CLS finalist, you will be required to complete a Housing Form with information about your living preferences and dietary needs. Your answers are used by program staff in the U.S. and at your program site abroad to place you with a host family and/or roommate, as applicable. Please note that we will do our best to meet realistic housing requirements, but we cannot guarantee that we will be able to meet all your housing preferences.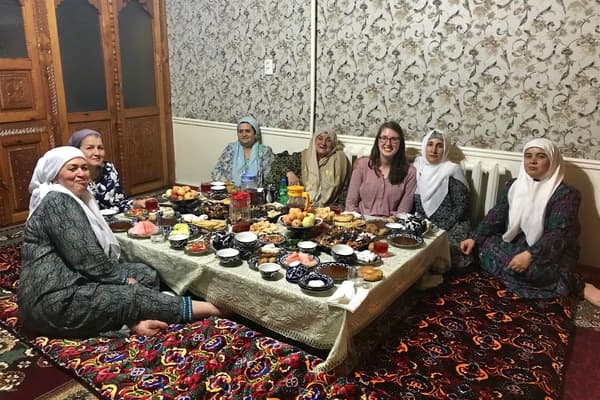 A 2018 Persian participant celebrated Eid with her host family by hosting groups of neighbors, friends, and family for meals throughout the day.
Academic Credit Request and Waiver Form
Participants who successfully complete the CLS Program can receive academic credit from Bryn Mawr College. After accepting your CLS award, you will be required to complete an Academic Credit Request and Waiver Form, on which you can indicate whether you would like to receive academic credit for the summer program. Once you have submitted your form, your decision to request or waive academic credit will be final. You will not be able to rescind your academic credit request, nor will you be able to receive credit after you have waived credit.
Alumni will receive two units of credit, which in most cases is the equivalent of eight academic credit hours. If you requested academic credit, you should check with your college or university registrar prior to the program to determine if and how these credits may transfer back to your university. The CLS Program only awards undergraduate credit, regardless of a participant's degree status.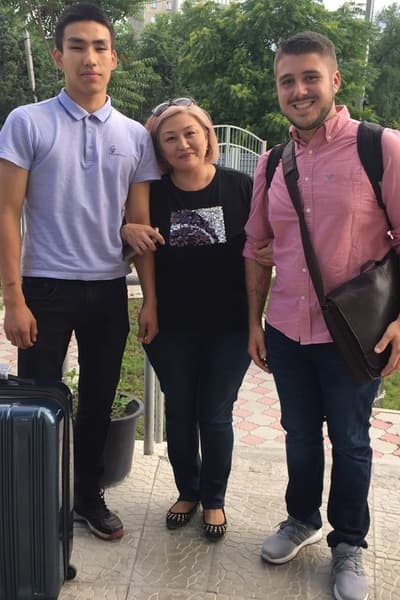 On his first day in Bishkek, a CLS Russian participant meets his new family for the summer.
Travel Information Form
All finalists will be required to complete a Travel Information Form where they list their departure and return airports for travel on the CLS Program. The departure airport is where you will initially be leaving from at the outset of the program, and the return airport is where you'll fly back to after the program ends. Although your departure and return airports may be different, they must both be U.S.-based. CLS will arrange and fund your air travel itinerary for the program. Funds are included in the CLS stipend to offset the cost of checked baggage fees and travel to and from the airport.
The CLS Program will not cover the cost of flights to or from any non-U.S. destinations other than your program site, even if you are participating in other study-abroad programs or internships abroad before or after the CLS Program. If you wish to travel to your program site from a location outside of the U.S., you will need to make separate arrangements for flights, cover the cost, and provide your itinerary to CLS Program staff to ensure you will arrive in time to participate in the mandatory in-country orientation. If you wish to travel back to the region or another country after the CLS program concludes, you will likewise need to make separate arrangements for flights and visas. CLS will not cover any of these costs or assist in your flight or visa arrangements. You'll also need to provide a copy of your itinerary to CLS Program staff to ensure your plans for departure do not violate the terms of the visa you are participating in the CLS Program on, if one is required.