Planning for Your Time Abroad
Do Your Research
The CLS Program provides participants with several resources, including handbooks, webinars, a pre-program orientation, and an on-site orientation, which are designed to assist participants as they prepare for the program and living abroad. However, traveling and studying abroad will bring unique challenges to different groups of students, so we encourage all participants to take an active role in their preparation and do additional research on their host country or location. Make sure to consult the U.S. Department of State's travel page (https://travel.state.gov/content/travel/en/traveladvisories/traveladvisories.html/) for your host country and region, as well as the Center for Disease Control and Prevention's page (https://wwwnc.cdc.gov/travel/destinations/list/) for your host country and region. Another great resource for information on life in your host city are CLS alumni, with whom you can connect through the Alumni Support Network. Below are some additional resources to consider as you prepare for your intensive summer abroad:
First-Time International Travelers
There will often be several well-traveled CLS participants in a group, but it's also likely there will be at least a few first-time international travelers. If you have little or no experience with international travel, it's normal to feel out of your comfort zone and/or have questions. We encourage you to reach out to CLS alumni prior to the start of the program to ask questions and get a sense of what to expect, as CLS Program staff do not accompany participants on flights.
Gifts
You may want to bring small gifts for those you'll be interacting with, such as your host family/roommate, language partner, host institute staff, and/or teachers. You might consider purchasing some items from the list below, which was assembled with advice from previous participants. Remember that gift giving norms vary from culture to culture, but it is more the thought that counts, so something meaningful to you is more important than the cost.
Postcards or calendars with photos of your home town, campus, popular cities, or art
Picture books, art books, or cookbooks
Gifts for children such as books, pencils (push pencils), notebooks, crayons, matchbox cars
T-shirts, caps, or sweatshirts, especially those with pictures or insignia
Food from your home region, such as Vermont maple syrup, Louisiana Cajun seasoning, Maryland Old Bay seasoning, ingredients for a key lime pie or chocolate chip cookies, etc. (Remember to be sensitive to cultural culinary norms; for example, Muslims do not eat pork products)
Keychains, magnets or trinkets featuring regional monuments and venues are a good last-minute gift idea that you may have time to pick up at the airport.
It will also be possible to purchase small gifts, such as candy or flowers, in the host community.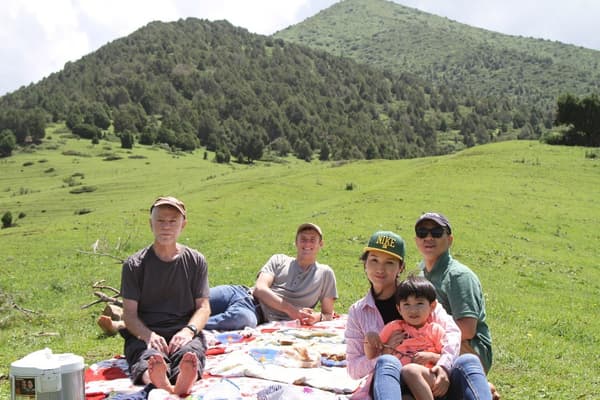 A CLS Russian participant in Bishkek takes some time to picnic with his Kyrgyz family in the nearby mountains.
Electronics
Voltage in your host city may differ from that in the United States, and many countries use differently shaped electrical sockets, for which you'll need plug adapters. In general, today's high-tech devices, such as laptop computers and smartphones, are designed to work at different voltages and can safely be used with a plug adapter, but always check the specifications for your devices. Personal appliances, such as hairdryers, electric shavers, or electronic toothbrushes, are usually designed to work at only one voltage and will require a voltage converter in addition to the plug adapter in order to avoid damaging or destroying the appliance. Converters or transformers that can convert voltage are available for purchase online or at some retail stores. You may also consider purchasing these appliances in the host city after you've arrived.
You are advised to do some research prior to departure to determine which electronic devices and appliances can be used safely in your host country/location. It is highly recommended that you purchase adapters, converters, or transformers in the U.S. before your flight so you'll have them available to you right away.

Communication
We understand that participants may wish to communicate with friends and family while on the CLS Program. Please keep in mind that options for communication in your host country/location will likely differ from what you are used to in the United States; therefore, it is important that you plan ahead and do some research about what communication methods will be best for you during the summer program.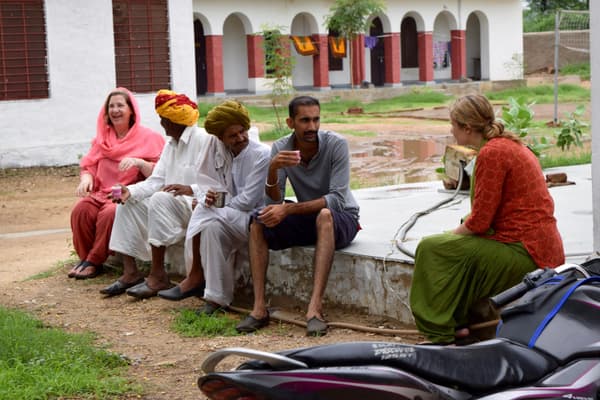 CLS Hindi participants engage in conversation with a group of men at Barefoot College in Tilonia during an excursion.
Cell Phones
For most in-person institutes in 2023, the CLS Program will provide guidance for ensuring your cell phone will work in the host city, including information about unlocking your phone and the use of local SIM cards. Your stipend will include some funds to cover basic telephone connectivity in country to contact local staff in case of emergency, but it is not designed to fund data usage or international calls. Please note that if your cell phone breaks or is damaged or lost during the program, the CLS Program will not be able to replace it.
If you do not have a cell phone that will work in your host community, you will be provided with a cell phone for use in your host country. These cell phones are typically low-end and pre-paid. In other words, there is no phone plan, but rather you must purchase credit to make calls and send text messages. CLS will provide you with initial phone credit, but if you use up this credit making or receiving personal or international calls, you will be responsible for purchasing additional credit. You are responsible for keeping your phone with you at all times during the program and ensuring that the phone has sufficient pre-paid minutes for emergency use.
Kakao, LINE, FaceTime, WhatsApp or Other Voice-Over IP Services
Internet platforms may be the communication tool of choice for many participants, which include social media, chat apps, VOIP, video, and other platforms commonly accessed with smartphones or computers. However, not all platforms can be accessed in all host countries. Before you go, do some research to see what options will be available in your host country/location. For more information on using social media while on the program, please see the "Blogging/Media" section.
Wi-Fi Access
Your accommodations over the summer may or may not include Wi-Fi. If you do have access to Wi-Fi, please be aware that Wi-Fi options may be limited, may lose connectivity frequently, or may have slower download speeds than you are used to in the United States. Please note that it is not a requirement for CLS living accommodations to provide Wi-Fi access.
Depending on your program site, there may be locations around your host city where you will be able to access free Wi-Fi, such as fast-food restaurants or coffee shops. There may also be Internet cafes where you can access computers and the Internet for a nominal fee. Your Resident Director, institute staff, host family/roommate, and/or language partner can provide you with suggestions on Wi-Fi access in your host city.
Financial Considerations Abroad
Most of your expenses related to participating in CLS, such as tuition, required cultural excursions, and housing expenses, have already been paid for by the CLS Program. However, it is still prudent to consider your personal financial situation, in addition to your spending habits, before you go abroad. If you are curious about the cost of common items in your host country/location (such as tickets on public transportation, a cup of coffee, or the cost of going to a movie), CLS Program alumni can provide insight based on their recent experiences abroad. Please note that prices for goods and services in many countries have increased recently due to inflation.
CLS Stipend
To help offset personal expenses, such as local transportation, meals not provided by your host family or accommodations, school supplies, and incidentals (shampoo, soap, etc.), you will receive a one-time stipend in the form of a direct deposit to your bank account, which will arrive in May or June. Most participants will choose to access these funds via debit card while overseas, as many CLS host communities use cash as the basis of most daily transactions. We do recommend bringing some cash with you in case your card does not work upon arrival in the host city.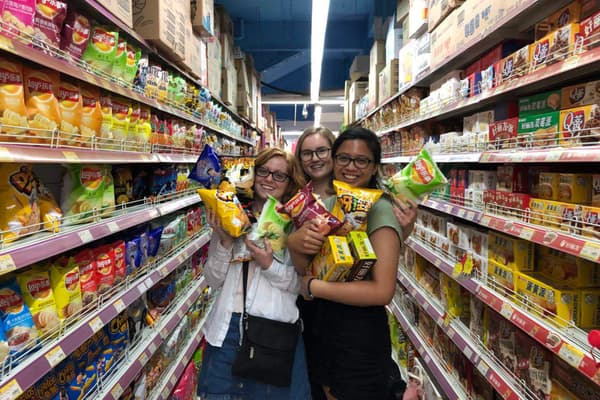 After long hours of Chinese classes, participants in Dalian, China reward themselves with a trip to the supermarket to buy snacks!
Independent Travel
Please note that no funds are provided to cover the cost of participant-initiated independent travel. If you plan to travel within your host country it will be important to consider both the program schedule, as most activities are mandatory and the schedule is intensive, and your own discretionary funds.
ATM/Debit Cards
ATMs may offer good currency exchange rates, but different U.S. banks have different fee policies for ATM withdrawals and purchases abroad, usually ranging from a flat fee to a percentage of the withdrawal. For debit cards with a flat fee for overseas withdrawals, withdrawing larger sums of local currency a few times over the summer makes sense; for those with a percentage-based fee, it may make more sense to bring cash with you to exchange. It is up to you to research your bank's policies before you leave.
Tips on Bringing Money
Bring the majority of your money in a cash-accessible form (i.e. ATM/Debit card).
Bring some cash in case your ATM card malfunctions. Many participants report that their card did not work at some point. If your card does not work, leave that ATM and try another; the problem is often with the machine rather than the card.
Be sure to contact your bank before leaving home to tell them you will be using your debit and credit card (if applicable) in your host country/location.
Bring new, clean, and crisp dollar bills. Banks and exchange offices rarely accept bills that are old, torn, or have any markings on them.
Bring a credit card if you have one. Even if you do not plan to use it, it is a good backup in the event of a significant, unexpected expense. Although most medical fees must be paid in cash at the time of service, if you experience a significant medical issue a credit card may be useful for paying for larger medical fees if you need to do so as a condition of receiving treatment. You will be able to submit receipts from medical care received on program for consideration for reimbursement from your medical coverage. However, it may take several weeks or even months before a reimbursement is issued. In addition, there is usually a co-pay, and not all expenses may be covered.
Credit cards often incur foreign transaction fees for purchases abroad. Research your credit card policy to learn more about fees.
Do not bring travelers' checks. It is difficult to find places to cash them and there can be a large fee.
Bring your passport with you when exchanging money at a currency exchange or bank.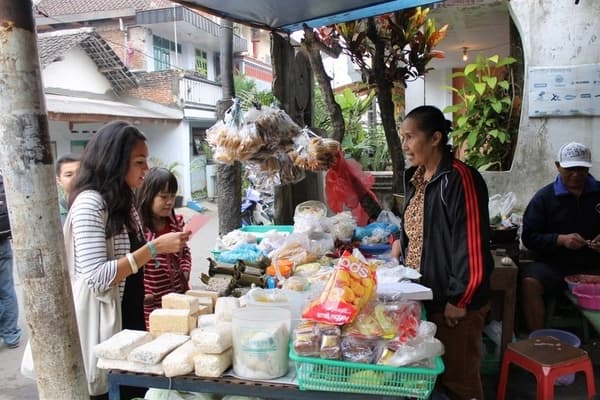 The cooking class takes a trip to the market in Malang, Indonesia.