A perspective on the 2023 CLS Japanese Program told by CLS Digital Ambassador, Kirk Preston.
March 9, 2023, I remember where I was when I got the email. I was out giving a tour of Rose-Hulman's campus to a prospective student, unaware of the good news that had just arrived. It wasn't until I returned from the tour that I saw "Congratulations" and "Japan" that I knew. I was sprinting out the door to spread the good news to those who had helped me get to this achievement. I imagine my cohort had similar reactions to the good news of their own.
Our cohort received our congratulatory emails in March of 2023, but behind the scenes, preparation for CLS' return to Japan had begun many months before. This return was special for both the CLS Program and Okayama University because of the program's move to virtual instruction at the start of the pandemic. Dr. Mohri, a member of the faculty for Global Human Resource Development at Okayama University, was preparing for our arrival even before applications opened: recruiting our language professors, revamping the Japanese language content in our courses, and selecting new extracurricular activities for our group. Preparations continued through the rest of the fall and winter, seeing our Japanese professors selected and paving the way for our arrival.
Nitta Sensei (one of my professors) and other professors in the program mentioned endless hours spent preparing instructional videos, PowerPoint slides, activities, and exercises. I appreciate all of those hours my professors took crafting the learning materials, even if I did not make it through every single slide in a given week. The slides and textbooks will be an aid for me in the years to come as I seek to maintain and improve the Japanese skills, I was able to cultivate over the summer.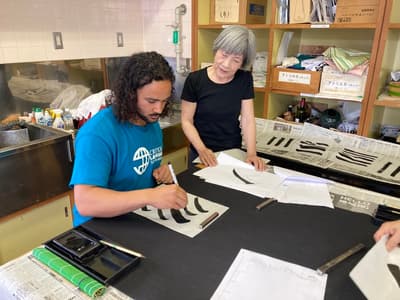 The 2023 Cohort Arrives
With everything in place, it was time for our arrival. I remember meeting everyone in San Francisco for the first time. It became immediately clear the ambitions that were being brought to the table. Some were there to make great improvements to their Japanese, some wanted to participate in exchange programs or Japan's famous JET program, and some wanted to have their careers take an international turn and saw Japan as that launch point. One thing was for certain, each of us had our reasons for being in Japan through CLS, and we were going to make sure that we made the most of our summer. After a long 12-hour flight, we finally touched down at Kansai International Airport, and the four-year hiatus was over!
Our first look at Japan as a cohort was during the bus ride from Kansai to Okayama. The sheer size of Kansai's urban sprawl is breathtaking. From the airport, we had to use the highway to go all the way around Osaka Bay, giving us plenty of views of Osaka and Kobe. We could see everything from large high rises to communities sprawling up hillsides to densely packed highways filled with both compact cars and industrial vehicles. As we moved further away from Kansai, the landscape grew greener. Tunnels took us through the mountains that lie in between Kansai and Okayama, and we caught glimpses of the towns that lined the countryside. After about three hours on the road, we arrived in Okayama, where the next few days were devoted to meetings, grocery shopping, and getting a feel for the city before classes started.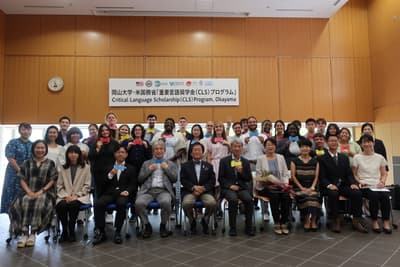 The language was challenging in the beginning. "There were no subtitles" when speaking, as my cohort likes to put it. Even throughout the program, we all sometimes found that the conversational speed was too fast to grasp the first utterance. But that was why we were there, to get to a point where we could comprehend Japanese in a variety of situations.
The classroom instruction laid the groundwork to expand our Japanese language skills. And despite those very real difficulties, the true test of our skills lay in the experiences that we had outside the classroom. Our language partners were crucial to creating those experiences and positively impacting our summer in Japan as a whole.
The first time I was able to see our cohort, along with all our language partners, was when we went rice planting. It was an incomparable experience, different from anything I'd done before. It was enriching to engage with a community and help plant the rice that they themselves would use. I'm pretty sure everyone who participated in physically planting rice had mud on their feet and hands for at least a few days. As a cohort, our activities with our language partners didn't stop there; every week, we had the opportunity to learn about Okayama and Japan beyond the classroom perspective. Having language partners is an integral part of the CLS Program; it adds a human touch, a truly enriching piece, to the intensive language program.
Chisom Apkom, a peer of mine, shared that as a cohort, "We really did a great job of venturing out into the local community and making those connections ourselves both in and out of Okayama. I made the most of my time by making friends there, which also became my most meaningful experience in Japan."
Both our Japanese peers and our cohort found the friendships we built to be the most cherished part of the program.
まいさん (Mai-San), a language partner for our cohort shared, "The time I spent with everyone was meaningful and fun… I was able to think deeply about the future in my own way by listening to various thoughts and goals while talking with everyone. I think I have made friends that I can trust for the rest of my life!" Her sentiments were shared by あさひさん (Asahi-San) and のとみさん (Notomi-San, a.k.a Tomi).
"I was able to learn about cultural differences and build friendships. I became close friends with my language partner." - あさひさん
"Since we were able to meet face-to-face, I think our friendships have deepened much more than when we were online. During the two-month exchange, we overcame cultural differences, cooperating and creating strong bonds. I will never forget the time I spent with CLS students. We were able to spend a lot of time together and become true friends" - のとみさん
My language partner, Notomi, was the G.O.A.T (Greatest of All Time). From helping me record the introduction video for the CLS Instagram to checking out the Indian and ramen restaurants to evening bike rides throughout the streets of Okayama - he played a pivotal role in me developing an authentic view of life in Okayama.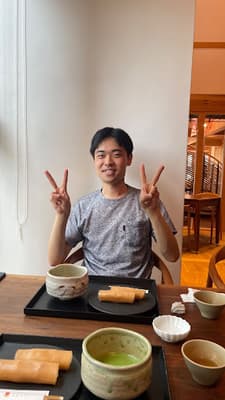 Our activities were always in the evening hours and I can clearly remember riding my bike down the main downtown streets. Golden hour on a bike as the sun sets is the best time to experience Okayama. The cool evening breeze is relaxing as you take in the hustle and bustle of evening commuters returning home from work. Shinkansens (bullet trains) zoom in and out of the JR Okayama station, street cars trolly down the middle of roadways, while young professionals fill the sidewalks with their colleagues on the way home (or to Izakayas, 居酒屋). I found that my favorite spots to visit in Okayama were the Aeon Mall area and "the Romantic Walk" around Tenmaya.
I'd regularly see members of my cohort at Aeon Mall, biking in groups with friends and language partners in Okayama or cafes I would pass on my way to my favorite hangout spots. Unless you traveled far out to places like Okinawa, Fukuoka, or Nagasaki, it wasn't uncommon to run into my peers in famous places like Dotonbori in Osaka. We were everywhere but our rooms, but we still got all our work done (notice how 'strictly on time' wasn't mentioned; this doesn't mean it's suggested to slack off at all; it means that sometimes there are experiences you just can't get from a piece of paper). A lot of learning happened outside the classroom.
Angel Bryant, a classmate of mine shared, "Whenever possible, I would try and converse in Japanese… by being around a lot of high-level and native speakers, I was able to learn a lot of Japanese by ear and work on my conversational skills that way. I also participated in as many cultural activities as possible, whether they were CLS-planned, student-planned, or something I found on my own." You can see more of her CLS Japanese and subsequent exchange experience in Osaka on her Instagram @theyearofjapan.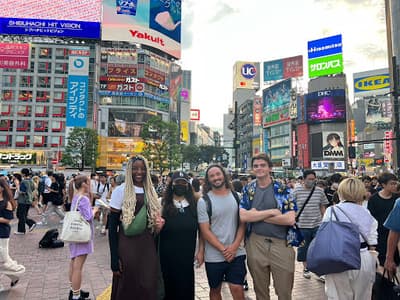 Words for the Next CLS Cohort
"The intensity of the CLS Program lives up to its reputation, and you may find yourself outside of your normal comfort zone at times. My advice is to come ready to work and study harder than you ever have and to embrace the challenge. If you come with an open mind and a willingness to step outside of your comfort zone, you will certainly leave with significant gains in your language skills, valuable experiences, and lifelong memories that you wouldn't find in most other programs. The CLS Program at OU truly is an incredible opportunity and I am so excited that you will be a part of it!" - 山口さん, Colin
"I know it will be hectic and difficult, but I think it will be a great experience because you will learn a lot of Japanese every day and make new friends." - にった先生, Nitta Sensei
"If you want to grow beyond your limits, join CLS." - 中原先生, Nakahara Sensei

"Please come to Okayama. At Okayama University, we hope that you will not only learn the language but also grow as a global human resource through the educational content of Okayama University and interaction with local people in Okayama. Also, we hope that the CLS Japanese Program will help you reach your goals and ideals for the future." - 毛利先生, Mohri Sensei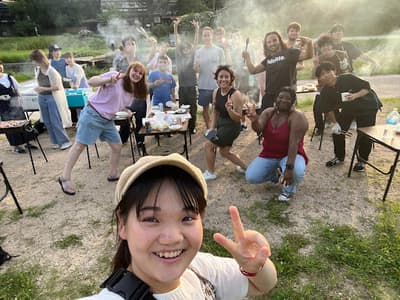 "We will be very happy to welcome all CLS scholars in Okayama again next year! Let's overcome the hot summer in Okayama and do a lot of homework together!" - 三浦先生, Miura Sensei
All of my professors and the staff supporting us were great; I owe a substantial amount of my improvements in my Japanese skills to them. But Nakahara 先生 holds a special place in my memories of CLS. She also bears a striking resemblance to a family member of mine. This family member was also an educator like Nakahara 先生. Every day I stepped into Nakahara's 先生 class it was like entering a room with family. It gave me a semblance of home that supported me throughout the summer. Studying abroad can have a variety of impacts, the typical being broadened horizons, but sometimes it can also take you right back home.
It's hard to articulate just how much we all cherished the time spent together this summer. The goodbyes were not easy. From the bottom of our hearts, we, as a cohort, are thankful. Thankful for the efforts and support from Colinさん、ガジオンさん, and Okayama University's Center for Global Partnerships & Education. We are thankful to Dr. Mohri and our professors for pouring into us and nurturing the growth of our Japanese skills. We are thankful to our language partners for the special summer memories that will stay with us forever. We are thankful for the friends we made in L-Cafe. We are thankful for the friendships we built in Japan as a whole; you all helped us feel at home.
-Kirk Preston カーク・プレストン