Today is Juneteenth. Juneteenth, also known as Emancipation Day, Freedom Day or Independence Day, is the oldest and most popular annual celebration of the emancipation of enslaved people. On June 19, 1865, Gordon Granger, a Union general, informed the people of Galveston, Texas that they were free and that the Civil War had ended. The news came over two years after Abraham Lincoln's Emancipation Proclamation.
While Juneteenth has been celebrated by African American communities since the late 1800s, it only recently became a federal holiday when President Biden signed it into law last year. For many Americans, Juneteenth is new to their consciousness, and many are still learning about its complicated history.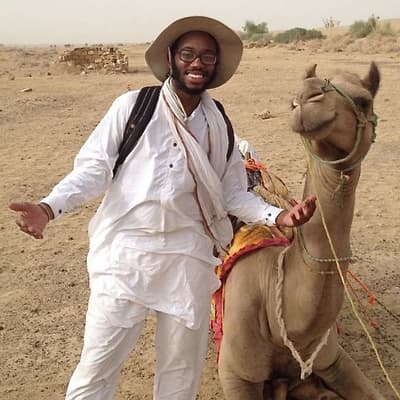 We caught up with 2014 CLS Hindi alumnus and African American History scholar, Benjamin Simington to ask him about his experience of Juneteenth. Benjamin is completing his master's degree at the University of Texas at Austin where his research centers on Race in South Asia and Urdu Literature.
In this interview with Communications Officer Rori DiFiore, Benjamin shares insights on Black American History and his experience of Juneteenth as a native Chicagoan and Texas transplant. Benjamin discusses how Juneteenth's designation as a federal holiday is an important step in remembering our nation's past and commemorating civil rights trailblazers.
Rori DiFiore: We know cultural exchange goes both ways. I wanted to start by asking if you remember any moments on your CLS Program where you were able to share with your host community aspects of African American history and culture?
Benjamin Simington: I remember talking with my language partner Divyanka about Martin Luther King on multiple occasions. Divyanka and his family were Jains. Jainism is one of the three major religions practiced in India and teaches the path of enlightenment through non-violence. I shared with Divyanka how Martin Luther King and other Civil Rights Movement leaders grounded their pursuit for equality in the principles of nonviolence. Divyanka and I also discussed how Gandhi and Indian independence leaders were influenced by Jainism. Our conversations would just flow naturally as we conversed in Hindi.
I also had opportunities throughout my CLS Program to share aspects of Black American culture with my host family. I talked to them about African American music and artists like Beyonce and Jay-Z. I also discussed African American food traditions like collard greens, macaroni and cheese, fried fish, shrimp and grits and other culinary delights. Throughout the program, I jumped at every opportunity I had to write on social justice topics. I won the journal award because I filled out more pages in my notebook than anyone else. While this was likely because of a language miscommunication, I thought I was supposed to fill out my journals front and back, I am happy it gave me the opportunity to delve more deeply into these topics.
RD: I know you grew up in Chicago and have a strong love of your hometown. Did you take part in Juneteenth celebrations in Chicago?
BS: Chicago is a vital hub for African American history, politics, and culture dating back to the great migration of the 1920s. Chicago was the adopted home of people like Richard Wright, the famous novelist who wrote about racial injustice in the late nineteenth to the mid-twentieth century and had a significant impact on African American thought. Carter G. Woodson, who devoted his life to teaching African American History and founded Black History Week which later became Black History Month, spent considerable time in Chicago. Many important aspects of African American history and culture are rooted in Chicago.
I'd say that in the last five to ten years, the city has increased efforts to recognize the accomplishments of African American leaders and memorialize Black history. On the south side, the National Park Service established the Pullman National Monument. The Pullman District was the first planned industrial community in the U.S., centered around the Pullman Company, a large manufacturer of railroad cars. Founder George Pullman recruited formerly enslaved Black men to work as Pullman Porters, building and sleeping on railway cars. Phillip Randolph, a former Pullman Porter, formed the Brotherhood of Sleeping Car Porters (BSCP) union, the first African American labor union. The establishment of the BSCP was a huge step in spearheading the civil rights movement. Randolph later organized the first march on Washington in the 1940s. While there is a wealth of Black American history in Chicago, it wasn't until I moved to Texas that I experienced my first Juneteenth celebration.
RD: What do Juneteenth celebrations in Texas look like?
BS: Different church and African American civic organizations host events in the community. You'll hear speeches from community leaders, a gospel choir may sing, or people may gather to recite the African American National Anthem. There's also often food and games, and people of all ages come out. In Houston, public celebrations are even larger because Galveston is nearby, the spot where formerly enslaved people learned that they were freed. It is very prominent here in Texas.
RD: Why do you think it's important that Juneteenth is recognized as a national holiday?
BS: It increases people's understanding of the history behind the holiday and the power differentials underlying the over two-year gap between the Emancipation Proclamation and the people of Galveston, Texas learning of their freedom. It's important to remember that there was no incentive for Confederate soldiers to inform formerly enslaved people of their freedom when it was initially issued because these were people that were fighting for them. It is a big lesson in terms of thinking about power and power differentials, information does not trickle down. I recently listened to historian Gerald Horne at the University of Houston who was speaking on how the slavery business in the United States was one of the most lucrative businesses in the history of the world. You invest $1, and you get $1,800. You don't see too many "investments," with that kind of return. When we reflect on Juneteenth, it's important to remember the system of inequality and the power differentials that kept so many oppressed for centuries after the Civil War.
RD: What kind of traditions are common in family or household celebrations of Juneteenth?
BS: Red foods are popular to consume during Juneteenth. I have a joke with some family members that Black people really love red velvet cake. The association of red foods with the holiday dates back to early post-Civil War celebrations of Juneteenth. People would consume traditional Southern foods like black-eyed peas and red foods associated with the Black National Flag. Black symbolizes the people, green symbolizes the land, and red symbolizes the blood or sacrifices of the people. I believe the symbolism of consuming red foods on Juneteenth originates from this.
RD: How do you experience Juneteenth? Does it feel like a celebration, a somber remembrance, or a combination of both sentiments?
BS: It's a good question. I was listening to an author talk about African American comedy and humor and he cited a book by Danielle Morgan titled Laughing to Keep from Dying. I think that title is a broader metaphor for African American celebrations where there is both Black joy, cherishing of family, and gratitude but also, an undercurrent of soberness. On Juneteenth we celebrate freedom, but we also remember reversals and setbacks. In the aftermath of Reconstruction, in states like Mississippi, landmark progressive legislation was passed, helpful not just for African Americans but for the entire state. However, there were also efforts to dismantle newly formed governments, wresting positions from African American senators and politicians who were fulfilling their civic duties. Alongside progress, there were considerable setbacks. Juneteenth provides a moment of pause to appreciate the progress that has been made while acknowledging how much further we still need to go.
Want to hear more from Benjamin? Benjamin shares more insights on African American history and his CLS experience in Finding Connection between South Asian History and Culture and African American History and Culture.
If you are interested in learning more about Juneteenth and the other topics discussed in this interview, we've listed some resources below:
President Biden's Proclamation on Juneteenth Day of Observance
The National Park Service on Chicago's Pullman District
National Museum of African American History and Culture on the Celebration of Juneteenth