Meet 2022 Japanese alumna and 2023 Alumni Ambassador, Janelle Mateo! Janelle's connection to Japanese language and culture stems from her childhood growing up in Hawai'i. Being raised in a multi-cultural community and surrounded by the spirit of Aloha shaped Janelle's interests in deepening both her understanding of her Filipino identity and the melting pot of cultures she observed on the islands.
"[Growing up] I heard my parents speak Ilocano/Tagalog at the dinner table, looked forward to eating kalua pig with lomi salmon and haupia [Hawaiian coconut pudding] at the school cafeteria, spoke pidgin with my neighbors, and enjoyed talking about Japanese pop culture with friends," shared Janelle.
In celebration of AAPI Month, Janelle shares what AAPI month means to her and the importance of recognizing the myriad of identities that fall under the AAPI umbrella. Janelle also shares Filipino cultural traditions, how she reconnected with her identity, and how her CLS experience expanded her understanding of Japanese culture.
Janelle participated in the CLS Japanese Program hosted virtually by Okayama University in Okayama, Japan. She works as a Development Coordinator at the University of Hawai'i Foundation where she supports local education in Hawai'i. Janelle aspires to use her Japanese language skills to create mutual understanding between Japan and Hawai'i and Japan and the U.S.
What does celebrating AAPI month mean to you?
Recognizing AAPI month means reflection, solidarity, and the reminder that there is a lot of work yet to be done. Asians and Pacific Islanders are often grouped together in one umbrella, despite the differences in our histories and lived experiences. I often feel like the "PI" portion is left out in conversations as they are less often given a space to express their identities. It is important that we properly hold space for one another, not just in May, but for the 11 other months of the calendar year.
As a Filipino it means that I celebrate my own existence while standing beside the other identities that are grouped in this short yet deeply complex abbreviation. AAPI month means standing beside one another as an ally, but also being conscious to not overshadow the many voices and different issues within the AAPI community. It is crucial that when we celebrate this month, we acknowledge every culture that falls under this umbrella and the intersectionality of our identities. As a Southeast Asian, my experiences and physical features are different from that of someone with an East, South Asian, or Pacific Islander ancestry. We are so wonderfully different from one another. I hope that as we continue to move forward under this acronym of AAPI that we create safe spaces to freely celebrate where we come from.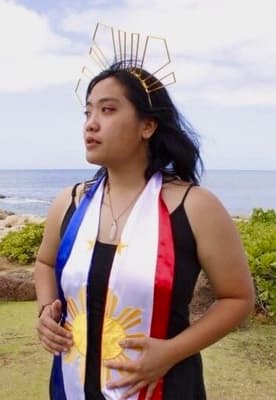 Tell us more about your experience being a Filipino in Hawai'i.
As an Asian settler on native land, being Filipino in Hawai'i is a complex experience. I call it a "Paradox of Pride"— we are one of the largest ethnic groups in Hawai'i yet many of us felt disconnected from our culture. Through dialogues with many of my Filipino friends and community members, I've learned that we share a common story of breaking past stereotypes and healing. I had always questioned whether I was "Filipino enough" since I wasn't passed down the mother tongue and wasn't deeply rooted in my culture. However, in high school, a mentor stressed the importance of knowing your heritage and encouraged me to look into the decolonization of self. This concept did not click with me until college when I was given the opportunity to conduct research on Filipino identity and culture. Through my research on cultural revitalization, I learned to accept myself and where I came from.
I appreciate the ways Hawai'i has helped me embrace who I am. From university-level courses dedicated to Filipino culture and language to connecting with role models in my community, I was able to see the impact on Hawai'i made by Filipinos before me. Although this is not my land and my existence on these islands was due to historical events— I've created a home here. I feel grateful that I was born and raised in a special place.
While at times I still faced stereotypes, I also had many wonderful experiences. I think of the times I ate melting Halo Halo outside of a market as I waited for my parents to finish picking vegetables from local sellers. I smile back on memories of large family gatherings where we would dance to the electric slide and belt "Bakit pa", despite half of us not knowing any Tagalog. My chest can't help but fill with warmth when I remember the older woman at the mall calling me "anako" (an endearment for my child) as she rang me up at the counter.
To fellow Filipinos reading this, whether you are fluent in a Philippine language, only know simple words, or perhaps you don't speak a bit of our mother tongue, your identity is valid. Whether you have visited the motherland and danced along riverbeds or you dream of having the warm sun finally hit your skin through the window of your family's ancestral home, you are valid. There is no true standard on what it is to be Filipino. Identity is a lifelong journey, and no matter where you are in your path, you are allowed to celebrate AAPI month with pride.
How did CLS expand your understanding of Japanese culture?
CLS shed light on a different part of Japan that few get to see. It is a well-known that Japan is a very advanced country with a strong attention to detail. However, I was able to develop a more nuanced understanding of Japan through my CLS Program.
During our first cultural activity we learned about a small town called Yakage, where local high schoolers spoke about the declining birthrate and the movement of youth from the countryside to the city. This was a very big issue because Japan is facing an increasing population gap between the number of young people and the growing elderly population.
Also, many youths, despite wanting to stay in their hometown, feel like they have no choice but to leave in order to pursue their dreams. Through other cultural activities, I witnessed how Japan tries to balance keeping up with the demand of globalization while also keeping their history and culture alive. There are cultural clubs in Japan focused on tea ceremony or kabuki dance, which are geared toward young people. The Japanese people I met expressed concern for keeping traditions alive in the midst of Japan's modernization.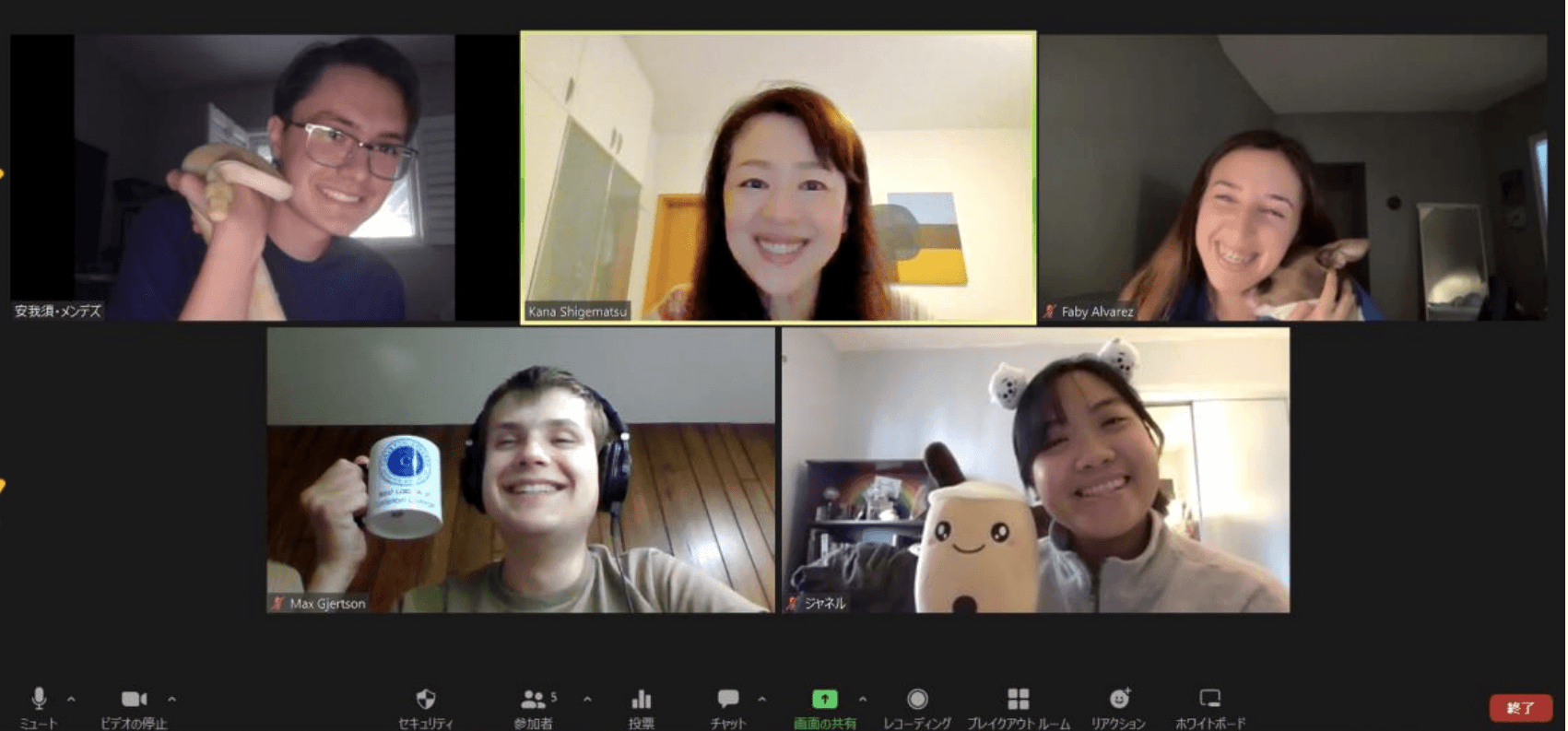 What is an aspect of Filipino culture/custom or tradition you'd like more people to know about?
Filipino culture has a strong emphasis on caring for community. The generosity of Filipinos can be seen in many ways. It's customary to never let someone leave a party without hefty plates of food to take home. Families living outside of the Philippines often send "balikbayan," boxes filled with clothes, toiletries, toys, back home every year. Though we joke about Filipinos being related to everyone because of our large family trees, I find that this aspect of Filipino culture also teaches us how to care deeply for those around us. By cooking more than enough food for our siblings, sharing a mic at karaoke with our aunties and uncles, and exchanging fruit and vegetables with neighbors "just because"— caring for our community is a cultural norm.
Our ancestors lived this same way, amongst tight-knit towns and villages. My parents would often tell stories of how they knew everyone in town by name and, despite not being related by blood, everyone lived like a family.
Read more about Janelle and how her upbringing in Hawai'i shaped her interest in Japanese language and culture in her Alumni Ambassador Profile. You can also join us in celebrating the accomplishments of more AAPI identifying CLS alumni and check out American Councils Celebrates AAPI Heritage Month.