Janelle Mateo
Janelle Mateo participated in the 2022 CLS Japanese Program hosted by Okayama University in Okayama, Japan. Janelle is an International Studies major at Hawai'i Pacific University. Janelle works as a Development Coordinator at University of Hawai'i Foundation and hopes to continue to work on initiatives that support local language and cultural education in Hawai'i. In the future, Janelle aspires to use her Japanese language skills to bridge the gap between Japan and Hawai'i and Japan and the U.S.
Getting to Know Janelle
I was born and raised in Hawai'i, a multicultural community that is built on acceptance, tolerance, and the warm spirit of Aloha. My family are immigrants from the Philippines and built a life here in the islands that incorporated many aspects of different cultures. I heard my parents speak Ilocano/Tagalog at the dinner table, looked forward to eating kalua pig with lomi salmon and haupia at the school cafeteria, spoke pidgin with my neighbors, and enjoyed talking about Japanese pop culture with friends. From a young age, I was taught to be curious about other cultures and to celebrate our different backgrounds. With this, as an avid writer, a lot of my work pertains to culture and my experience being Filipino in Hawai'i. I also love to listen to all sorts of music from J-POP groups to Thai indie bands. Diving into another culture and learning about it through creative mediums fills my heart— there is always something new to learn from others if you keep an open mind.
Why Japanese?
"Hanabada days" is a pidgin word for "childhood" with origins from the Japanese language. Knowing more about this language allowed me to understand more about the colorful local culture that I grew up with. Japanese culture had a strong influence on everything I loved as a child—from the local bon festivals I looked forward to each summer to handmade spam musubis I would eat with friends afterschool. In pursuit of my interests in Japanese culture, I began my language studies in high school and learned the beauty of language learning. Our Japanese program had countless opportunities to interact with Japanese students and we even had a partner school in Hiroshima! As a result, I was able to create lasting friendships with people who I wouldn't have known if I hadn't learned Japanese. From there, my desire to hold deeper conversations with friends motivated me to continue my studies— my goal was to break past language barriers to meet them halfway.
Fueling Motivation for Language Learning
One of our cultural activities was to interview students from Okayama University's Environmental Science and Engineering program about a topic related to environmental issues in Japan. One of my questions was "What is the relationship between humans and the environment?" When my teacher reviewed my interview questions, she was intrigued and asked me why I chose to ask this to the students. I tried my best to explain the concept of "Aloha ʻāina", which is the Native Hawaiian concept of land stewardship and how you take care of the land because it takes care of you.
Perhaps it was a mix of my inability to explain it well in Japanese, but I was perplexed that my teacher was a little confused by my thought process. In the end, she allowed me to keep my question but had given me a heads up that it may be a difficult question for the students to answer. As this was something that has been ingrained in me since childhood, it initially came as a shock that others were not familiar with this concept.
I felt frustrated that my language skills weren't at the level where I could explain complex topics like this and have a fruitful discussion. From this moment, I felt the desire to study Japanese even harder because I wanted to be able to talk about high level topics and share deep thoughts that I have about the world. Also, through this experience, I was able to see how cultural values differ and that we must find ways to showcase them in a way that is easy to understand. The environment we grew up in shapes our world view— for me, this is a concept I deeply value because of how closely I live next to the mountains and oceans. This valuable experience taught me how to navigate moments of cultural difference and how I share my cultural norms with others.
Future Goals
CLS had given me the confidence to take the JLPT N3 exam that was held in December 2022, and I'm proud to say that I passed! Now, I'm looking forward to my next goal of passing level N2. CLS has taught me a variety of fun and effective ways to study Japanese and I plan to use this knowledge to prepare for this next challenge. My professional goal is to continue to support local and language/cultural education here in Hawai'i. This is a special place that offers so much to the people that live here and those who visit. My language learning journey has equipped me with the empathy and cultural sensitivity necessary to meet the needs of a multicultural classroom and campus. I hope to take part in programs and initiatives that encourage language learning, cultural exchange, and student success. I also aspire to apply my Japanese language skills to bridge the gaps between Japan and Hawai'i as well as Japan and the U.S in my work.
Sharing Hawaiian & Japanese Culture
When talking with my cohort and Japanese students, my goal was to tell them about what it was like to grow up as a local in Hawai'i. I wanted to give a different perspective that wasn't your typical image portrayed in media. I particularly liked talking about local culture (ex. lei giving and greetings), significant landmarks on the island, and Hawaiian history. To achieve this, I showed photos/videos and told personal anecdotes. After the CLS Program, I shared with my community how I was able to meet students from different parts of Okayama and all of the cultural activities that I participated in. I also shared how my Japanese had improved by leaps and bounds due to the intensive nature of the program. I felt a sense of accomplishment because I was able to see my own growth firsthand.
Why Should Others Learn Japanese?
I would recommend others to learn Japanese because many shows, books, and video games that are enjoyed around the world today are from Japan. By studying the language, you would have the ability to understand the original meaning of conversations and dialogue that appear in media, which may get lost in translation after being put into English. It's also a very interesting language that has many nuances that don't exist in the English lexicon such as Keigo (Honorific Speech). I find it very exciting to be able to read and write in 3 different writing systems (hiragana, katakana, and kanji) as it is very rewarding to be able to apply your skills to your interests. So, if you're looking to expand your cultural knowledge, Japanese is a great language to learn!
Words of Advice
Tell your story! It matters. You come from a unique background and carry various life experiences that made you the person you are today. Use your differences as a strength and don't be afraid to talk about it in your essays. CLS is an amazing opportunity to take your language studies to the next level. Take a chance on yourself— the desire in your heart to try something new exists for a reason, follow where that passion leads you because it could take you to abroad this summer! As someone who was not able to study abroad during my time in college due to the pandemic, CLS had given me the wonderful opportunity to create connections in Japan. The CLS team did their best to make my experience a fruitful one, and I left the program a more knowledgeable, motivated person.
Alumni Profiles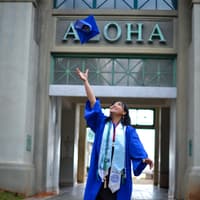 ---
---
Posted Date
April 27, 2023