Two years ago, if you had told Colby Santana that he would be studying Russian in Kyrgyzstan and be a commentator for the National Rugby Team, he wouldn't have believed you. A last-minute sign up for a Russian literature course led Colby down a path of falling in love with Russian language, declaring a Russian major, and, ultimately, being awarded a Mellon Mays Undergraduate Fellowship to pursue a career in academia. Colby recently connected with Communications Officer Rori DiFiore while in Kyrgyzstan on his CLS Program.
In this interview, Colby discusses navigating his Latino identity while abroad, how rugby helped him build community in Kyrgyzstan, and how he went from a volunteer water boy to being sworn in as a Kyrgz by the Kyrgyzstan rugby team. Colby's experience illustrates the ways language learning opens doors and just what's possible when you throw on some cleats and put yourself in the middle of a scrimmage.
Colby Santana is a senior Russian major at Bowdoin College in Brunswick, Maine. He is the proud child of Brazilian immigrants. He plans to return to Kyrgyzstan to serve as an English Teaching Assistant and teach youth rugby. Colby hopes through teaching English to young people in post-soviet countries he will broaden their understanding of American identity and culture.
Rori DiFiore: I'd like to start off with asking you what drew you to Russian language and culture?
Colby Santana: I did not expect to become a Russian major. A lot of funny coincidences led me down this path. I attend Bowdoin College which is about a 15-minute drive from where I grew up, and one of my neighbors is a Russian professor at Bowdoin. He would tell me as a kid, "Hey, if you ever end up at Bowdoin, you should do Russian!" I was interested in environmental studies, and government, and didn't imagine I'd have time to add Russian to my course load. Freshman year I had a challenging time getting into classes, and I was looking for a last class to fill my schedule. There were spots available in course called Love, Sex and Desire in Russian Literature and Culture.
Through literature, I fell in love with everything Russian. My first semester as a college student, I voraciously read some of the most well-known Russian books. That experience led me to a program called Mellon Mays Undergraduate Fellowship, which promotes underrepresented minorities in the pursuit of academia. Studying the Russian language has opened so many new and exciting doors.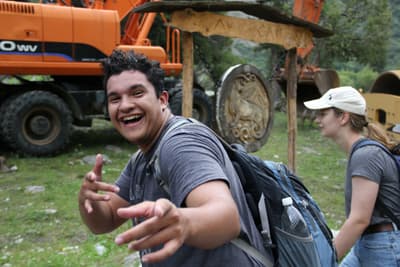 RD: You've had a lot of unusual experiences during your CLS Program, including acting as a commentator for the Kyrgyzstan National Rugby Team! I am so curious how that came about, but first, I wanted to ask you, where did your interest in rugby start?
CS: I played football all throughout high school and I knew playing a sport would help me integrate into a community. Rugby is one of the most egalitarian sports out there. You can be the smallest guy on the pitch and take down players three times bigger than you. I've even seen 75-year-olds players! It's an inclusive culture and the more I learned about it, the more I fell in love with it. When the other team is missing a player, the expectation is that your team will donate a player so everyone can still play the game. Another beautiful thing about rugby is it's a community anywhere. No matter where you are in the world. I remember a coach telling me, "If there's a rugby club there, and you need a place to stay, they will support you." I kept that in the back of my mind going into my CLS experience.
RD: How did you end up making connections with rugby culture in Kyrgyzstan?
CS: When I found out I was going to Bishkek, I started looking up everything to do with rugby and Kyrgyzstan. I ended up following the Kyrgyzstan national team on Instagram. When I got here, I noticed they had posted a story announcing an upcoming championship game at the stadium in Bishkek. I'd just been there a few days earlier to watch a soccer match! I decided to reach out to see if I could come to practice and play with them. I was so nervous; I crafted a probably very poorly written message in Russian and asked a few of my new CLS friends to read it over. I was so surprised to see a message back from one of the team's captains. He invited me to practice...the next day! I rushed out of the restaurant where I was with my friends to go across the city to buy cleats and a mouthguard.
RD: What was the first day of practice like?
CS: When I showed up the captain who I had spoken with over Instagram wasn't there. I was thankful though because the players were all very friendly and they put up with my beginner Russian. Then a few other coaches arrived and surprisingly, they were from New Zealand. I wondered; how can you teach a rugby team when you don't speak the same language?
I had my first breakthrough with the team when I was asked by one of the coaches to translate. I think the coach misunderstood the level of Russian I was at. He said to me, "Okay, I need you explain this exactly like this." Rugby is confusing enough without explaining it in a foreign language. You have to throw the ball backwards, there are complex moves like a ruck or scrum, that I still don't fully understand and now I was explaining this to a group of Kyrgyz people with two years of Russian language. By the end of that first day, we were shaking hands and I even was added to the team's WhatsApp group—which I'm still in today.
RD: It's amazing to hear how through speaking in Russian you were able to quickly become part of the team! How did you end up acting as a commentator for the match?
CS: I had offered to be around for the first match to serve as a water boy or in case there were any small jobs that needed to be done. I was in the middle of filling up inflatable pools with ice for the players when Matthew, the head coach, called out to me, "Hey Colby, can I use you for a second?" He brings me up to the commentators stand and explains to me that they need somebody to speak English for the broadcast. It was going to be his job, but they need somebody who can pronounce the players' names in Russian correctly. I thought I'd be helping him out by just whispering in his ear but instead, he handed me the headset. In five minutes, he's gone, and I realize, I'm actually doing this! I had absolutely no idea what I was doing, and I had told my professor and a bunch of my friends from CLS to come to the match. It was five hours straight of commentary, just trying to figure it out as I went along. I returned the next day, and I think I began to get a better hang of it.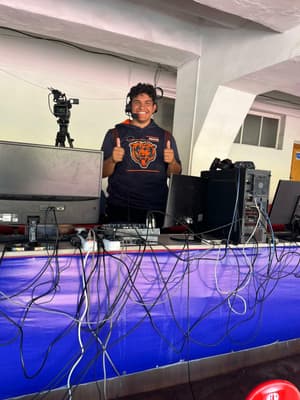 RD: How did your background as a Latino and your upbringing shape your identity and understanding of what it means to be an American?
CS: Growing up in Maine definitely impacted how I view myself and what it means to be an American. I love the state, but I didn't get to see very much diversity especially as a Latino-American. My parents immigrated when they were young and didn't have the opportunity to seek higher education so my whole life education has been the focus of everything I do. Their drive and passion inspire me every day.
While abroad, I had many moments whether during taxi rides, walking on the street, or even in the classroom, where my ethnicity was a challenge for locals to understand. Most people thought I was a whole list of different nationalities. When I would say that I was American, people struggled to accept that, "but where are you actually from?," they would ask. I always made sure to stay true to myself and explain how my parents immigrated from Brazil, but I grew up and was born in the United States.
It is very important to me to affirm that I am American and other people that look like me, from all over the United States, are as well. Especially in the post-soviet landscape there is some confusion between ethnicity and nationality because ethno-states in the Soviet Union still inform worldviews to this day. I spoke about my background and interest in becoming a scholar of Russian/Eastern European studies, a field that is not known for its diversity, in my application for CLS. I try to use the opportunities I have to express that I am just as American as anyone else. Our voices matter in all fields including academia.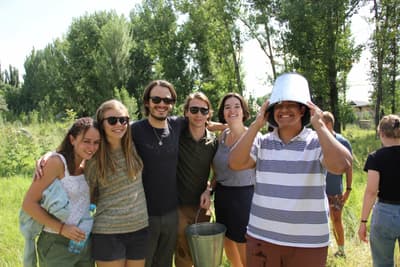 RD: What advice would you give to other Hispanic American students considering participating in CLS or other opportunities abroad?
CS: During orientation I had to the opportunity to meet two Foreign Service Officers (FSO) and I asked them how they maintained their identity while abroad. Their answers stuck with me. One FSO shared a bias incident she faced where people were recording her at the airport without her knowledge because they had never seen an African American before. She talked about the difference between ignorance and arrogance. She knew that there was no malice in their intent and a lot of these problems came from lack of education and exposure to people of different ethnicities. She said it was hard work finding a balance between advocating for herself and being a good diplomat abroad. It's something she still struggles with.
The other FSO shared that he felt similarly but saw that each place he works adds a layer to his identity. It's hard work to ask people of color to always advocate for themselves and hold others to better standards. I've found myself doing a lot of that work abroad. I recognize that I am one of the only Americans many of these people will meet, and furthermore maybe the only Latino they will meet in their lives. I find pride in establishing and advocating for my Americanness even though it can be hard and draining work.
My advice for others is to find your middle ground in expressing identity. Sometimes the best thing to do is to just walk away from it all, but if you are willing and able redefine what an American looks like in the eyes of others—try to do so! America prides itself on being a mixing pot and we should show that to the world. It is fulfilling and important work.
RD: What has left the most lasting impression on you from your CLS experience?
CS: I would just say how accepting and open and loving the people are here. I've just continually found myself falling in love with this country and felt supported in my language learning. There's a restaurant I frequent called Berikut. I go alone early in the day so I can practice my ordering. One day as I was leaving, the manager came up to me and said, "Hey, I've seen you in here a lot. I just want to ask, who are you? What's your story?"
We ended up talking for a while and she told me how one day she would love to learn English and for me to teach her. It's moments like that I'll next forget...my experience with the rugby team and just being completely accepted and sworn in as a Kyrgyz. My professors have been absolutely amazing and supportive, working with me one on one to really develop my Russian skills...my classmate. All the people here are wonderful, exceptional and accepting. It's really comforting. I was originally scared just being a foreigner, especially of color, coming into a new country. I didn't expect how comfortable I would feel here.