Summer 2022
---
CLS summer programs are in full swing, with the majority of 2022 scholars at their sites abroad for the first time since 2019. Follow along on social media to see what students are up to this summer! The application for the new CLS Spark program closed in late May and selection is currently under way, with many CLS alumni participating as panelists. As always, the CLS Program is grateful to alumni for remaining engaged members of our community!

Alumni Support Pre-Program Students
Each spring, the CLS Program invites all alumni to volunteer to support and mentor students preparing for their summers on the program by signing up to appear in the Alumni Resource Directories. 532 alumni opted into the 2022 directories, representing all program years and languages, diverse backgrounds and identities, and careers and fields of study. Alumni offer advice and topics on which they would like to mentor students and connect with fellow alumni and share about how the program has affected their careers. The directories serve as an important resource for all students on the program, and particularly those with backgrounds and identities that are historically underrepresented and under-served by study abroad, as it gives them the opportunity to speak frankly with alumni with similar backgrounds and identities about their experiences abroad.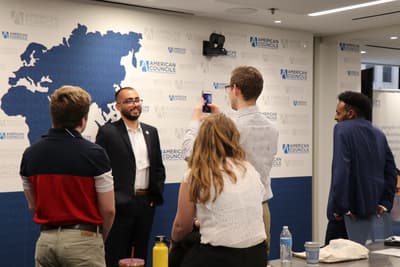 In addition to the alumni directories, this year's Alumni Ambassadors facilitated several affinity groups for pre-departure students. They held weekly or bi-weekly virtual meetings for students based on identity, backgrounds, and interests to provide a space for students to connect across languages and prepare for the program.
Of the impact of the program on her career, one 2014 Arabic alumni who is now a Foreign Affairs Officer wrote in this year's directory, "My Arabic proficiency and specialization in Gulf Arabic opened many professional doors for me. In my current position, I translate from Arabic to English and write original foreign policy content in English. I was hired due to my language abilities and regional knowledge gleaned from living abroad."
We are grateful to each person who signs up to appear in the Alumni Resource Directories each year and hope that they result in some meaningful connections both with students and with fellow alumni. If you are interested in appearing in next year's directories, please keep an eye out for the invitation in spring 2023.

CLS Alumni Society Conference
On June 11 the CLS Alumni Society (CLSAS), with support from the U.S. Department of State, hosted their Annual Conference for alumni at American University in Washington, D.C. Over 100 alumni attended the event, where they networked and heard from speakers and recruiters from federal agencies, consulting groups in the Washington, D.C. area, and learned about further educational opportunities. The keynote speech for the event was delivered by Dr. Yun-hyang Lee, Director of the Office of Language Services at the U.S. Department of State.
CLSAS is an independent non-profit organization whose members are alumni of the CLS Program. The organization was established in 2018 with support from the CLS Program and the U.S. Department of State and its mission is to provide CLS Program alumni with avenues for professional development, community engagement, and language retention. The association also serves as an advocate for the continued advancement of critical language studies and cultural exchange in the U.S. and abroad. To learn more about CLSAS, including how to become a member, visit their website: https://www.clsas.org.
Alumni News and Awards
Keep up to date with CLS alumni in the news by following our News and Stories page!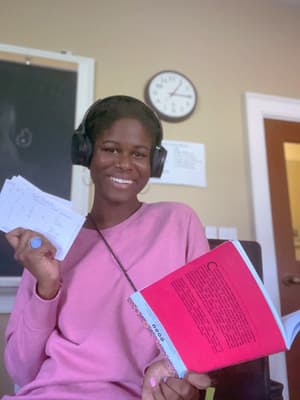 Emily Hackett (Russian 2021) and Tanajia Moye-Green (Swahili 2021) were awarded the Beinecke Scholarship, which provides funds to support outstanding undergraduate students to obtain graduate degrees. Emily is an international relations and Slavic studies double-major and German studies minor at Connecticut College and Tanajia is a sociology major and poverty studies and data science minor at Washington and Lee University, which published an article about her accomplishments.
Rena Wang (Chinese 2018) was selected as one of fifteen 2022 Emerging Leaders making an impact on community health through their leadership at community health centers. This distinction, awarded by the Geiger Gibson Program in Community Health Policy at the George Washington University's Milken Institute School of Public Health and announced jointly with the National Association of Community Health Centers, honors young professionals contributing to community health across the country. Rena is a Program Manager at Asian Health Services in Oakland, California, and shared, "CLS has...been instrumental to helping me serve the Oakland Chinatown community during this pandemic."
Marcus Dunn (Korean 2011) was named a 2022 South Arts Fellowship recipient, one of nine selected from over 600 applicants. Marcus, a painter, was selected to represent North Carolina, one of the nine states in the South Arts region and is being considered for the Southern Prize. Marcus, who has Pee Dee, Tuscarora, and non-Native heritage, explores cultural assimilation, referencing early images of Native American boarding schools to reconstruct a historical narrative in his work. Learn more about Marcus's art: https://www.southarts.org/grant-fellowship-recipients/marcus-dunn-2022
Heather Sweetser (Arabic 2007), who is an Arabic instructor at the University of New Mexico, was selected as the 2022 ACTFL National Language Teacher of the Year. This follows several other teaching accolades including 2020 Innovation in Language Program Direction Award: Online Teaching from the American Association of University Supervisors, Coordinators, and Directors of Language Programs (AAUSC), 2019-20 University of New Mexico Lecturer of the Year, and 2020 Teacher of the Year from both the New Mexico Organization of Language Educators and the Southwest Conference on Language Teaching.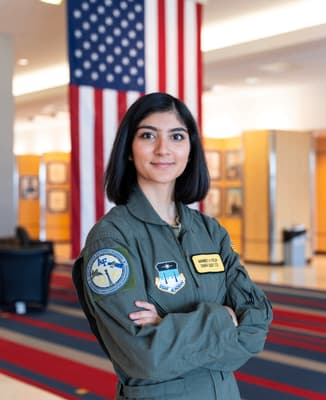 Manmeet Pelia (Punjabi 2021) wrote an article for her university, the U.S. Air Force Academy, about how she has taken advantage of many unique opportunities to hone her research skills as a Cadet. This includes participating in a cross-institution and interdisciplinary team for the Quad Innovation Alliance, summer research programs, the NASA L'Space Academy, the International Institute of Astronautical Sciences' PoSSUM Academy, and as the first woman from any service academy to be selected for the Brooke Owens Fellowship. Manmeet discussed her commitment to diplomacy as a participant of the 2021 CLS Program writing, "I spent eight hours in my childhood bedroom on a laptop learning Punjabi five days a week for eight weeks. What I got out of it, though, was confidence to tackle the unknown and push beyond my comfort zone, traditionally the engineering lab, and connect with likeminded U.S. diplomats' passion for language."
Send Us Your Updates
Do you have updates to share with the CLS Program? We love it when alumni keep in touch—email us any time at clsalumni@americancouncils.org to share what's new in your life. We also love being tagged in your posts on social media! (Facebook and Instagram @CLScholarship, Twitter @CLSscholarship)
As alumni are always interested in the process of using their Non-Competitive Eligibility for Federal Civil Service hiring, we'd like to hear from you if you've been through the process. If you've successfully used your NCE for a new job, please email us about it.