Summer 2021
---
We hope you're enjoying the beginning of summer, wherever you are! In June, 685 scholars embarked on the 2021 CLS Program. While a majority of this summer's scholars will be participating in virtual programs, one cohort (in Gwangju, South Korea) will be participating in person! Although there's a long way to go yet, we're excited for the return of international travel and we look forward to welcoming all of the new scholars into the CLS Program's alumni community this fall.
Apply for the 2021 Citizen Diplomacy Action Fund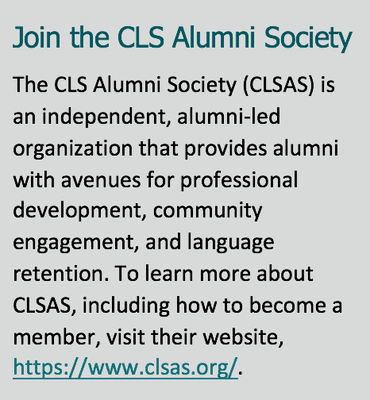 Alumni of the CLS Program are invited to apply for the 2021 Citizen Diplomacy Action Fund (CDAF). The CDAF awards grants of up to $10,000 for alumni of government-sponsored exchange programs to carry out public service projects that make the most of the skills, knowledge, and networks gained through their exchange experiences.
Alumni are encouraged to collaborate with alumni of other U.S. government-sponsored exchange programs, but team leads must be U.S. citizen alumni. In order to apply, team leads must be registered for an account on the International Exchange Alumni website at www.alumni.state.gov.
This year's themes are: promoting media literacy education; protecting the environment; bolstering outreach to under-served communities; fostering alumni network development; and building community through arts, sports, language, and technology.
The application deadline is Friday, July 23, 2021 at 11:50pm ET and more information can be found at https://partners.net/citizen-diplomacy-action-fund-us-alumni. The CDAF is sponsored by the U.S. Department of State and implemented by Partners of the Americas in partnership with the Office of Alumni Affairs in the Bureau of Educational and Cultural Affairs.
Alumni Highlights

Throughout the month of April, Anesce Dremen (Chinese 2015, 2016) led a series of creative writing workshops in collaboration with the CLS Alumni Society. These virtual workshops focused on the topics of blogging, creative nonfiction, poetry, and fiction, and concluded on April 30 with an open mic event.
Wesley Warshawer (Korean 2012) served as a panelist for a session in the Career Connections Global+ series hosted by the Department of State Bureau of Educational and Cultural Affairs Alumni Office. This late April event in the series focused on international business, with Wesley sharing about his perspective as Senior Business Analyst at Lam Research.
Halie Cousineau (Indonesian 2016) gave a talk at TEDx Roseburg entitled, What a Seed can Grow, where she discussed the importance of applied learning through garden education and talked about her project to teach gardening during the pandemic. Halie is the State Wide Garden Education Coordinator for Oregon State University. The project was also recently covered in The Oregonian.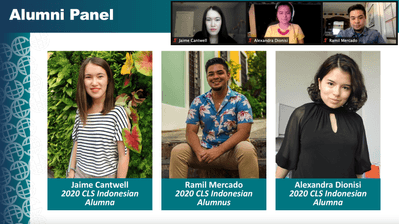 Throughout June, more than 30 alumni supported new CLS scholars during pre-program orientations. Many recent alumni, Alumni Ambassadors, and returning finalists shared their experiences on the virtual and in-person CLS Programs and answered questions, helping to illustrate what life is like as a program participant for new scholars embarking on this intensive program.
Mycal Ford (Chinese 2015) and fellow Black China Caucus executive team member Avonda Fogan were featured on the HayesXChange podcast to share their experiences with international exchange. They also discussed the purpose of the Black China Caucus, seeking to increase representation of Black professionals in Asian affairs. The podcast is part of the HayesXChange platform which provides information about international exchange for underrepresented communities.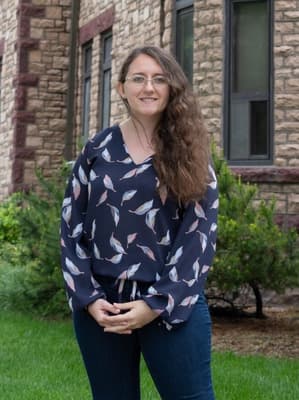 In mid-June, CLS Azerbaijani participants met in an informal virtual coffee chat with Kaleigh Rose McLaughlin (Azerbaijani 2016), a researcher on the Caucasus, to discuss Azerbaijani culture and politics. Kayleigh returned to Azerbaijan in 2017 on a Boren Fellowship and is currently a graduate student at the London School of Economics and Political Science.
Awards and Honors
Anna Landre (Portuguese 2019) was honored as one of Teen Vogue's 21 under 21, 2020 for her disability advocacy work. Recently, she has worked with New Jersey lawmakers to write legislation aiming to increase care hours for students with disabilities who receive Medicaid to support the cost of independent living, prompted by challenges she has faced in her own life. Read more about the legislation and Anna's advocacy in this article.
Patrick Beyrer (Chinese 2019) was one of 117 scholars from 37 countries selected as a 2021 Yenching Scholar, earning full funding to support an interdisciplinary master's degree in China studies at the Yenching Academy of Peking University, in Beijing. Patrick was congratulated by his institution, the University of Pennsylvania, for the award.
Kelsey Waxman (Arabic 2013) was selected as a 2021 UNHCR Innovation Fellow, a program that supports the development of innovation skills. Kelsey is an Asylum Liaison Officer with UNHCR, the UN Refugee Agency.
Alumni in the News

Keep up to date with CLS alumni in the news by following our News and Stories page!
Code for America published an interview with Mariel Reed (Chinese 2010), CEO and co-founder of CoProcure, in which she discussed the importance of collaboration in the public procurement process and the ways in which the COVID-19 pandemic increased the urgency of this issue.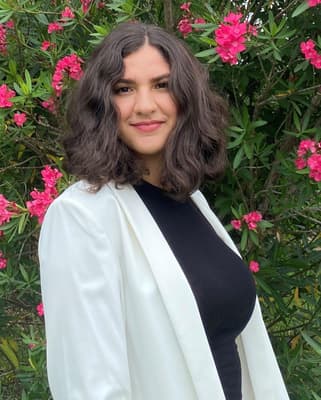 Maria Kisker (Chinese 2020) was interviewed by her institution, Washington and Lee University, about her experience on the virtual CLS Program during fall of 2020. She talked about how much she valued the glimpse into Chinese culture through interactions with her instructors and language partner.
Gzeonie Hampton (Arabic 2019) was featured in an article by her institution, the University of Louisville, as she prepared to graduate this spring after overcoming personal hurdles during her college career.
Alumni Ambassador Tima Dasouki (Turkish 2020) was featured on the Boston University Career Podcast talking about her studies and research in Middle Eastern relations and migrant flow as well as her experience as Operations Manager at Urban Refuge, where she launched the #IAmMore project to tell the stories of immigrants and refugees.
Patricia Stottlemyer (Arabic 2011) was interviewed for an article about how she is using her law degree from the University of Pennsylvania Carey Law School to advance access for asylum seekers in the U.S.
Follow CLS on Instagram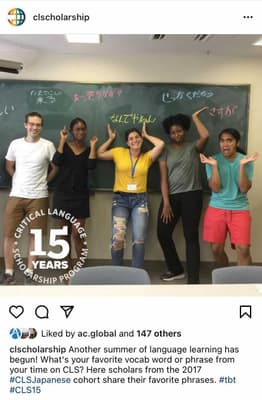 Are you following the CLS Program on Instagram? We frequently feature alumni stories and highlights and would love to have you in our Instagram community if you're not already there. Throughout 2021, we're posting weekly throwback pictures dating back to 2006 in honor of the 15th anniversary of CLS. You may see people you recognize! We'd love to feature your memories, too—tag us and use #cls15.
Send Us Your Updates

Do you have updates to share with the CLS Program? We love it when alumni keep in touch—email us any time at clsalumni@americancouncils.org to share what's new in your life. We also love being tagged in your posts on social media! (Facebook and Instagram @CLScholarship, Twitter @CLSscholarship)
As alumni are always interested in the process of using their Non-Competitive Eligibility for Federal Civil Service hiring, we'd like to hear from you if you've been through the process. If you've successfully used your NCE for a new job, please email us about it.