Fall 2020
In August, the CLS Program concluded the summer CLS Virtual Institutes for six languages, welcoming new alumni of these Arabic, Chinese, Hindi, Korean, Persian, and Russian programs. Following the success of the summer virtual institutes, we were pleased to announce that the CLS Program is offering further virtual language instruction this fall for the study of ten critical languages: Azerbaijani, Bangla, Chinese, Indonesian, Japanese, Portuguese, Punjabi, Swahili, Turkish, and Urdu.
---
Help Recruit for the 2021 CLS Program
The application for the 2021 CLS Program launched on August 24, kicking off the fall recruitment season. As alumni, you can play an integral role in recruitment of new applicants, as your stories help to humanize the program and reach audiences we cannot. This year, as application outreach is taking place virtually due to the pandemic, we are excited to have so many alumni involved in recruitment activities not specific to their physical locations. If you participate in outreach, please let us know so that we can highlight your activities as well!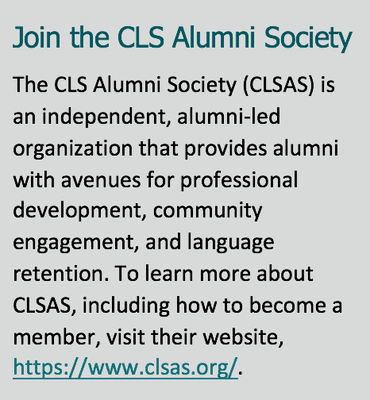 The 2020 Alumni Ambassadors have been robustly supporting a series of CLS informational webinars. These events will continue to take place throughout October and can be found on the Events and Webinars page of the CLS website.
Paula Zhang (Korean 2017) joined Program Officer Syejeong Kim for a presentation to NSLI-Y virtual Korean program participants about the CLS Program. Paula shared application tips and discussed how she is leveraging cross-cultural communication skills she gained from the program to seize further international exchange opportunities.
Alumni Ambassador Kian Thomas (Japanese 2019) spoke about the CLS Program to the membership of the University of Florida Japanese Club during one of their general meetings.
In late September, Hannah Shulse (Chinese 2017) and former Alumni Ambassador Camille Bismonte (Indonesian 2018) joined Program Officer Syejeong Kim for a presentation on CLS at the Global Community College Transfers event, "Crash Course in Global Opportunities for Community College Students."
Alumni Ambassador Bridget O'Connor (Japanese 2019) held virtual information sessions with three institutions: Loyola Marymount University, where she is a current student, University of Hawaii-Manoa, and Santa Monica Community College.
Amber Hunt (Japanese 2019) presented at a virtual information session about CLS at the University of Denver, where she recently earned her M.A. in International Security.
Share your CLS experience and help us reach new applicants across the country. You can can find answers to your questions and resources to support your outreach on the Alumni Outreach page. Have you done outreach about the program? Tell us about it at clsalumni@americancouncils.org! Information about the CLS application can be found at https://www.clscholarship.org/apply.
Alumni Highlights
Carlo James Aragón (Arabic 2012) affirmed the oath of office to become a U.S. Foreign Service Officer virtually from his home in Corrales, New Mexico. After completing the CLS Program in 2012 and graduating from the University of New Mexico, Carlo went on to work at the Noor Majan Arabic Institute in Oman before becoming a Charles B. Rangel International Affairs Fellow supporting his master's degree in Law and Public Diplomacy at Tufts University's Fletcher School. Read more about Carlo in The Fletcher School's story on him.
Jennifer Silver (Indonesian 2016 & 2017), Tara Sivaskandan (Chinese 2017), Erika Pugh (Russian 2016), and Tal Friedan (Arabic 2016), along with collaborators Zakir Hossain Khokan, Addie Block, and Catherine Cartier published an audio and ebook poetry anthology, "Translating Migration: Multilingual Poems of Movement," featuring the poetry of migrants, supported by their 2019 Citizen Diplomacy Action Fund grant. The audiobook can be found on Google Play, Apple Books, and many other audiobook platforms, and via the Translating Migration website. All proceeds generated by the anthology will be distributed to its contributing poets in the form of small grants that support the voices of migrants and their communities.
Along with several colleagues, former Alumni Ambassador Camille Bismonte (Indonesian 2018) launched Global Community College Transfers, an organization dedicated to closing "the knowledge barrier to global education opportunities for community college students and those at underserved public institutions, while building a platform to connect current community college and transfer students with recruiters, stakeholders, and participants within the foreign affairs landscape." In September, Camille was highlighted on the GCCT website about her own transfer experience to Georgetown University, as well as her participation in the CLS Program and as a Boren Scholar in Indonesia.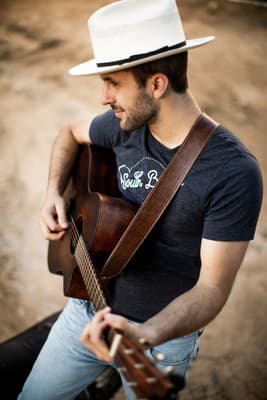 David Jameson Harris (Chinese 2013), a singer and songwriter who has performed on Chinese TV shows, has worked with the government of his hometown, South Bend, Indiana, to release a song that he wrote for the city. This song is the centerpiece of a campaign they are developing to raise money for the arts in South Bend, and each time it's played the royalties generated will be donated to the South Bend Venues, Arts, & Parks Department. David says, "In addition to raising money, I hope to also spread a little light and civic pride at this difficult time." Links to stream David's song, "South Bend Town," on a variety of platforms can be found on his website.
August Thomas (Turkish 2009) shared a free online resource for Turkish learners that she created, commissioned by the Five College Center for the Study of World Languages. The resource consists of a 58-video series of elementary Turkish grammar lessons. Through the Center, this resource has become part of the Turkish curricula at Amherst College, Mount Holyoke College, Smith College, Hampshire College, and University of Massachusetts-Amherst, as well as being used by many independent learners. On developing the video series, August says, "Without the learning opportunities I'd been given by CLS, the Five College Center for the Study of World Languages, and ARIT (the American Research Institute in Turkey), I couldn't have done it. What's special to me is that, ten years after I was in her CLS beginning Turkish class, one of my super-talented former CLS professors now shares my videos with her own students."
Abena Amoakuh (Chinese 2016) was interviewed for the U.S. Department of State Bureau of Educational and Cultural Affairs podcast, 22.33. The podcast features firsthand accounts of alumni of ECA exchange programs, and in the September 11, 2020 episode, Abena talked about her experience in China.
Alumni Events
Alumni Ambassador Darlene Janice Nieves Cruz (Korean 2019) attended the virtual Diversity Abroad Global Student Leadership Summit. Of her experience at the conference, she wrote, "It was a refreshing experience to connect with other students and professionals under the current circumstances. All the sessions were dynamic and informative, and I had several opportunities to introduce myself and my experience abroad, which I highly appreciated. I also had the opportunity to hear other students' experiences and empathize with them. On the final day, we had the chance to do 'virtual networking tables,' and I think that was probably my favorite part! Naturally, we also received educational materials on identity, diversity, oppression, racism and other related important matters. As a program assistant and humanitarian, it's so satisfying that I can apply what I learned and what I am currently learning to my actual job."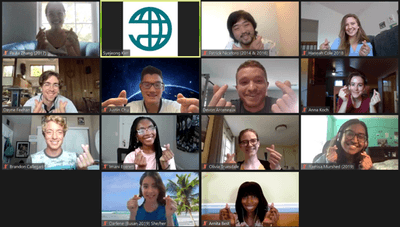 Current and former Alumni Ambassadors connected with CLS Virtual Korean students during a coffee chat event in early August. Joining from Georgia, Hawaii, Illinois, Puerto Rico, and Washington, D.C., CLS Korean alumni Patrick Niceforo (2014, 2016), Paula Zhang (2017), Hannah Cole (2018), Ramisa Murshed (2019), and Darlene Janice Nieves Cruz (2019) gave a warm welcome to the soon-to-be new alumni.
In late August, three Chinese Alumni Ambassadors, Eric Brink (2019), Conor McMahon (2019), and Kimber Young (2019), hosted an informal online chat with the participants of the summer virtual Chinese program to welcome them to the alumni community.
The Critical Language Scholarship Alumni Society (CLSAS) hosted the first three in a series of monthly events in July, August, and September, entitled "Around the World and Back Again." The July event, "A Discussion on International Fellowships," convened a panel of alumni including Mycal Ford (Chinese 2015), Patrick Niceforo (Korean 2014, 2016), and Fulbright alumna Ashleigh Brown-Grier, who spoke about their experiences with international fellowships. The August event, "Teaching in the Time of COVID," included CLS alumni panelists Kimber Young (Chinese 2019) and Blaine Johnson (Chinese 2012), and other teaching and education professionals who discussed remote language teaching during the pandemic. The September event, "Translating Migration," featured Jenny Silver (Indonesian 2016, 2017) and two of her collaborators, Addie Block and Catherine Cartier, who discussed the Citizen Diplomacy Action Fund, which supported the development of their poetry anthology.
Awards and Honors
Kate Hart (Arabic 2017) was awarded a Rotary Global Grant Scholarship to support pursuit of her master's degree in Conflict Resolution and Mediation at Tel Aviv University in Israel. Her accomplishment was lauded by her alma mater, Western Kentucky University in an article.
Haider Nazir (Chinese 2019) was awarded a Yenching Academy Scholarship, which will fund his two-year interdisciplinary master's program in China studies. His alma mater, Carnegie Mellon University highlighted him for this accomplishment.
Troy Willis (Russian 2019) was honored by his university, Connecticut College, as one of thirteen Winthrop Scholars. This designation is the highest academic honor bestowed by the College, and is conferred on students who demonstrate exceptional scholarship.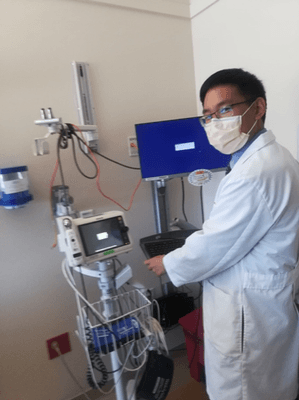 Former Alumni Ambassador Jason Chen (Chinese 2018) was selected for the CDC's Epidemiology Elective Program for fourth-year medical students and will be rotating at the Mycotic Diseases Branch within the division of Foodborne, Waterborne, and Environmental Diseases. Jason is studying medicine and public health in the University of Utah School of Medicine and plans to use this opportunity to learn more about opportunities at the intersection of public health and international relations. Jason says, "Being a CLS alumnus and Alumni Ambassador helped me develop a national security perspective on emerging public health threats from China, which I emphasized in my CDC personal statement…Being an Alumni Ambassador helped me realize the importance of risk taking and networking. By networking with Public Health professionals back in December, I found this opportunity at the CDC. The Coronavirus has been terrible for sure, but it has given me a unique situation where I feel like all of my previous experiences in foreign language, international relations, medicine, and public health intersect."
Alumni Ambassador Chelsea Cervantes de Blois (Azerbaijani 2019) had a busy summer. She won the doctoral scholarship from the United States Geospatial Intelligence Foundation (USGIF), best student paper award from the American Association of Geographers (AAG) Eurasian Specialty Group's student paper competition, and received a Foreign Languages and Area Studies fellowship to study Advanced Russian.
Alumni in the News
Keep up to date with CLS alumni in the news by following our News and Stories page!
Jan Taylor (Hindi 2019) was interviewed by her institution, Houston Community College, about her journey to higher education as an older student who has overcome many obstacles to be where she is now. She discussed at length her experience on the CLS Program, sharing how important that experience was to her academic and personal development. Prior to the interview, HCC had also produced a video of Jan's story which can be seen here.
David Fields (Korean 2010) published an article on the Wilson Center blog entitled, "The Lesson of the Korean War in the Age of 'America First' in which he discusses how the history Korean War underscores that not every international problem has a clear or quick solution, but offers an important lesson for dealing with intractable problems: seek allies and build consensus.
David Solomon (Chinese 2013) was lauded in his hometown news, Wicked Local Brookline, for having completed a Master of Environmental Management at Yale University this year.
Hiram Ríos Hernández (Chinese 2014) was highlighted by his alma mater, University of South Florida. Hiram is a Foreign Service Officer for the U.S. Department of State, currently serving as a Consular Officer at the U.S. Consulate General in Shanghai, China. Hiram attributes his path to his consistent investment in studying languages, including the many scholarships he received to study Chinese abroad during his undergraduate career.
Clara Haizlett (Arabic 2017) was highlighted by several news sources for her work in developing the Sandstone Podcast and participating in the PBS American Portraits project, with her West Virginia Portraits video series. Articles about her work appeared in The Intelligencer: Wheeling, WV News-Register, The Linsly School news, where she attended high school, and the Charleston, WV Gazette-Mail. The Sandstone Podcast seeks to connect the stories of those from Appalachia and the Arab World and has been supported in its development by the CLS Alumni Development Fund.
Clara Bartnik (Turkish 2019), Sofia Cerkvenik (Chinese 2017, 2019), and Austin Kraft (Indonesian 2018), who are all highlighted by their alma mater, the University of Minnesota, as having been three of fifteen UMN students and alumni selected for Fulbright Awards. Clara will be an English Teaching Assistant in Turkey. Sofia will conduct research in Peru on the impact of soccer programs for girls and women on other areas of their lives. Austin will conduct research in Indonesia on grammatical binding in three Indonesian languages.
Hannah Horton (Korean 2019) was featured in the Dayton, Tennessee Herald News for her being selected as a Fulbright Scholar after having completed the CLS Program. The article shares about Hannah's experiences in Korea last summer, discovering cultural differences and learning about the country.
Upcoming Opportunities
The Citizen Diplomacy Action Fund (CDAF) is now accepting applications for its Fall 2020 cycle! The competition provides small grants of up to $10,000 to teams of at least two international exchange alumni to carry out public service projects using the skills and knowledge they gained during their exchange experiences.
Stay tuned to the CLS Alumni Society Events page for the continuation of their monthly series, "Around the World and Back Again."
Send Us Your Updates
Do you have updates you'd like to share with the CLS Program? We love it when alumni keep in touch—email us any time at clsalumni@americancouncils.org to share what's new in your life. We also love being tagged in your posts on social media! (Facebook and Instagram @CLScholarship, Twitter @CLSscholarship)
As alumni are always interested in the process of using their Non-Competitive Eligibility for Federal Civil Service hiring, we'd like to hear from you if you've been through the process. If you've successfully used your NCE for a new job, please email us about it.