Meet CLS alumna, expert on Eastern Europe and the Caucasus, and world traveler, Lucy Minicozzi-Wheeland! Lucy is not afraid to venture outside her comfort zone. She's participated in three fellowships abroad—the first in Odesa, Ukraine for 7 months as a researcher with the Fulbright U.S. Student Program, last summer in Tbilisi, Georgia with the CLS Russian Program, and now she's back in Tbilisi with the Boren Awards for 10 months.
Lucy has successfully navigated the challenges of life abroad on not one but three intensive and immersive exchange programs. It's apparent Lucy is a go-getter, but what you probably do not know is that Lucy also has two chronic health conditions, functional neurological disorder (FND) and schizoaffective disorder.
In recognition of Mental Health Awareness Month, we are spotlighting Lucy's perspective on mental health stigmas, caring for one's mental health abroad, and living with FND and schizoaffective disorder. Whether you live with a mental health condition or are considering applying for the CLS Program, we hope Lucy's story encourages you to take a step outside your comfort zone.
Lucy Minicozzi-Wheeland is an alumna of the 2022 CLS Russian Program hosted by American Councils for International Education in Tbilisi, Georgia. Lucy is earning her master's degree in Regional Studies at Harvard University specializing in Russia, Eastern Europe, and Central Asia.

What does Mental Health Awareness Month mean to you?
Mental Health Awareness Month is meaningful to me because it gives people like me the chance to speak out about their conditions and be heard. Just the opportunity to make this post is profoundly important to me because it gives me a platform to help combat the stigma around schizophrenia spectrum disorders and other neurological conditions. I hope that by speaking out, other people with schizophrenia spectrum disorders will see that it is totally possible to live fulfilling lives and to complete competitive scholarship programs like CLS.
What do you wish other people understood about your mental health disorder?

Schizophrenia spectrum disorders tend to be extremely stigmatized, to the point that people are sincerely afraid of talking about them. For so long, I thought that speaking out about my schizoaffective disorder publicly would result in a loss of professional opportunities and friends in my personal life. In the media, people with schizophrenia spectrum disorders are portrayed as monsters, criminals, or people completely consumed by their condition, unable to live a normal life. This couldn't be further from the truth. It is totally possible to live a fulfilling, successful life with schizoaffective disorder – we are regular people like everybody else. We face tremendous challenges, of course, but we aren't monsters.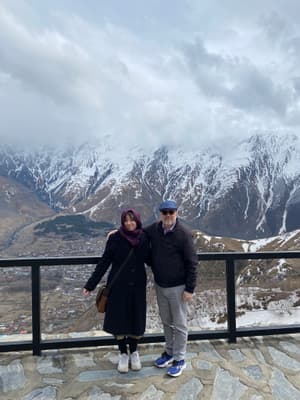 What motivated you to study Russian?
Studying Russian has been a passion of mine since I was 14 and it has become an essential part of my career. I majored in Russian Area Studies at Villanova University, then lived in Odesa, Ukraine for seven months as a Fulbright Student Researcher. I am now earning my master's degree in Regional Studies specializing in Russia, Eastern Europe, and Central Asia at Harvard.
My goal is to become a regional expert on Eastern Europe and the Caucasus and advise U.S. policymakers. CLS was a natural step along that path – the program provides intensive Russian language study, regional experience, and non-competitive hiring eligibility, so it was a perfect fit.
In my studies, I particularly focus on Russian warfare in Ukraine and Georgia, so being placed in Tbilisi was absolutely perfect. The connections I made in Georgia ended up being the foundation for my Boren Fellowship and I have been able to collaborate on so many wonderful projects as a result.
Can you share with us a highlight from your CLS Russian Program?
I would say the highlight of my experience was the connections I made. I became very close with my professors and their encouragement and guidance made pursuing my Boren Fellowship possible. I am now intensively studying Russian and Ukrainian with professors who I met through CLS. I also made so many wonderful friends in my CLS cohort, some of whom are coming back to Georgia in September!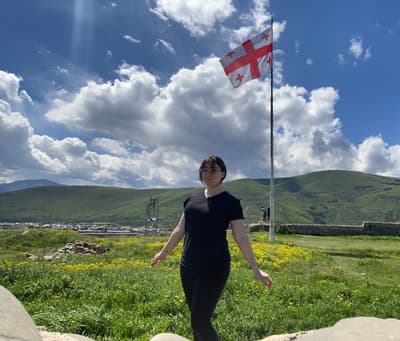 Can you share with us what it is like to live with functional neurological disorder (FND) and schizoaffective disorder?
Living with functional neurological disorder (FND) and schizoaffective disorder is a daily challenge that I have to contend with, but with proper treatment, it gets easier every day. I had my first depressive episode when I was 13 and my first psychotic episode at 15, so my journey to find psychiatric medication that worked for me started early in life. It's taken 10 years to find a regime that works for me, and there were a lot of bumps along the way. It wasn't until I started graduate school that I found a combination of medications that worked well for me. Even though I managed to complete a lot of my professional opportunities and live abroad before that, I never felt free from my struggles until I found the right medication. Today, I deal with periods of executive functioning issues, such as forgetting to eat properly or doing chores. But I am patient with myself during those times and I have developed a great organizational system with planners, to-do lists, and medication alarms that keep me on track.
My FND, and all of the comorbidities that come with it, is much more of a challenge. Doctors don't know exactly what causes FND, but it generally is thought to affect the software of the brain, rather than the hardware. It causes a variety of neurological symptoms, and it looks different for everyone. I have had migraines and chronic pain since I was a child, but I only started having seizures and really disabling symptoms last fall. The type of seizures I have are psychogenic non-epileptic seizures (PNES), which essentially means they are non-epileptic seizures triggered by stress. This means they are not a medical emergency, but they are still debilitating when not properly treated. I struggled with memory loss, involuntary tics, motor issues, and more for months after my illness started. After I was prescribed medication for the condition, I started to get better!
Because my seizures are triggered by stress, things I was already doing to treat my schizoaffective disorder – such as therapy, journaling, yoga, etc. – really help with that as well. Now my seizures aren't as frequent, but I definitely deal with side effects from the sheer quantity of medication I take. I sleep for 10-12 hours per night, I can't drink alcohol or consume caffeine anymore, I must always make sure I've eaten and drunk enough water, etc. It's been a big lifestyle change but it truly gets easier every day. It's really a night and day difference from where I was last October.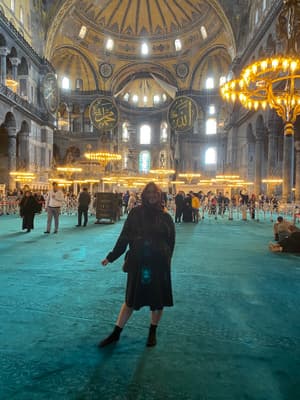 What are some ways that you take care of your mental health while abroad?
I think talking about your feelings is essential. Having access to a therapist has been so important for me, as well as staying in touch with my family back home and my friends in-country. If you bottle up your feelings, they just get more and more intense. It's so important to find healthy outlets for stress, such as talking with your loved ones, exercise, journaling, or just staying in for the night and watching your favorite movie. I also think getting enough sleep and eating enough are super important. Living abroad for a short period of time – such as during CLS – is hard because you don't have very long to adjust to your surroundings. I definitely took things slow during my program and took advantage of the learning accommodations that I was offered. It can be hard to seek support, but it's so important to do so. Your professors, resident director, and American Councils are there to help!
What have been some of your biggest takeaways from your experiences abroad?
I would say the biggest thing I've learned is that it's totally possible to find yourself a little home in another country. CLS was a very interesting opportunity because you are assigned a location to live for two months, which gives you the chance to explore and see where you might like to spend more time. I was drawn to living in Ukraine and Georgia to further my research and because of the strong connections I've made to the people I've met here. I truly feel like I've found a community and a support system in-country, and that is the most meaningful part of living abroad for me.