Submitted by Channah Lohman (Korean 2022). Channah studies Communications and Anthropology at University of Central Florida. She hopes to one day channel her love for art and Korean language into a career fostering mutual understanding between different cultures and countries. Channah participated in the 2022 CLS Korean Program hosted by Chomman National University in Gwangju, South Korea.
I can't pinpoint exactly why I'm fascinated by board jumping in hanbok, or geothermal heated floors, or five color architecture and symbolism, or other both extraordinary and everyday aspects of Korean life. Since I first discovered K-pop and K-drama at thirteen, I've been captivated by Korean culture.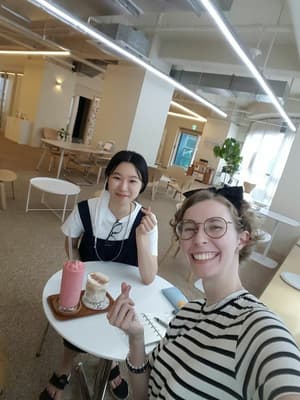 The CLS Program has been the most amazing experience I have had the chance to be a part of. Our teachers are caring and truly invested in our success. The work is challenging, thrilling, and rewarding. I can already hear the improvement in my Korean. The opportunity to experience Korean life alongside our language partners has been especially rewarding. I am grateful to my partner for her thoughtful planning of our outings and her friendship. Altogether, I've learned more in these two months than in all two years of my previous Korean study experience.
One unique aspect of this year's program is that my cohort and I lived in a dorm rather than with host families. It's led me to better get to know our surrounding town. I've met shop owners, made local Korean friends, and even taken classes in Jiu Jitsu and pottery.
Among those instances of exploration one stands out to me as particularly embodying the spirit of my CLS Program. I had started to sketch and paint different neighborhoods and streets that I visited around Gwangju. On one occasion at a local cafe, I found a lovely sketch by a local artist. I decided to look him up on Instagram. I saw that we had both just finished painting sites from the ancient Gochang Fortress nearby. I sent him a message and he invited me to join the Gwangju chapter of the Urban Sketchers organization. Although I was nervous due to my very basic Korean skills, as an artist and a human, I knew I had to join them—and I am so glad that I did!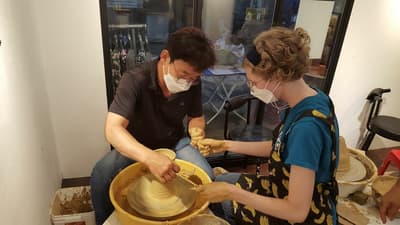 I was able to join this community of sketchers and observe what they singled out as beautiful, and watch how they chose to present it on paper. I was honored to be able to participate alongside them. To me, art exists in three nested spheres: a universal expression of our shared realities; a cultural expression enriched by context, and a personal expression of both as seen by the individual artist. Creating art together was one of the most direct and personal connections I had in Korea—as a culture, as a community, and with each individual person there. I was also immediately able to use what I had learned in the classroom to interact meaningfully in Korean. I was over the moon!
I was proud to represent both CLS and my country in this interaction. I was the first American that some of my new friends had met, so I felt deeply the responsibility to be a strong citizen ambassador. I was also honored to join them for their following monthly meeting. With their welcoming warmth, kindness, and acceptance, I truly felt the beauty of cross-cultural exchange, a global community, and the potential in our world for understanding and peace.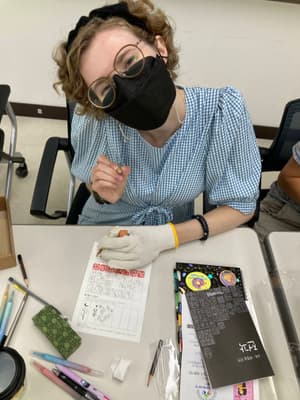 This is the potential of what CLS represents to me, and I am beyond honored to have had this opportunity! This experience cemented my future career goal of facilitating cross-cultural communication through art and media.
I hope to use my language skills and love for art to foster unity and build mutual understanding among different countries and cultures. I am wholly committed to making this a reality. Not only will it fulfill my dream for my future career, but it also will be a step towards creating the kind of world I want for myself and my loved ones—a world that celebrates our diversity with wonder and joy through the medium of art and communications.
My experience during CLS speaking Korean, forging friendships, and living immersed in Korean culture has been a dream come true. CLS is not the finale of my Korean studies but a launching point for my future. I am excited for what's next!