To say Lucas San Miguel had an unconventional summer break would be an understatement. While many college sophomores spent their summer enjoying a reprieve from academics, Lucas launched himself into a CLS Chinese Program and jetted off to Tola, Nicaragua to intern with Rancho Santana, a company that works closely with nonprofits assisting Nicaraguan communities.
Lucas's days were split between two languages and cultures—the first half immersed in Chinese in Changchun, China through CLS, the second, in Spanish, connecting with Nicaraguan communities on sustainable housing and agricultural practices. On the weekends, Lucas zip-lined through rainforests and hiked volcanoes forming deep connections and friendships with Nicaraguan people along the way.
In this interview with Communications Officer Rori DiFiore, Lucas takes us along as he recounts his unconventional summer. He discusses gravitating towards Chinese language and culture at a young age, balancing a full-time internship and CLS, and how Chinese language helped him connect to Nicaraguan people and understand a historic moment in Nicaragua-China relations.
Lucas participated in the CLS Chinese Program hosted virtually by Changchun Humanities and Sciences College in Changchun, China. He is a two-time NSLI-Y alumnus having participated in NSLI-Y Chengdu Summer 2019 and the academic year in Taipei in 2020-21. Lucas is a sophomore at Emory University where he double majors in Chinese Studies and Economics.
Rori DiFiore: Where did your interest in Chinese come from?
Lucas San Miguel: Ever since I can remember I've been interested in Chinese culture and the more I learned about it and realized how different it was from American culture, the more fascinated I became. I also grew up in a Hispanic American household and found navigating two cultures intriguing. My dad was born in Puerto Rico to Cuban immigrants. All my family on my dad's side lives in Puerto Rico. A couple days after my dad was born, he became profoundly deaf. He and his family moved to the U.S. because in Puerto Rico, about 50 years ago, there were no special needs schools. Growing up in the U.S. school system, he began to speak English more than his family's native Spanish. However, he was still very much culturally connected to his Hispanic heritage.
I felt connected to both Cuban and Puerto Rican culture as a kid, but I also felt I was missing something not being able to speak the language. That's why I chose to study Spanish in high school. At the same time, Chinese was always present in my mind. It was another language I knew I wanted to make a part of my identity. I wanted to find a way to explore it while also learning Spanish.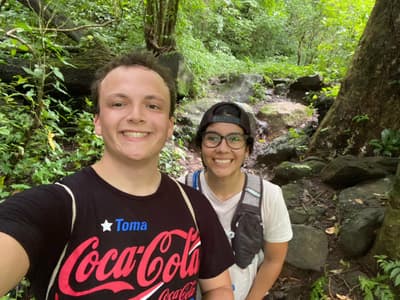 RD: You mentioned growing up you didn't have many opportunities to interact with Chinese language and culture. What was it like choosing to study Chinese when it wasn't understood among your peers?
LSM: It was definitely very hard. And at the beginning especially, I did not talk to a lot of people about it. Only my closest friends knew. My parents, especially at the beginning, were also confused by it. As I gained experience, participating in NSLI-Y, they became super supportive but, in the beginning, they didn't understand where my interest came from. As the years went on, and I participated in NSLI-Y in Taiwan for an academic year, I started to become known in my community as the guy who spoke Chinese. I did it because I was following my curiosity, but it also gives me a sense of pride to know I pursued something challenging and sought opportunities that weren't clearly available. Now Chinese language and culture is a huge part of who I am.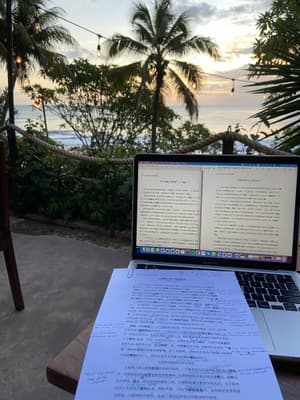 RD: What was it like studying Chinese while also being fully immersed in Spanish in Nicaragua?
LSM: It was the first time I was in an immersive environment for both my second and third language. I was thinking in Chinese all morning for CLS, and then I'd go to work, think in Spanish for eight hours, and come home and do my Chinese homework. My brain wasn't forgetting English, but it was for the first time on the sidelines. I think it changed the way my brain processes information in these languages and helped me become better at switching between them.
Nicaragua was also an ideal place to study Chinese because of China's presence in the country. There have been many proposed infrastructure projects in Nicaragua that would be funded by Chinese businesses and government. Within the last year, the Nicaraguan government established relations with Beijing, they formerly had a pact with Taiwan. Chinese-Nicaraguan relations are at a very interesting point in history and getting to speak to locals about the current situation both fascinated me and helped me better understand diplomacy on a deeper level. I was able to bring Nicaraguan culture and topics into my CLS courses to deepen our class discussions and enrich the cultural comparisons we often talk about in class.
RD: Were you expecting that you would find so many connections to Chinese culture and language in Nicaragua?
LSM: I was surprised how prevalent it was. One day I hiked up a volcano and I was shocked that at the summit, there was an entire Chinese national news crew! I thought, wow, what are the chances. I'm in an incredibly rural part of the world and I'm running into a group of Chinese news reporters. I was also surprised to meet Nicaraguans that were learning Chinese!
The schools in my community in Atlanta rarely offer Chinese language courses, but I was shocked and impressed that in Nicaragua, a country that doesn't have a reputation for having a strong public education system, there were many locals learning Chinese. People would see I had the settings on my phone in Chinese and would start speaking with me. It was amazing.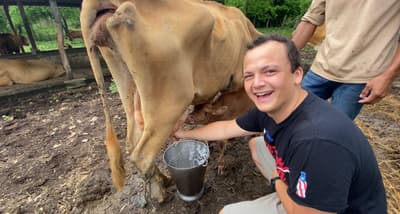 RD: Your Chinese language skills allowed you to connect with Nicaraguans and gain foreign policy insights you wouldn't have been able to otherwise. It really underlines the importance of critical language study. What was one of your favorite aspects of your CLS Program?
LSM: I really enjoyed that the curriculum emphasizes cultural comparisons. I had the opportunity to not only make comparisons between the U.S. and China, but Nicaragua and China. I used Chinese language to reflect on Nicaraguan culture, which was an entirely new experience.
We had a unit on wedding practices in Chinese culture and we learned that it is customary for brides in China to wear red. The western practice of wearing a white wedding dress has been adopted in some areas, but red is still traditional. I asked local Nicaraguans what weddings looked like in their culture. A few of the women I asked pulled out their phones to show me their wedding dresses––they were all different colors! It's something I think will stick with me for a long time. It showed me how cultures, in very different parts of the world, accept different cultures and values. It was interesting that both in Nicaragua and China the cultural significance behind vibrant colorful clothes had prevailed over western wedding traditions.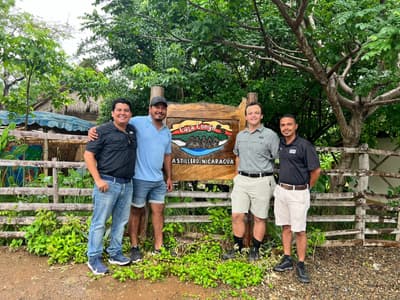 RD: I'd love to hear more about your internship experience! What was the work like?

LSM: With generous support from Emory, I was able to work as an Economic and Community Strategy intern at a company called Rancho Santana where supported eight local Nicaraguan and international nonprofits on community development projects. I met people working for non-profits in Nicaragua that were doing incredible things, people with big hearts, some were foreigners, and some were local Nicaraguans. Also, everyone in my office was Nicaraguan and we had a very open work environment. I got to talk and really get to know my colleagues and people who didn't work in the same department.
It was also interesting noticing the differences in work culture between China and Nicaragua. I would switch between writing emails in Chinese which are written in a much more direct manner, and, emails in Spanish, where the first paragraph must include 'how's your family? how's your mom?' or you won't get a reply.
It was interesting to expand my mind, writing emails in three languages each day. There was also a procurement team for the company that was interesting to interact with, some of them spoke Chinese, because they are involved with imports and procuring goods from outside of Nicaragua. I was able to talk to them about their experiences interacting with Chinese companies and foreign companies. It was fascinating!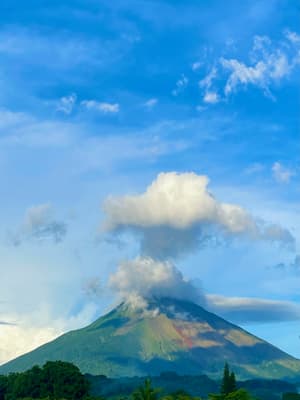 RD: Any overall reflections on your CLS Program you would like to share with us?
LSM: It has been extremely meaningful to practice and advance my Spanish during my internship while also using Chinese in a fulfilling and challenging environment each day. I was able to work on projects making a direct impact on the world, while studying Chinese which I know will help me make a meaningful impact in the future on different communities.
I had a lot of what ifs before going to Nicaragua but my host institution and the CLS team were so flexible. My house in Nicaragua was solar powered, and there were times when I would briefly lose power, which is apparently common with solar powered homes in developing nations. Everyone was so understanding. I'm also a student with accommodation and it was helpful to have that met to the level I needed. The flexibility of the online program allowed me and several other students in my cohort to pursue other enriching opportunities alongside CLS. CLS offers many opportunities for growth beyond language development and I'm incredibly grateful for that. Overall, I had an entirely different experience than I thought I was going to have in March 2022. But I'm really happy with how it all came together.
RD: What's next for you?
LSM: I hope to study abroad next year. There's one program I'm looking into in Europe. And after college, I'd like to apply to a Schwarzman Scholarship, which funds graduate education in Beijing, China. Until then, I plan to take as many Chinese language courses as I can. I'll take every class at Emory if they let me and perhaps apply to CLS again in the future. CLS helped me to close so many gaps in my Chinese language ability over the summer. And I hope in the future to return to China to put my sharpened language skills into practice.
RD: We just launched the CLS Program application for 2023. Do you have any words of advice for students considering applying to CLS?
LSM: Of course! My first piece of advice for students considering applying is that there really is no reason not to apply. At the end of the day, you never know what the outcome may be, but applying and putting yourself out there is better than looking back and regretting it. Also, take a good look at the eligibility requirements, many students don't realize you can apply if you're a graduating senior or even a graduate student.
In terms of advice specific to the application, it can be very helpful to look on the CLS website and see if your school has a designated CLS advisor and reach out to them for support. Additionally, don't be afraid to put yourself out there. I sought advice and help throughout the application process from CLS alumni and even CLS staff directly. The CLS community is strong, and I found alumni very helpful when thinking about what stories to include in my application and how to approach the application process.
At the end of the day, there's no harm in putting yourself out there. I encourage every student to apply because CLS is a life-changing experience, not only because of how great everything is organized and funded, but also because the opportunity to immerse yourself in another culture and to open your life to a new world of perspectives is truly a unique one, and an opportunity nobody would want to miss.