Audrey Petersen has worked as a nurse for over a decade and currently serves as a French Linguist for the Florida National Guard. She is a 2010 and 2011 alumna of the CLS Bangla program in Dhaka, Bangladesh and recently participated in CLS Refresh at the American Institute of Indian Studies. In 2014, Audrey went back to Dhaka with the Bangladesh Health Project as a volunteer nursing instructor. Audrey hopes to one day return and use her language skills to continue to educate and empower nursing professionals. Communications Officer, Rori DiFiore recently sat down with Audrey to hear about her Bangla language journey and her future goals.

What sparked your interest in studying abroad?
I grew up in a small town in rural Ohio. My first introduction to study abroad was through my high school world studies teacher who led the AFS experience program in our community. She could tell how curious I was in class and encouraged me to attend their meetings to learn more. Through AFS, I had my first study abroad experience, a summer abroad in Panama. When I returned, I told my parents that we should host an exchange student. I had had such a great time and I wanted us to be able to do that for someone else. We ended up hosting multiple exchange students over the course of my high school years. Nadia, an exchange student we hosted from Paraguay, became best friends with my sister Amanda. She even named her daughter after her!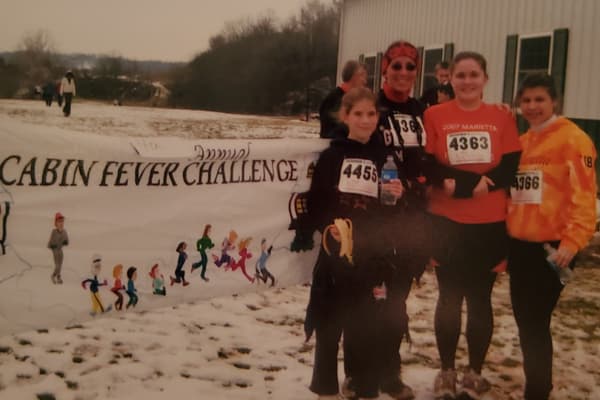 Audrey (second right) with mom, sister Amanda and exchange student Nadia after participating in a race in rural Ohio.
Why did you choose to study Bangla?
At the time I applied for CLS, I was a junior at George Mason University enrolled in a course on research writing. As a nursing major, I wanted to choose a topic that complimented my studies and ended up focusing on innovative treatments for diarrheal diseases. A lot of the research that was coming out on this topic was from the International Center for Diarrheal Disease Research (ICDDRB), which is based in Bangladesh. A professor who knew about my research told me about a scholarship program that would allow me to study in Bangladesh, it was called CLS!

Tell us about your time in Bangladesh as a volunteer nurse trainer.
During my CLS Program, we were encouraged to use our program off-days to connect with professionals in our field. I ended up meeting the head nurse at the ICDDR, the organization that had inspired my research. I learned from her about a nursing school in Uttra that hired volunteer instructors to run a nurse training program called the Bangladesh Health Project. In 2014, I returned to Bangladesh to serve as a nurse trainer. It's an innovative and unique program because it is uncommon for nurses to receive bachelor's degree-level training in Bangladesh. After the program, nurses have the skills to work as front-line nurses, instructors, and leaders. One nurse I trained went on to work as a head nurse at a Rohingya refugee camp. Another became a charge nurse. I am not even a charge nurse in the U.S., and I've been working as a nurse for over ten years! I am happy a program like this exists to empower nurses in Bangladesh and give them the skills to serve their communities.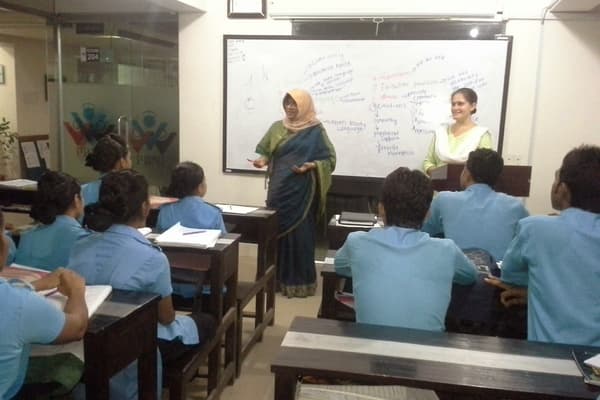 Audrey instructing a classroom of nurses in Bangladesh.
How have your CLS experiences impacted you personally?
Not only did my CLS experience impact me, but I think it impacted my whole family. My younger sister, Amanda, has gone on to participate in CLS Arabic and has used her Arabic skills to connect with students as a City Year Volunteer and Program Leader with World Learning. She is also a CLS Refresh participant!
My mom has been involved in our community's Red Cross for several years. Earlier this year, the Red Cross was enlisting volunteers to help welcome and distribute supplies to Afghan refugees. She had brought some of the scarves that my sister and I had collected from our CLS programs in Bangladesh and Morocco. She wore one as a sign of respect. She noticed that many of the women only had the clothes on their backs. By the end of the event, my mom had given away all our scarves. Reflecting on it, it was a full circle moment. My sister and I participated in CLS to learn about other countries and cultures and the scarves were a reminder of that. Now, we had the chance to give these women back a piece of their home culture while welcoming them to our country.
What have you enjoyed most about CLS Refresh?
Every session is one-on-one and individually tailored to your goals. At the end of each session, I can brainstorm what topic I want to cover next. My first two CLS Programs took place in Bangladesh and my CLS Refresh program takes place virtually at American Institute of International Studies in India. The way Bangla is spoken in India has subtle differences from how it is spoken in Bangladesh, so I've enjoyed working through them with my instructor. One thing I also love is that there are distinct sounds of South Asia that I get to hear in the background like the CNG horns from the street outside. It takes me right back to my time in Bangladesh.