Meet CLS alumna Eve Rinauro! Eve is an alumna of the 2018 CLS Persian program in Dushanbe, Tajikistan. Eve's desire to connect with others through language has been a compass leading her around the world from Morocco, Israel, Egypt and Jordan to London and Paris.
Eve graduated with Bachelor's degrees in Arabic, International Affairs and Philosophy from the University of Georgia and a Master's degree in International Development and Humanitarian Emergencies from the London School of Economics and Political Science. Eve currently resides in Paris, France and works at the International Federation for Human Rights as a Grants Officer advocating for the protection of Afghan human rights defenders.
In celebration of Women's History Month, we are spotlighting our CLS alumni working to advance women's rights and human rights internationally. In this interview, Eve shares how growing up with dyslexia drove her desire to learn Arabic and Persian, how empathy and connection are crucial in crises, and how language learning has shaped her life's trajectory.
Rori DiFiore: Before you began learning Persian you were studying Arabic, where did this interest begin?
Eve Rinauro: Honestly, it came from a desire to prove to myself that I could do something really hard. I'm dyslexic and struggled a lot in school as a child. I wanted to prove to everyone and, mostly to myself, that I could learn Arabic because it is known as one of the hardest languages for native English speakers to learn. Over time my drive to learn the language evolved into a genuine curiosity about the region where it is spoken. It has opened so many doors. I've studied abroad in Morocco and Jordan. I've traveled to Israel, Egypt and all over the Middle East and Central Asia. I participated in CLS in Tajikistan. I didn't expect it to lead my life in any one direction, but I was open to seeing where it would take me. And because I was open, so many opportunities came.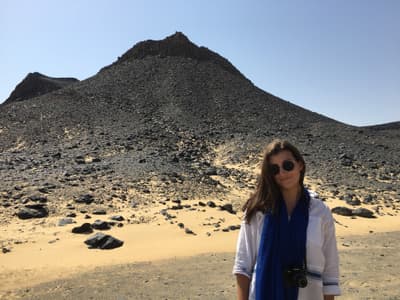 RD: What experience led you to switch gears and start learning Persian?
ER: I love telling this story! It's a moment in time that is really important to me. It redirected my whole life trajectory. In 2017, I began working as a caseworker in Atlanta for newly arrived refugees. This was right before the "Muslim ban" under the Trump administration. After the ban, I had no new families coming in for services for months. It was an extremely emotional and tense time. There were protests at the airport every weekend and such a feeling of despair trying to get things to open back up for these families that had been promised a new life in the U.S. When the ban was finally overturned, the first case I received was a family from Afghanistan. I remember there being so many people gathered at the airport to welcome them to the U.S.. Working with this family so closely over months really ignited in me the desire to learn Persian.
RD: I love that. Fundamentally there is a desire to connect with other people and speaking someone's native language is the best way to connect, to talk to their soul. What have you been up to since CLS?
ER: After completing my master's degree in London, I stumbled upon an NGO called Afghanistan Libre which was doing work on women's issues in Afghanistan. I worked as the Program Manager for the Women's Empowerment Unit managing a mental health and psychosocial support project for survivors of gender-based violence in rural Afghanistan.
During the fall of Kabul, I took charge of the evacuation and protection mission of our team in Afghanistan. We had around 40 people there. Trying to get our team out was one of the most stressful and emotional experiences I have ever been through. If it weren't for that experience, I would not be where I am today.
I intended to stay in either mental or sexual and reproductive health programme management in the humanitarian sector, but the evacuation mission changed that. One of the women I helped evacuate was a human rights defender in Afghanistan. She was one of the leaders of the women's marches after the fall of Kabul. She has become one of my best friends. If I hadn't put myself in "the line of fire", I wouldn't have made that connection. Forming attachments with people makes it more painful when you are constantly worried about their safety but not shying away from that is what has led me to where I am now.
I currently work as the Grants Officer at the International Federation for Human Rights. I manage emergency and protection grants for human rights defenders that are at risk of persecution in Afghanistan, people like my friend. And in my current job, I use my Persian more and more every day.

RD: What skills do you think helped you lead others through the evacuation mission?
ER: I used to think having tough skin was what helped me manage in the face of crisis. But when it came down to it, what really allowed me to manage was how desperately I wanted their safety. . This of course comes from a deep place of love and care, the connection that came from working with them, and having this intimacy of a shared language. The connection I had formed was more important and powerful than having tough skin or the grit to handle such an impossibly hard situation. It was more like knowing that, even if this is tough, it is what matters, and it's the only thing that matters.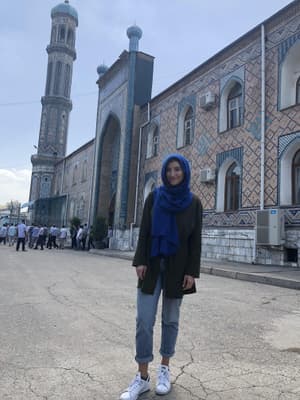 RD: How did you find out about CLS?
ER: I learned about CLS as an undergraduate Arabic major at University of Georgia. Our Arabic department was small, and we had the chance to hear from alumni who had participated in CLS. I never thought I would be strong enough at a language to study through CLS.
But when I began to learn Persian for some reason, something just clicked, and everything felt so right. I had so much fun learning it. Whereas with Arabic I struggled and fought against myself for so many years, nothing came naturally. Persian was a joy. I decided I wanted to become really strong in this language. After starting my Persian classes, just a month later, I decided to apply for CLS. I had the best Persian teacher ever. He spent hours with me helping to get me ready for CLS—teaching me the Cyrillic alphabet.
RD: Wow and now you speak Arabic, French and Persian!
ER: Yes. With Arabic, I struggled and struggled the whole way through my degree. Every single semester for four years I had at least one professor say to me, "you should probably drop this class." I found it impossibly hard. But when I eventually went to Jordan something just clicked. It was like, "Oh I can finally speak Arabic." And since then, every other language has been easier to learn. People often say to me, "Well, you speak four languages fluently. It must just come easy to you." And I tell them, "You have no idea."
RD: Your experience shows you can really teach yourself anything. Are there any moments from your CLS Persian program that you reflect back on?
ER: Before CLS, I was burnt out. I had spent a lot of time in the Middle East, traveling alone as a young woman and working in refugee camps in really tough conditions. I'd developed a guard. CLS turned that around. During those eight weeks, I made some of my best friends. Eight of us just clicked immediately. Most of us lived with host families on the same street so we were together 24/7. We even negotiated with our program director so that we could all leave on the same weekends for camping trips and excursions.
It was transformative. I had been learning Arabic because I wanted to be challenged. I had become so focused on the cerebral and academic that I had convinced myself I had to be the best. CLS brought me back to what was important, why I was learning the language in the first place, which was to connect with people. I came out of those eight weeks with so many new friendships and a full heart. It was a really healing time for me.
RD: What realizations have you had working in the women's issue field?
ER: Coming into the field after my master's program at the LSE, I thought there was a lot I understood but working for the first time with women in Afghanistan I realized how much I had to learn. The Persian language was key. It's what permitted me to listen, to take it all in and to be open to possibilities I hadn't considered. I realized quickly that the most important thing I could do was to listen without judgment.
RD: What advice would you give to students participating in CLS?
ER: The students participating in CLS have exceptional academic backgrounds and are set on mastering the language. They can study, study, study and not tire of it. However, it's easy to miss out on what is going on around you when you are so caught up in the cerebral aspect of learning a language. It's about everything that comes with the language. The culture, the people, the amazing country that you are in. You can learn as much and more from being outside and being a part of the community than from behind a book. Step away from your comfort zone. Also, I'd say, take it easy a little (laughing), you are going to learn.
RD: Exactly, it is getting through even when you don't always feel like it is.
ER: I often think about one of the most powerful days I had while I was in Tajikistan on CLS. It was a day where something clicked and I thought to myself, wow, I really can speak Persian. My language partner and I were walking arm in arm around a museum. She would point out things in the museum and say to me jokingly, "that caveman over there, he's your boyfriend." And we'd laugh and I'd joke with her back. Those were the best learning moments during the whole experience.
RD: That's amazing. You know you are starting to click with a language when your sense of humor starts coming out!