Meet CLS Advisor Yee Han Chu! Yee Han advises for the CLS Program in her role as Academic Support and Fellowship Opportunities Coordinator at University of North Dakota (UND). Yee Han uses an individual-centered approach when advising students, a skill she has honed from years as a clinical social worker. Born in Hong Kong, Yee Han and her family moved to the U.S. when she was just three years old.
For the last twenty years, she has lived in North Dakota, a state with an Asian population of less than 2%. While she would describe herself as fully encultured—noting her North Dakotan accent—she is also familiar with feelings of isolation.  Yee Han sees CLS as an opportunity for UND students to connect with peers who share their interest in cultures and language learning—an opportunity she wishes she had had as an undergraduate student. Yee Han has seen students gain a sense of belonging and community through CLS, key ingredients to happiness and success.
In this interview with Communications Officer Rori DiFiore, Yee Han discusses her unexpected career path, an individual-centered approach to academic advising, and how the CLS application process can be a powerful tool for connecting with one's purpose and identity.
Rori DiFiore: To start off, I would love to learn what led you from your career in social work to becoming a scholarship advisor.
Yee Han Chu: I find the work I do now so satisfying. It's something that I would never have thought would be a pathway for me. I come from a clinical social work background. Early into my career, I was working specifically with Asian American Pacific Islander population as a substance abuse counselor at the Haight Ashbury Center in San Francisco. From that work experience, I recognized the importance of giving individuals attention and time to tell their stories. That's become very important to me and it's foundational in how I advise: to recognize the student as an individual first. They are not scholarship applicants; they are individuals with unique stories and purposes.
A lot of what I do involves incorporating counseling techniques in helping students figure out their path. Scholarship work is a mechanism to help students get to their destination. Many of the students I work with are in one of the hardest developmental stages in life, they are questioning what their purpose is. And once they identify that, how are they going to get there? One thing I love most about scholarship work is that it gives students a pathway for achieving their goals. Well, if I want to do this, here is an opportunity that will give me the skillset to get to where I want to go. My story shows that there is no linear path. There is no right way to get to where you want to be. It's important to start seeking opportunities and see where they take you.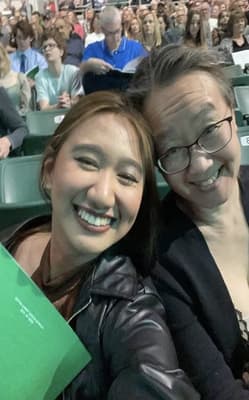 RD: What do you find most rewarding about being an academic/scholarship advisor?
YC: I came to the U.S. when I was just three-years old from Hong Kong. My mom did not receive any education and my dad had received only a first-grade level education. Education holds a lot of value in Chinese culture but in many ways, I was navigating it in the dark. That is a big part of why I love what I get to do now. I give students an understanding of all the opportunities available to them both at their university and beyond. Scholarships will open doors for them outside of the classroom. These are opportunities I was not aware of as an undergraduate student, but I know have the power to transform these students' lives.
RD: What do opportunities like CLS mean to students at UND?
YC: I love CLS. I love what it stands for. The University of North Dakota is in a rural state, less than 2% of the campus population identifies as Asian American or Pacific Islanders. When your population is so small on campus, it can sometimes feel very lonely. You don't have as many resources for language learning or cultural sharing. CLS offers an opportunity for participants around the country—including UND students in rural North Dakota—to study these languages and cultures in a truly immersive environment. Also, the designation that these are critical languages is so important. They are languages that individuals around the world are invested in speaking and that our federal government recognizes are critical to our engagement with the world. This is validating.
RD: What's your favorite aspect of the CLS Program?
YC: Through CLS, students have the opportunity to connect with kindred spirits and fellow language lovers. I want them to be with individuals who help them to feel understood. This is foundational to living happy and fulfilling lives. These scholarships are opportunities to find those connections. CLS allows students to bond with a cohort of like-minded individuals and build life-long friendships. Coming from a rural state, many of our students have had no previous exposure to study abroad. CLS gives them an opportunity to be immersed in another culture during eight weeks over the summer––it's a way of experiencing another part of the world that also feels safe. After CLS, I've seen students go on to do subsequent fellowships and even spend years working and living abroad. CLS gives students the confidence to jump into other life-changing opportunities.
RD: What advice do you have for students on the CLS application or when writing for scholarship opportunities like CLS?
YC: I ask students to think about what they value. The process of applying is a self-discovery journey. Even before they look at the essay prompts, I encourage them to think about their values and how they see those values directing them towards a life goal. I want to get a sense of who you are, your ethic, and your principles in the narrative your craft. I should see how your point of view moves across your experiences, and how you engage in the world. 
What I want for students when they're done with their application or after they've worked with me, is to have a better understanding of who they are. It's as simple as that. What do you value and who are you? What kind of imprint do you want to make on the world? When you are in your 70s, what would you want your grandkids to say about who you are and what you've done? These are big picture questions, but to craft a successful scholarship application, students need to do that big picture reflection. Applying for these scholarship and fellowship opportunities is a mechanism for answering these important questions.
RD: I love that. I hope people read that and run to their academic advisor's office. Many students graduate and then go through an identity crisis of who am I? It's helpful to ponder these questions while you are still in the university-setting and have the support of someone like you.
YC: Advising students often reminds me of the conversations I have as a parent with my children. We hope those conversations come back and revisit them when they're facing some existential moment. Likewise, when I advise students, I hope I can plant a seed that helps them navigate those later life moments of crises or confusion. As they navigate life, I hope our conversations can come back to them. What was it that I wanted for myself when I was in college? Am I living a life that aligns with my values? Would 70-year-old me be happy with the path I am on? I hope it encourages them to take that moment of reflection and pause.
Advisor Chat was created to highlight the perspectives of our advisors and showcase the important work they do to make the CLS Program possible. Are you a CLS advisor who would like to be featured in an upcoming Advisor Chat? Email Communications Officer, Rori DiFiore at clsadvisors@americancouncils.org