Abdul Sanderson is an alumnus of the 2021 CLS Russian virtual institute hosted by American University of Central Asia in Bishkek, Kyrgyzstan. Adopted from Ethiopia at the age of seven and raised in a multi-cultural family, Abdul has had a curiosity for languages and cultures since birth. Abdul received his BA from SUNY Geneseo in Economics and International Relations and plans to pursue a career in public diplomacy. Abdul recently shared with us how the Russian language has strengthened his identity, career purpose and connection with the world.
What motivated you to participate in CLS?
I was adopted from Ethiopia at the age of seven and the only language I spoke at the time was Amharic but I lost it very quickly when I started learning English. Growing up my family hosted a lot of FLEX and YES students – it was really cool to see people from Kazakhstan speaking with people from Ukraine and other Eurasian countries in English and Russian, which ultimately led to my interest in Russian.
I live in a very secluded and rural area and I believe we are the only Ethiopians in a thirty-mile radius, so we didn't have many opportunities to speak Amharic. Losing that part of my identity motivated me. If I couldn't re-learn my own language, I could learn another one. Not necessarily to find my identity, but to add to who I am.
How do you plan to use Russian in the future?
After CLS, I feel more clarity on what I want to do. I plan to apply for a Fulbright to Russia to work as an English Teaching Assistant. I want to introduce American ideals to people abroad and take back the lessons I learn to make exchanges between the U.S. and other countries richer.
I also plan to take the Foreign Service Officer test in the fall and pursue a Master's in International Relations or Economics. If I go to grad school, I would like to apply for Rangle, Pickering, and Payne fellowships which will allow me to have internships abroad and focus on Central Asia and Eastern Europe.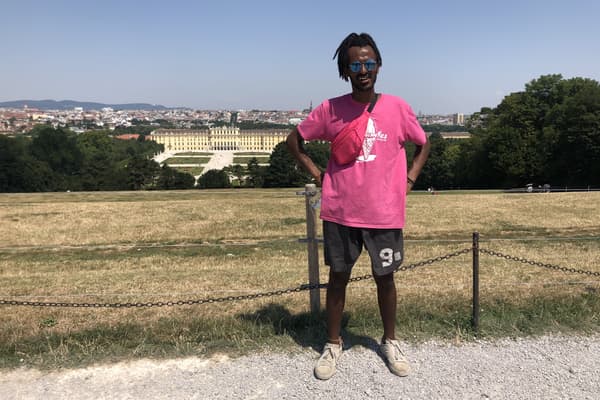 Abdul pictured in front of Schönbrunn Palace in Vienna, Austria.
CLS and Overcoming Imposter Syndrome
Participating in CLS not only helped refine my career search but it also helped me realize that there is a place for me in this field. In high school, I applied for NSLIY and YES and wasn't accepted, which was disheartening. I wasn't sure about applying for CLS because I hadn't gotten into similar programs in the past. Participating in the CLS Program helped build my self-confidence and beat that imposter syndrome.
In what ways did your identity shape your CLS Program?
I really enjoyed the language and cultural classes because having lost my first language and part of my cultural identity, they were an opportunity to build a new one.
As one of the few people of color in my cohort, it was a great opportunity to share my identity and my experience as an American with my language partner. I grew up in a family of 13 siblings with a single mom and was homeschooled from 4th grade until high school. We have family from East Africa, West Africa, and India. I think each of these factors makes my experience unique...my story shows that America is not this homogenous society that others might get from the media and films.
Final Thoughts on CLS
The program was very rewarding and insightful. The people made the experience. The program was run very smoothly. I want to thank our teachers and the team at American University of Central Asia. I thought academics outside of the U.S. might be impersonal but it was so far from that.
I really enjoyed the time that I had with my teachers and cohort. Learning different teaching methods was very rewarding. CLS has been the most beneficial part of my language learning journey. If there's any opportunity for me to help broadcast it to other people, I will. I think more people should be studying foreign languages and I think more people should apply for CLS!