Xavier Evans
Xavier Evans is an alumnus of the 2021 CLS Chinese program hosted virtually by National Cheng Kung University in Tainan, Taiwan. He is a junior at Harvard College studying Computer Science and Linguistics and teaches English to Chinese students at a startup called SetSail. After he graduates, Xavier plans to continue to use his Chinese language skills to serve as a bridge between U.S. and Chinese and Taiwanese communities.
Getting to Know Xavier
I grew up in a small town of about 600 people in West Virginia called West Milford. As you might imagine, there wasn't much to do there. I was often the only black student in the classroom. I was also adopted by two white people so growing up I had limited access to Black culture. Living in a homogenous town, I was always captivated by the idea of experiencing different languages and cultures. I used performance as an avenue for exploring who I was and different ways of life. Performing with my school choir and acting in musicals was an escape from my small town and allowed me to experience new worlds. Now, I have the agency to take steps towards realizing my dreams. Coming to Harvard University was the first step and participating in the Critical Language Scholarship Program was the second. Now, I crave barrier-breaking experiences and I will continue to seek out opportunities to connect with people in East Asia and beyond.
Why Chinese?

When I was eight, I tried to learn Chinese using Rosetta Stone and, you guessed it, I gave up after one week. Still, it had always been a thought in the back of my mind that I would learn Chinese someday. It was not until Summer 2020 that the stars aligned for me to start this journey. Because of the pandemic and the loss of so much of what truly defines the college experience, Harvard did what they could to make up for it by offering us a free class—I decided that I would give Chinese a shot. In those eight weeks, I absolutely fell in love with the language and the culture, and I am still learning it today. I encourage westerners to strongly consider learning Mandarin since it is spoken by so many people. After all, we learn languages to communicate with people, and it affords you the opportunity to speak to about 16% of the world's population. Additionally, Chinese, and Taiwanese culture is so distinct from American culture, and language is a window into those differences. One of my favorite phrases I learned this summer was '經濟發展停滯不前' which means that economic development has stagnated. We used it in so many contexts during class time that it became second nature to me. And it is also quite versatile, as you might imagine.

A Favorite Memory
The highlight of my CLS Program was the closing ceremony. I was chosen by the Tainan program staff and my teacher to serve as the host for the ceremony. I had the privilege of introducing the distinguished guests which included influential figures in the field of education. It was an immense challenge as I had to perfect my pronunciation of ten names and titles—and some of the titles were quite specific. Even though it was difficult, I learned presentation skills and was able to home in on my pronunciation. Ultimately, my professor, all the attendees, and I were pleased with how the ceremony went.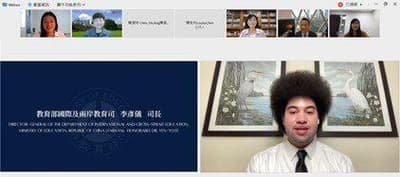 Cultural Exchange
Another favorite part of my CLS Program was getting the chance to share aspects of West Virginia and Black culture with my host family and in turn, learning about Taiwanese culture through virtual shopping trips and hikes. Since the program, I have worked to continue to bridge the gap between East and West. Many people have strong opinions on East Asian politics issues, especially the status of Taiwan. I came away from this experience with personal connections to Taiwanese people. And I hope to bring my understanding of Taiwanese culture and people to future conversations on these topics.
What's Next for Xavier?
After graduating from college, I hope to receive the Fulbright Scholarship and teach English in Taiwan. I am currently an online English teacher at SetSail where I teach Chinese and Taiwanese students, and I can't wait to apply the knowledge I have acquired there to my post-college experience. I also plan to work in language learning technology perhaps at Duolingo or maybe at a startup that I will launch myself. Regardless, I will gear that English learning content to the Chinese-speaking community as I feel they have been underserved.

Words of Advice
Start the application early! You really need to write all the essays and then completely rewrite them to get to the core of what you want to communicate to the selection committee. You simply cannot do that if you give yourself a week.
Don't prevent yourself from soaking up every ounce of this experience. If you approach it with courage and throw yourself into it fully, you will progress exponentially. If you are tentative and play it safe, you will still learn but not nearly as much. Really take full advantage of the opportunity; it is only eight weeks!

Alumni Profiles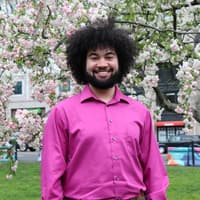 Xavier Evans
Chinese 2021
Tainan, Taiwan
---
---
Posted Date
April 03, 2022