Wendy van Giezen
Wendy van Giezen is an alumna of the 2017 CLS Chinese program in Changchun, China. Wendy graduated from the University of Kansas with a bachelor's degree in nursing and global & international studies. She is currently preparing for graduate school, where she will pursue a Master of Public Health. Wendy enjoys a good read, tea culture, learning to cook local cuisines, and sharing her love for study abroad. After graduate school, she aspires to join the Peace Corps or work for an NGO focusing on access to healthcare and women's health.
Love at First Sight
I fell in love with the Chinese language and culture in 2013 while I was studying abroad in Xi'an, China. Home of the Terracotta Army and the oldest of China's four ancient capitals, Xi'an is a smaller city where I could really immerse myself in the language. I went from only knowing basic phrases to dreaming in Chinese by the end of the semester. Since then, I've traveled back to China to learn more about its rich history and promising future.
Personal and Academic Growth
Participating in CLS was the most challenging but rewarding summer of my life because the program fulfilled my academic goals and pushed me to grow personally. I had the opportunity to see the beauty of Northeast China and experience the hospitality of its people. The language pledge was simultaneously the most difficult and the most helpful part of the program. Taking the language pledge and living with a Chinese roommate hastened my learning tremendously. The best way to learn a new language is total immersion and that is what the CLS program is all about. My time in China affirmed my desire to continue studying Mandarin and pursue an international career.

Exploring China's Natural Beauty
One of my most memorable moments from CLS was climbing Changbaishan 长白山 or 'Ever-white Mountain', an active volcano on the border between the Democratic People's Republic of Korea and China. 'Heaven Lake' 天池 sits at the peak of the mountain, with one side belonging to China and the other to North Korea. It is only possible to visit Heaven Lake three months out of the year. President Xi Jinping has visited the mountain three times without seeing Heaven Lake because the weather can change from fog to clear skies within the hour. It was amazing to share the experience of climbing the mountain and then enjoying the view of the pristine blue water with my classmates and teachers.
Favorite Phrases
My favorite phrase is lei si le 累死了 (tired to death), which is an exaggerated way to say "I am so tired I could die." You can use the second part of the phrase si le 死了 to describe just about any feeling. You can say e si le 饿死了 (hungry to death) or 热死了 re si le (it's so hot I could die).
Alumni Profiles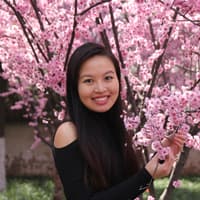 ---
---
Posted Date
July 23, 2018