Vanessa Rogers-Wright
Vanessa Rodgers-Wright is an alumna of the CLS Korean Program hosted by Chonnam National University in Gwangju, South Korea. Vanessa is a senior at the University of Central Arkansas double majoring in Political Science and International Studies and minoring in TESOL and Asian Studies. Vanessa's interest in Korean has developed into a commitment to learning as many languages as possible—she's already making strides in Mandarin Chinese. Her minor in TESOL has opened her eyes to the challenges of second language acquisition, increasing her empathy and broadening her worldview. Vanessa continues to hone her language skills and cultural knowledge and hopes to one day serve as a U.S. Department of State Foreign Service Officer.
Getting to Know Vanessa
I was born in England but have spent the majority of my life residing in Little Rock, Arkansas. Ethnically, I identify very closely with my Sierra Leonean heritage. Interestingly, it was my Sierra Leonean heritage that first sparked my interested in my CLS target language, Korean. My grandmother formed a special relationship with the Sam family, the owners of a Korean market in our hometown. She appreciated the values of the Sam family and how closely those values mirrored those of Freetown, Sierra Leone, and were displayed in the caring way they ran their business. I spent many days in their market learning about Korea from their middle daughter while my grandmother shopped and bantered with Mrs. and Mr. Sam.
Why Korean?
I didn't start learning Korean until I was around twelve. A new girl moved into my class from Florida. She was seated next to me, so I was interested in becoming her friend and acclimating her to our school's culture. She introduced me to the world of South Korean popular culture. Korean popular culture was amazing to me. I wouldn't just listen to an artist I liked, I could watch intimate interviews of them or even see them participate in game shows—all diligently subtitled for free by dedicated fans.
I was also shocked to see glimpses of Sierra Leone represented in Korean media, from the scattered outdoor markets to similarities in the ways respect was displayed in speech. People in my life were starting to become aware of my interest in Korean pop culture and reactions were mixed. Some simply thought it was a weird quirk or shared that they had similar interests. Others seemed to see my hobby as a challenge to my identity. They questioned why I, a non-Korean black girl, could develop this interest? Why would I engage in something in a language I couldn't understand?
Being stubborn, I took that as a direct challenge. I used online resources to study in Korean and practiced it whenever I had the chance. In high school I studied abroad for the first time in Seoul with NSLI-y. Another wonderful opportunity was presented to me when I received the opportunity to study abroad with CLS in Gwangju. Now, I'm happy to have achieved advanced-low Korean oral proficiency by ACTFL standards, and I hope to continue to improve my fluency.
Conversations in Taxis
Funnily enough, taxi rides in Gwangju were always very special for me. I found that taxi drivers, once they knew I had a good enough grasp on Korean, they never hesitated to pursue meaningful conversations with me. This was wonderful for a myriad of reasons.
First, it was extremely difficult. My brain was put into overdrive working to process their natural speech patterns. They provided invaluable linguistic input and conversations in taxis had a dramatic effect on my Korean processing skills.
Second, they helped me build confidence in speaking. It can be tremendously nerve-wracking to put yourself out there and attempt communication in your target language. All the taxi drivers I encountered were extremely patient and understanding. Through my interactions with them, my speaking ability and confidence increased measurably.
Third, I was able to participate in authentic interpersonal communication covering varying topics. I had previously researched the democratic process in South Korea and knew of the historical significance of Gwangju and it was fascinating hearing Taxi drivers personal reflections on the democratic struggle. An act as mundane as riding in a taxi became a very special and crucial element of my CLS Program.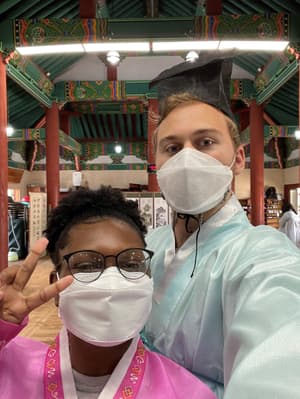 Delving into Complex Topics
During my CLS program, I advanced from middle intermediate to lower advanced proficiency in Korean. I found that I was now able to discuss a wide range of new, much more sensitive topics with members of the host community. I could discuss topics like race, xenophobia, and politics. Navigating these topics in the host community gave me a more nuanced perspective that I would not have otherwise gained. Moreover, the conversations proved to be an exercise in communicating effectively with others without the same socio-cultural background and allowed me to gain skills that I have no doubt will be beneficial as I continue with graduate school and navigate my career.
Celebrating Friendship
In the final weeks of my program, a small group of my cohort members got together to memorialize what had become a special bond between all of us. We made time out of our busy schedules to meet regularly and hand design paper plate awards for our closing ceremony. I was super surprised to receive the 해피 바이러스 (Happy Virus) award (which was dedicated to my Korean name 예진--Ye Jin). My cohort had selected me as "someone most likely to brighten your day." I hadn't realized that I had that kind of effect on my cohort members. But, looking back on the experience, I think I was reflecting back the positive energy I was receiving. It wasn't all sunshine and rainbows, but I enjoyed my cohort members and was consistently fascinated by their relationship with the Korean language and how they engaged with our host community. As a team, we navigated the intense immersion environment together and I am forever grateful for that.
Future Goals
I have a strong interest in international politics and the United States presence in the international community. I aspire to get my master's in Korean studies and become fluent enough in the language to conduct my own research in the field. Along the journey, I hope to be able to focus more energy on my Mandarin Chinese abilities as well, with the goal to reach upper intermediate proficiency. I intend on pursuing a career with the U.S. State Department as a Foreign Service Officer.
Words of Advice
Every language has its unique quirks that give it character. Korean is no different. In learning foreign languages, I have come to find that there are times when what I want to express sometimes comes to me better in one language than another. As a silly result, I find myself using Korean expressions in English or vice versa. I would encourage others to pursue any foreign language that has caught their attention even in the smallest way. Just attempting to master another language can broaden your perspective and worldview.
My biggest piece of advice would be to convey your personality in your application. Of course, your achievements and resume are great, but keep in mind that they will be reflected in other portions of the application. Outside of the essays, the reviewers have only glimpses of who you are as an individual. Use the essays to give them a good reflection of your character. Don't be afraid to be vulnerable in your essays. Strive for honesty and be clear about your goals and intentions.
Alumni Profiles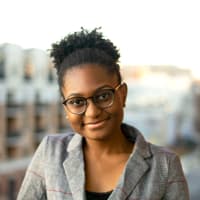 Vanessa Rogers-Wright
Korean 2021
Gwangju, South Korea
---
---
Posted Date
June 27, 2022