Tyler Le
Tyler Le is an alumnus of the 2018 CLS Russian program in Tbilisi, Georgia. He's currently a junior at University of California, Los Angeles, majoring in Biomedical Engineering. Tyler plans to pursue a medical degree at Uniformed Services University of the Health Sciences, where he intends to specialize in emergency medicine. He enjoys hiking, traveling, cooking and culinary explorations, and trying unique and culturally significant foods from every corner of the world.
Sharing American Diversity
A second-generation Vietnamese-American, I grew up in Westminster, California, a predominantly Vietnamese community in Orange County. While on the CLS Program, I was often asked about my family, my background, and where I'm from. As a Vietnamese-American, many Georgians had difficulty understanding my reply of simply "California, USA." Their idle curiosity would turn into fruitful discussions of American multiculturalism, the mix of ethnic groups, languages and cultures that coexist in American society. And much to my surprise, Georgia is also an incredibly diverse country with various ethnic groups living within its borders including a large population of Armenians and Azerbaijanis.
The Road Ahead
After serving in the military I plan to work for Doctors without Borders in areas with large Russian-speaking populations including Central Asia and Eastern Europe. Working in these areas, I will be both a practical and effective doctor, able to communicate without a mediator with my patients. The importance of trust and confidence in the doctor's actions is underrated as an effective part of medical treatment. I want to build a working relationship with Russian colleagues and help each other understand different local remedies and regional treatments for different afflictions.
Because I had allowed myself to be open in Georgia to experiencing new things, I've seen how rich the experience can be and I'm glad to be able to bring that mindset back to the US and with me for the rest of my life.
Meaningful Everyday Moments
While cutting my hair, the barber across the street from my host family's home told me about his life, his time serving in the Soviet army, his dacha, his family and his two children. One late Friday night after a long week, I set out to go to the sauna in the Old City and ran into the barber as he was closing up. When I told him where I was going, he replied with a simple "давай," ("come on") gesturing to his car. A strange man who cut my hair was offering to drive me to the sauna. And I went with him.
There wasn't any epiphany-inducing moment that is often romanticized when it comes to study abroad, but this encounter and many other experiences have impacted my life in numerous ways and I'm glad to have had the opportunity to travel in Tbilisi. It was the accumulation of small lessons and encounters with people from a world away, putting myself in a new environment that allowed me to perceive the world through a different set of lenses.
Learning Russian in Georgia
Russian has such incredible phrases as "Когда рак на горе свистнет" which translates to "When the crawfish whistles on the mountains" or, in more understandable words, the Russian equivalent of "when pigs fly." As a former Soviet republic, Georgia has a complicated relationship with the Russian language and has begun a shift towards English as the de facto second language in the country for business and education. Though there is a noticeable difference in competency levels of Russian between the younger and older generations, there is still so much to learn from those who lived under the Soviet era, especially since Georgia was allowed to retain the Georgian language in official capacities. In this regard, Georgia occupies a unique space in the post-Soviet era among the former republics.

---
CLS Alumni Ambassadors are recent CLS participants who take leadership roles as active and positive representatives of the CLS Program by engaging with CLS alumni and representing the program to various audiences. If you would like to get in touch with a CLS Alumni Ambassador, please contact clsalumni@americancouncils.org
Alumni Profiles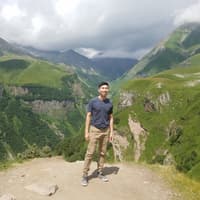 Tyler Le
Russian 2018
Tbilisi, Georgia
---
---
Posted Date
May 06, 2019