Sydney Ward
Sydney Ward is an alumna of the 2019 CLS Arabic program in Amman, Jordan. She's a recent graduate of the University of Washington with a B.A. in International Studies and Near East Studies. She currently works at Trader Joe's while she considers her career options, and hopes to use her Arabic knowledge for a career in the private sector or government.
Getting to Know Sydney
I grew up in Minnesota and my hobbies include cycling, embroidery, and mailing postcards to strangers. I worked full time at Trader Joe's as a college student, so I didn't have the opportunity to participate in many extracurricular activities. I'm super passionate about trying to make the cycling community in Seattle more inclusive of women, trans, femme, and non-binary people.
The Road to CLS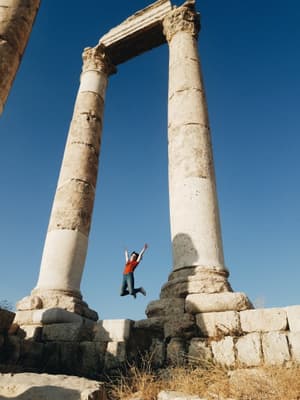 I participated in the Kennedy-Lugar Youth Exchange and Study Abroad (YES Abroad) Program, which is a State Department-funded study abroad program for high school students that focuses on culture. After a year living in Rabat, Morocco and only speaking French, I decided to learn Arabic, as I wanted to be able to return to Morocco and conduct research on the handicraft industry and have full conversations with people in their native tongue.
My favorite Arabic idiom is "when you fish in the Dead Sea ( لما تصید في البحر المیت)," which has the same meaning as "when pigs fly." I always encourage people to study Arabic because of how cleverly the language is constructed. There have been many times that, upon learning a new grammatical concept, it has clicked immediately because it just makes sense. I think the hardest part of Arabic is not the alphabet or the grammar, but memorizing the vocabulary, and if that is the hardest aspect, it seems much less daunting.
Career Goals
Now that I've graduated, I'm happily working at Trader Joe's while I look for the right job opportunity that combines my advanced knowledge of Arabic and the Middle East. It doesn't bother me that I didn't get started on my career right after graduation; it's more important that I find the "right" job rather than a "first" job. I'd like to use my advanced Arabic knowledge on a daily basis in my career and that is why I am carefully considering my career options. I plan on returning to school in a few years to either earn a master's degree or PhD in an area related to the Middle East. I look forward to a career in the private sector or government.
An Unexpected Favorite Memory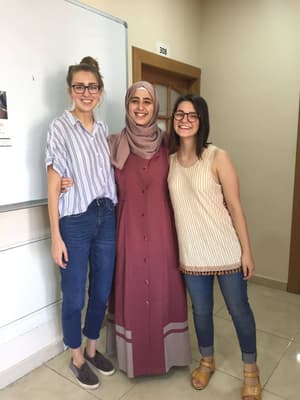 One of my favorite memories was a linguistic mistake that I made in my Arabic Media class. My teacher gave each of us a new vocabulary word with which to create a sentence. My word was "bomb" and my sentence was, "I make bombs." The whole class, including my teacher, started laughing and I quickly realized that I had accidentally said, "the most beautiful bomb." The superlative of beautiful and the verb "I make" are similar enough in Arabic that I mixed them up. For the rest of the summer, my teacher lovingly called me "the most beautiful bomb (اجمل قنبلة)."
Seeing New Perspectives
Since returning to the U.S., I have shared with my community the conversations I had with Jordanians. One in particular that comes to mind was with my host mom who is Iraqi and Christian, when she told me that she loves to vacation in Iran and I was very surprised. I asked her questions about her experiences in Iran and her perspective and I learned that what I thought I knew about Iran from American media was completely different from what I learned from my host mom's first-hand experiences. This really made me question the lens through which I see other countries. I like to share this conversation with my community in Seattle to open their minds and prompt them to ask, "what do Iran's neighbors think about them?" rather than, "what does the American media think about Iran?"
Alumni Profiles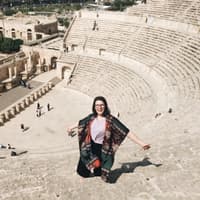 ---
---
Posted Date
April 30, 2020