Sofia Hrycyszyn
Sofia Hrycyszyn is an alumna of the CLS Chinese program hosted by Tamkang University in New Taipei City, Taiwan. She is a sophomore at the University of Chicago majoring in economics while on the premed track. Sofia is exploring different avenues for using her Chinese language skills within the medical and economics fields. When she's not tackling an economic problem in class, you can find Sofia outdoors locating her next mountain to summit.

Getting to Know Sofia
I'm originally from the Boston area but spend most of my time studying in Chicago. I grew up in an outdoorsy family and was always encouraged to explore new places through a variety of lenses: food, nature, conversations. While at school, my only real taste of the outdoors is spending my mornings on the Chicago River with the rowing team so being overseas in Taipei was paradise in terms of hiking, running, and diving. I brought my love of water with me and spent most mornings jogging along the Danshui River. There were a few people that I would see almost every day, and while we never exchanged more than a "zǎo" or "good morning," I felt like I wasn't an outsider in the community. My urge to explore the city, often on my own, but through activities that I'm passionate about, put me in the ideal position to meet and make connections with locals.
Why Chinese?
I started studying Mandarin in middle school with the vague sense that it could be useful in a broad range of contexts. A few months into class, a group of local high schoolers visited to share their experience abroad in Beijing. Looking at the pictures in front of beautiful temples and spreads of delicious food, I instantly decided that was going to be me. The urge to study abroad and connect with new people and cultures has spurred me to continue studying Mandarin. In developing my Chinese, my understanding of the use of language skills and Mandarin specifically has both broadened and solidified. A deeper understanding of the language has offered me a clearer picture of the culture which I've applied to everything from job applications, interviews, and daily life.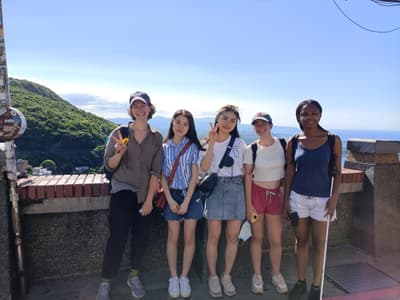 Uncovering Hidden Meanings
Mandarin contains a lot of little secrets. With the limited number of characters, all modern words and a lot of older ones, are made up of a combination of characters. The word "computer" literally translates to "electric brain." I love the creativity evident in certain phrases and words. It's interesting to see how the language evolved to encompass the new vocabulary and slang that's rampant in the modern world. As I continue to learn, I'm able to uncover some of those little secrets and with every new discovery I feel that I understand the culture and history a little bit more.
More than a Memorable View
Growing up near Boston, hiking mountains with peaks and views was always a treat but it was also always a trip. In Taipei, I found that I could hop on a bus and within an hour reach the foot of a world-class mountain. Arguably, Taipei's most notorious hike is Wuliaojian. It begins with a few miles of steep incline where it's necessary to use the network of ropes tied between trees to scale boulders and muddy slopes; locals all had their own gloves for the rope-burn, and I saw one man scamper up a boulder gloved up but totally barefoot. The mountain climaxes midway through the hike on single-file paths with sheer drops on either side.
It was around this point that I met a 60-something year old Taiwanese man. I spent the rest of the hike running down the mountain to keep up with him. We talked about his work making a grass-herbal medicinal drink and the benefits of mixing elements of Western and traditional medicine. I was in near marathoning shape at the time, running every morning along the local Danshui River, but I could barely keep up. It's powerful to learn that you have the language skills for an interesting conversation and it's especially powerful when that connection is forged in a context that you don't expect. I was expecting the hike to be memorable because of its notoriety and views, but what sticks in my head is the connection that I made with an astonishing individual.
Finding Close Connections with Teachers
Due to Covid precautions, my cohort missed out on the host family experience. However, I think the close relationships my cohort fostered with our teachers almost made up for that lost host family experience. Not only did we spend so much time together that trust and open communication was easy but built into the class were conversations and projects on difficult topics. In addition to class discussions, sometimes we would hear the teacher's perspectives on events that were going on in the world. While my language partner and I would often compare school or food culture, which are interesting to learn and think about, it was nice to form a deep relationship with an adult. CLS does an amazing job of fostering relationships with language partners and teachers, and the perspectives and stories that I heard are among the most precious things that I took home with me.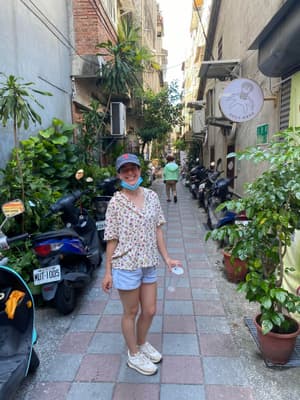 Words of Advice
For anyone applying to the CLS Program, my advice is to be honest about your goals and interests. It doesn't matter who you think the "typical" applicant is. If you have a genuine interest in learning the language and a sense of how it'll help you achieve your goals, you should apply. Before applying, I had spent the year working in healthcare and research, my Chinese language learning was very much on the back-burner. When I stumbled on the CLS application, it sparked the same love of travel and language that had sent me abroad in high school. Even so, I was unsure about applying because I felt that my background and interests in medicine made me an abnormal (and unfit) applicant. In meeting my classmates abroad, I found that the CLS Program accepts students with a range of goals. If you're motivated and have an idea of what you may do with the skills CLS helps you foster, you should absolutely apply.
On a final note, when I was applying and considering accepting CLS, I found it helpful to talk to past alumni. I would love to answer any questions that you have!
Our CLS Alumni Ambassadors are ready to connect with applicants and eager to answer your questions! If would like to speak with a alumni ambassador featured, please email clsalumni@americancouncils.org and we'll be happy to put you in touch.
Alumni Profiles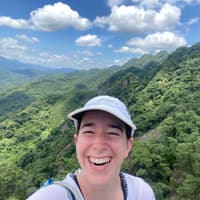 ---
---
Posted Date
February 27, 2023