Sasha DeLellis
Sasha DeLellis is an alumna of the 2021 CLS Russian Program hosted virtually by KORA Russian Learning Center in Vladmir, Russia. Sasha is in her senior year at Central Michigan University finishing her Bachelor of Science in Economics. After graduating later this year, Sasha plans to pursue graduate studies in international economic affairs or economic development with a regional focus on Central Asia. Sasha shares her experience as a Russian heritage speaker and urges other students with non-traditional language learning experiences to apply to CLS.
Getting to Know Sasha
I was born in Kazakhstan, to my Kazakh mother and my Italian-American father. When I was an infant we moved to Richmond, Virginia, and later moved to Mount Pleasant, Michigan, where I now attend Central Michigan University. Growing up, I spoke English and Russian equally at home. Over time, though, English became the primary language in our household, and my Russian language skills diminished. As an undergraduate, I started looking for programs that would match my unconventional language experience which led me to CLS! Outside of Russian studies and academics, I enjoy spending time outdoors with my friends, learning to play the dombra, and traveling!
Why Russian?
As a heritage speaker of Russian, my connection to the language is intrinsic. I was motivated to improve my Russian language skills in order to reconnect with my family and culture. Also, the Russian language is fascinating! It can convey a lot of information in just a few words, and at the same time it can be incredibly detailed and beautiful. Reading poetry in our phonetics class gave me an appreciation for not only the beauty in the sound of the Russian language, but in its distinct descriptive language as well.
Golden Learning Moments
A professor asked my group if any of us knew the meaning of the word "zolotoi". I'd heard it dozens of times before––every time I walked into my grandmother's apartment. I raised my hand, and confidently delivered my answer: it refers to loved ones! My professor explained with a smile that "zolotoi" means "golden". That moment gave me a better understanding of the weight of the word, and after class I had a chance to discuss its colloquial meaning with my professor. It was one of the first times I had seen a direct connection between my life with my family and my Russian language courses, and it was encouraging to discuss the impacts of being a heritage speaker with my professor.
During the first few weeks of the summer, I had been struggling with some grammatical review. My groupmates, having taken formal Russian classes before, were already familiar with some of the materials. My classmates and I started meeting after classes to discuss the materials, use our new vocab, and to reinforce grammar concepts. Through these meetings, my understanding of course materials improved, but in addition my groupmates and I became friends.
Anishinaabe-Ojibwe Culture
During the summer, I was able to share a unique part of my community with my language partner when I went to our local tribe's powwow. It was an opportunity to share the traditional Anishinaabe-Ojibwe culture in my town, and sparked discussion about traditional dance and art. Since the program has ended, I've had opportunities to share what I've learned about Russian culture. I discussed my experiences with an advisor on campus who had studied abroad in Russia as a student and learning about the differences between our experiences––across decades and modalities––gave us both new insights into Russian culture.
Words of Advice
Absolutely apply! I recommend reaching out to your campus advisor, speaking with alumni with similar backgrounds, and focusing on your motivations to learn a new language and connect to a new culture. To fellow heritage speakers looking for a path to improving their language skills: I urge you to apply! It can certainly be daunting to apply to an intensive language program without a traditional background, but the experience is incredibly rewarding.
Alumni Profiles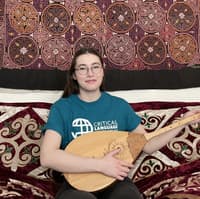 ---
---
Posted Date
May 20, 2022