Sarina Haryanto
Sarina Haryanto is an alumna of the 2018 CLS Indonesian program in Malang, Indonesia. She graduated in 2018 from the University of Maryland with a bachelor's degree in Supply Chain Management and minor is Sustainability Studies. She now explores her interests in creatively breaking down barriers and building community as an executive assistant at Girls' Night In and a barista at Philz Coffee and plans to use her Indonesian language and cultural knowledge to address social and environmental challenges such as the global supply chain of food and clothing. Sarina enjoys barre and dance classes, reading, listening to classical and dangdut music, and attending Indonesian cultural events and making food and drinks like es cendol.
Embracing a Multicultural Identity
My multiracial heritage (Chinese, Indonesian, Irish, and Czech) introduced me to different cultures in my household from a young age. My fondest memories of elementary school are of multicultural night where I served nasi goreng ("fried rice" in Indonesian) and learned about different cultures from around the world. Throughout elementary school, I participated in a Chinese after-school language program and began formal study of Mandarin Chinese in middle school. These opportunities to connect with my Indonesian and Chinese background helped me embrace my mixed-race identity.
A Lifelong Interest in Indonesia
As my father is from Central Java, we visited Indonesia many times throughout my childhood. I remember hanging my wet clothes to dry outside and picking lychee from the trees in my relatives' garden. I cherished the warm hospitality of neighbors who invited me to try fresh Indonesian dishes sitting under colorful food domes. From the people to the environment, I admire the beautiful diversity of the country.
The CLS Program influenced me to slow down, notice things in my surroundings, and reflect every day to progress in my language ability.
My interest in Indonesia continued in college when I decided to study supply chain management and sustainability. Seeing "Made in Indonesia" on clothing labels reminds me of Indonesia's important role in global supply chains. I wanted to study Bahasa Indonesia to rekindle my personal connection as a beginner heritage speaker and challenge myself to see social and environmental impact in a different context.
Meaningful Connections
Living with a host family and becoming close friends with my language partners taught me the importance and value of community in Indonesian culture. I appreciated Indonesians demonstrating the values of semangat (be enthusiastic), sabar (be patient), and santai (be relaxed). The unwavering support of my language partners helped me adjust to the local culture, food, people, and norms. We rode an angkot to Pasar Besar, haggled for batik, and savored nasi padang at warungs. As we explored Malang, they encouraged me to practice Indonesian everywhere: I remember nervously placing my first order for food, hoping I didn't accidentally ask for the spiciest dish on the menu!
Future Goals
My educational goals involve graduate studies in educational psychology, cross-cultural learning, and/or linguistics. In my professional work, I look forward to creating economic opportunity for people of color through my language skills and community engagement efforts. I hope more people become interested in and aware of how people and the planet are treated in global supply chains.
---
CLS Alumni Ambassadors are recent CLS participants who take leadership roles as active and positive representatives of the CLS Program by engaging with CLS alumni and representing the program to various audiences. If you would like to get in touch with a CLS Alumni Ambassador, please contact clsalumni@americancouncils.org
Alumni Profiles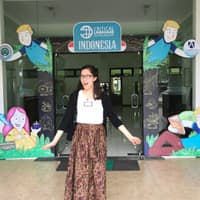 ---
---
Posted Date
May 06, 2019