Sarah Whipple
Sarah Whipple is an alumna of the 2017 CLS Arabic program in Meknes, Morocco. She is a rising junior at the University of Texas at Dallas studying International Political Economy. Sarah is also an alumna of the National Security Language Initiative for Youth (NSLI-Y) Arabic program. On a day off, you can find her cooking, making espresso drinks, filming and editing videos, or going to a museum. After finishing her undergraduate degree, Sarah hopes to attend law school and eventually work with refugees and asylum-seekers.

Early Inspirations
When I was fifteen years old, I spent the summer in Muscat, Oman studying Arabic with the NSLI-Y program. I went because I knew that I wanted to work in the immigration field and thought Arabic language skills would be helpful. My experience on the NSLI-Y program sparked a long-term interest in studying Arabic. After NSLY-Y, I continued working in the immigration field; I spent the past year at a nonprofit organization in Dallas that provides immigration services for low-income immigrants. I am spending this summer working at a center for LGBTQIA+ refugees in Cape Town, South Africa, where I help Arabic speaking refugees from all over the African continent. Around campus, I compete on UT-Dallas's Model UN (MUN) team and am in charge of the Dallas-Fort Worth regional MUN conference. I have a fellowship with the United Nations Association to work on human rights projects, and another fellowship studying systemic injustice in the United States' immigration and courts systems.
Mastery of Dialect
Although I studied Arabic prior to visiting Morocco, I quickly discovered that the Moroccan dialect bears little resemblance to Modern Standard Arabic, which is what I had been studying. At first, I had a really hard time communicating with my host community. On my first day in Meknes, I accidentally told my host family I was Rihanna instead of saying I was tired. Nevertheless, I tried to learn new vocabulary as much as I could. In about a month, I was able to speak with my taxi driver using the Moroccan dialect for the whole drive home from school. He was so impressed by an American speaking Moroccan Arabic that he gave me the ride for free! This experience was very meaningful to me because it showed me that the conscious effort to study a language really can make a difference in communicating with others.
Bringing Back Host Culture
UT-Dallas is a predominantly STEM university, so language study is not a core component of our curriculum. One of the most impactful parts of returning from CLS was relaying the importance of language learning and study abroad to students at my home university. I have found that most people do see the value of learning other languages, but may not think that language study is compatible with their degree program, or are not aware of the resources available for language learning. I was excited to help UT-Dallas students apply for the CLS program, and was able to work with students who study physics, mechanical engineering, computer science, and other underrepresented fields in study abroad.

In addition to sharing my study abroad experience with others, CLS also taught me how to have more valuable contributions in discussions with my peers about Arabic, Arab culture, Islam, and politics in the MENA region. The media and the government have projected a view of Arabic-speaking countries as dangerous, oppressive, and poor, leaving many Americans with a myopic picture of life in the region. During my time in Oman and Morocco, I got to experience a small part of the cultural diversity of the Arabic-speaking world. I have leveraged these experiences in discussions with my peers, and have addressed misconceptions that people in my American communities have about the Arab world. While I still have a lot to learn, I am grateful for my CLS program because it allowed me to experience language and culture much more intimately than I could have in an American classroom.
Bridging Communities
Arabic is the fifth most spoken language in the world, so learning Arabic automatically opens the door to speaking to millions of people both in the United States and abroad. In a lot of ways, Arabic has been politicized in the U.S., so I think it is more important than ever to have non-native speakers learning and speaking the language. By learning Arabic, I hope I can provide services to Arabic-speaking immigrants and build community between native and non-native Arabic speakers. Although my interest in learning Arabic stemmed from my professional goals, studying another language has helped me communicate with communities I may not have otherwise been able to interact with. Languages are not just a collection of words - they strongly influence the way people think, feel, and identify.
Alumni Profiles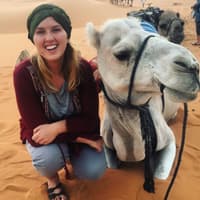 ---
---
Posted Date
July 23, 2018