Sarah Schlosser
Sarah Schlosser is an alumna of the 2021 CLS Hindi Program hosted virtually by American Institute of Indian Studies in Jaipur, India. Sarah received her Master of Fine Arts in Book Studies from the University of Iowa and Bachelor of Fine Arts in Printmaking and Photography from Kent State University. Sarah is a current Fulbright Fellow abroad in India where she is studying traditional natural dying practices.
Getting to Know Sarah

I grew up in North Canton, Ohio. Currently, I am working as a designer for a local manufacturing company. Outside of work I enjoy rock climbing, hiking, and mountain biking. I also love spending time cuddled up with my daughter watching movies.
Why Hindi?
My decision to learn Hindi came from my time studying at the University of Iowa. There I learned that to understand a culture you need to understand the language. I applied to CLS at the same time I was applying for a Fulbright and my decision to dive into Hindi stemmed from that application. I am so glad I did. Participating in CLS gave me a whole new appreciation for culture.
A Changed Worldview
Language study completely changed my worldview. When you think of the most beautiful languages, Asian languages may not be the first to come to mind but when you breakdown the meaning of words they are are strikingly beautiful. For example, the word library in Hindi means "house of knowledge". Also, I gained a deeper understanding as to why a foreign speaker might drop certain English words. For example, the doesn't exist in Hindi! Realizing this distinction between the English and Hindi language was a lightbulb moment for me.
Laughing over Language Mix-ups
I will start out by saying learning Hindi was an incredibly humbling experience. I knew it was going to be hard but I had no idea how different the language would be to English. After a few weeks, I began to notice the rhythm and cadence of the language. That is until I would hit an English word written in Hindi script. I would stop and sound out the word for a long time only to discover it was something simple like the word for pencil or university. It ended up becoming a class joke because at one point or another we all made the mistake!
Tackling Stereotypes
A big highlight of the program were the conversations with my language partner. We talked about the similarities and differences between our two countries. After the program I can speak more openly about the strengths of India, and tackle misconceptions people have. Just the other day I was explaining to someone that no, people don't ride on top of the trains in every city. To me these little conversations feel important in tackling some of the stereotypes of the culture.

Words of Advice
Just apply! Imposter syndrome can hit you hard when applying to opportunities like CLS. It feels like you're not interesting enough or smart enough or experienced enough. That couldn't be farther from the truth! You are interesting and have a lot to contribute. Also, be authentic in your application! If you grew up in a small town and attend community college, be sure to talk about that in your application.
For students with disabilities, I want you to know that it is possible to be successful! To set yourself up for success, be honest with yourself about what you need. I found that accommodations that I had not touched since high school were essential to get through the program. Also, ask for help communicating your needs. It is hard enough to talk about what you need in English, let alone another language.
Alumni Profiles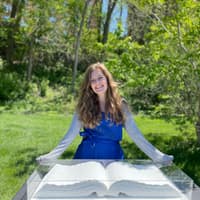 Sarah Schlosser
Hindi 2021
Jaipur, India
---
---
Posted Date
May 02, 2022