Rebecca Mueller
Why did you want to study your CLS target language?
My graduate work is focused geographically on Southeast Europe (Albania and the countries of the Former Yugoslavia). I chose to study Turkish language because Turkish civilization is a major historical influence in this region, and contemporary Turkey is growing in importance as an economic and political role model to countries like Albania and Kosova.
What are your educational and/or professional goals?
I would like to work as a consultant in global health with a focus on topics including health systems, chronic disease, mental health and illness, or disability studies. I am also very interested in social policy, and in human rights, gender studies, global human trafficking and labor exploitation in particular.
How do you plan to use your target language in the future?
Ideally, my work as a professional consultant will focus geographically on Turkey and the Balkans.
How did participation in the CLS Program affect your life?
My summer in Turkey reaffirmed my passion for the "crossroads" region between Europe and the Middle East. I left with an expanded professional network and the ability to use a regional language of great continuing interest to the U.S., the EU, and Southeast Europe.
What was your favorite part about being in your host country?
I absolutely adored my language partner, Serap, a young Turkish professional who shared her extensive circle of friends with me. My CLS experience was greatly enriched through my exposure to the culture of strong, ambitious women from a variety of backgrounds who are becoming (I think!) a major force within Turkish society.
What did you learn about your host country that you didn't know before?
I learned a lot about Turkish-Arab relations as they pertained to both the Syrian civil war and the 2014 Israel-Gaza conflict (which occurred during my CLS experience). I spoke often with my Turkish host family and friends about the Syrian refugees in Bursa, and I even became friends with many Syrians who were studying Turkish at TOMER, the "Turkish for foreigners" language institute where CLS participants also studied. And I enjoyed contrasting Turkish media coverage of the events in Gaza with that I knew to be running concurrently in the United States.
Please share a short story about your CLS Program experience.
I really enjoyed experiencing Ramazan with my host family. The food was excellent, and I enjoyed our midnight excursions to concerts, the amusement park, mosques and cultural sites. I will never forget how meaningful it was to share the quiet, middle of the night hours with all three generations in the household, enjoying suhur (meal before fast) at 2:00 or 2:30 AM, and sometimes sitting and talking for a while longer over tea and fruit.
What is your favorite target language word or phrase, and what does it mean in English?
"Ellerine sağlık" or "health to your hands." This expression is used to thank and compliment someone who has prepared food. I think it is a wonderful way to show appreciation for a meal, and I've shared it often with American friends and coworkers since my return from Turkey.
What is a must see or must try in your host city or country?
The Hagia Sofya in Istanbul is one of the most amazing historical sites I've visited anywhere in the world. In Bursa, you must try güllaç, an Ottoman rose- and milk-flavored layered dessert that can be found during Ramadan at certain sweet shops.
What advice would you give prospective applicants, participants on the program, and/or recent CLS alumni?
Spend as much time in Bursa with your language partner, host family, neighbors and (Turkish) acquaintances as possible. Take advantage of free time to visit new areas and chat with locals. Skip touristy activities in favor of "everyday" experiences. Get your hair cut, go to the cinema, frequent a neighborhood café, watch football matches at the field nearest your apartment, pursue a hobby (take music or art lessons, run, or go to the gym). You won't regret saving some of the major tourist attractions for your next visit to Turkey :)
Personal background

I grew up in Wisconsin Rapids, Wisconsin.
I love running, hiking, biking, and NOT owning a car.
I have a partner, Ben, and a daughter, Annie—she turned three while I was in Bursa.
Alumni Profiles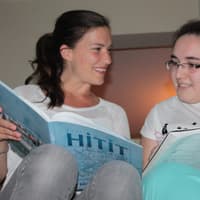 Rebecca Mueller
Turkish 2014
Bursa, Turkey
---
---
Posted Date
April 27, 2015