Preston Semenuk
Preston Semenuk is an alumnus of the 2020 CLS Chinese virtual institute hosted by National Cheng Kung University in Tainan, Taiwan. He's a current senior biology major and pilot select at the United States Air Force Academy.
Getting to Know Preston
I grew up in Richardson, Texas. In high school I was the captain of our school's country western dance team and I went to regionals for track and swim. At the Academy, I serve as a glider instructor pilot, so I teach freshmen and sophomores how to fly planes without engines.
Why Chinese?
I initially wanted to learn Chinese for its business benefits, but since traveling to Taiwan, I have wanted to continue learning it to improve international issues through policy analysis. Language learners not only learn about their target language but also become particularly aware of the news and issues in the countries which speak their target language. Chinese is one of the most relevant languages to learn because of how influential China and Taiwan are and will continue to be.
Future Pursuits
I hope to learn more about software development and policy analysis so I can apply those fields towards creating a platform that can inform decisionmakers in policy issues. I hope to fly the F-16 because of its large career field and wide international usage. I also plan on becoming a member of the Language Enabled Airman Program (LEAP) and serving as a Foreign Area Officer (FAO) to China or Taiwan in the future.
Impacts of the Program
On the CLS Program, my teachers, including my classroom teachers and language partner, were absolutely top-notch. Every day, I felt they wanted the best for me- personally and as a developing Chinese speaker.
While on the program, I learned a lot about the aeronautic industry, national sports competitions, and the military within Taiwan. My language partner was an aerospace major, nationally competitive badminton player, and soon after the program ended, he began his military service.
CLS is a gateway to become involved in something bigger than yourself and it is a program where you will be surrounded by so many intelligent and caring friends and mentors.
Alumni Profiles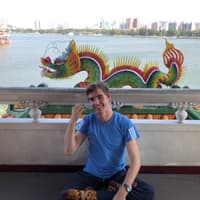 ---
---
Posted Date
May 10, 2021