Paula Zhang
Paula Zhang is an alumna of the 2017 CLS Korean program in Gwangju, South Korea. She recently graduated from New York University with a bachelor's degree in political science. She is currently interning for the National Security Language Initiative for Youth (NSLI-Y) program at American Councils for International Education in Washington, D.C. She is excited continue pursuing her passion for languages as a Fulbright English Teaching Assistant in Uzbekistan next fall. She also hopes to volunteer for the Peace Corps in Armenia and to pursue a master's degree in International Relations in the near future.
First Steps
I grew up in a suburb of Chicago, where I first became interested in languages and the world through my friends (who, like me, came from multilingual, multicultural backgrounds) and books that showed me that the heroes of the world take multiple forms. My parents are immigrants from China and taught me from a young age that anything I wanted, I'd have to work for myself. I think that's why I'm so deeply dedicated to things I care about, such as language acquisition and international education, because I know that my passion is the only tool in my arsenal to make it where I want to go.
Understanding Hierarchical Society
Korea is well-known for its highly hierarchical social system. It was not easy for me to fully understand it until I spent my summer in Gwangju. I realized that a strict hierarchy does not necessarily mean that people will look down upon others. On the contrary, it is this very system that allows for Koreans to be so hospitable and selfless. For example, I once made a joke to my language partner that I can only eat bland food and, concerned for my nutrition on program, the next day she packed me all the bland snacks she could find so that I wouldn't go hungry. Moments like that showed me how much people "higher" in the hierarchy really do look after people "lower" on the hierarchy, and that our voices are heard, too.
Cultural Insight through Language
There are so many intellectual and cultural reasons to study Korean, but I think one of my favorite aspects of the language is that it is both challenging and fun. There are just as many wise, ancient sayings as there are fun slang words. You have proverbs like 산 넘어 산, which basically means that after one challenge comes another. Then you also have funny phrases like 부장님 개그, which literally means 'department head joke' but translates to 'lame joke' because it's so lame but you have to laugh because your superior is telling it. Phrases like these are interesting to learn and give insight into Korean culture.
Passing It On
The beautiful thing about social media is that you are no longer confined to your immediate physical community. I'm thankful to have been able to share my language-learning journeys and State Department exchange experiences with both friends and strangers online, sparking interest in language learning and study abroad. One of the most rewarding aspects of my CLS program experience was external to the program: hearing that people were going to apply to CLS because they had read about my experiences, my highs and lows, and decided it would be worthwhile for them, too.
Alumni Profiles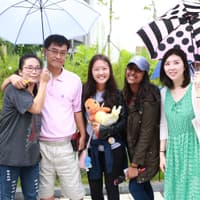 Paula Zhang
Korean 2017
Gwangju, South Korea
---
---
Posted Date
July 23, 2018