Pamela Ortiz
Pamela Ortiz is an alumna of the 2022 CLS Japanese Program hosted virtually by Okayama University in Okayama, Japan. Pamela recently graduated with her Bachelor's of Science degree in Computer Science from Dickinson College. Pamela plans to put her Japanese language skills to action working as a bridge between technology companies in the U.S. and in Japan.
Getting to Know Pamela
Although I was born in New York City, Queens, my parents decided to raise me in Santiago de los Caballeros, Dominican Republic, for the first nine years of my life. On this beautiful island, I developed close relationships with my Caribbean culture, family, traditions, and the language I treasure at home every day. Learning about the strength of family and what it means to honor your people set me up perfectly for my long-awaited transition back to the states. And once I began my first language learning journey as an ESL student, I understood that preserving my native tongue and teaching others about where I came from did not only tell my story but the story of a people. So, my upbringing and language-learning journey has taught me a lot about the importance of communication and how we can record history with it.
Why Japanese?
My interest in Japanese culture, language, and geography sprouted from two critical phases in my life. As a young child living in the Dominican Republic, I often mingled with kids from a small Japanese community in Constanza, La Vega, that expressed pride in their Japanese descendants as Dominican citizens. As a kid, I was always fascinated by stories of Japanese immigrants and as a college student, I couldn't help but feel drawn by Japanese culture as my love for hardware and programming languages grew. Achieving proficiency in Japanese will help me become more competitive in markets looking to hire individuals who can communicate with tech companies abroad. In addition to being able to talk with my old friends from the island, I look forward to making new connections in my field through Japanese.
Japanese Tea Ceremony
One of the most memorable experiences CLS gave me was a traditional Japanese tea ceremony. As a person who often gets caught up in hustle/grind culture, especially in the tech field, it is easy to forget the present. We go about our lives filled with stress and worry about when the next assignment is due, but we rarely take the time to be present and enjoy the moment. For a long time, the traditional Japanese ceremony allowed hosts to welcome guests into their homes to enjoy a cup of tea, a moment of tranquility and silence that, although meticulously structured, gives one a sense of importance and patience. As Okayama University guided us through the steps of this tradition, I learned how important it is for practitioners to pace themselves to find calmness in everyday life.
Dominican-Japanese Ties
One of the things that I taught my host country about was my Dominican tie to the Japanese people. It was always interesting to see how blown away my speaking partners were when I mentioned that there were Japanese people in Dominican Republic whom I grew up with and how they consider themselves Dominican. Through honorifics, we drew parallels since the Spanish has an honorific system for ancestors and older individuals. And in sports, my host community and I fantasized about visiting our countries and watching a baseball game, champion recognizing champion.
Words of Advice
Linguistically speaking, Japanese is a complex language. As a computer scientist, I find interest in things that are rudimentary, technical, new, and creative. When I decided to learn Japanese, I felt drawn by the language's unique design and capacity to foster cultural expression. The fact that the Japanese can master the practice of three writing systems, different levels of honorifics, and the omission of the subject in a sentence, demonstrates Japanese values of respect, hard work, and honesty. I would recommend this language to anyone that wants to learn more about collective culture and art.
If you are considering applying to this program, really think about why you started learning this critical language in the first place. Think about how your language of choice can facilitate, build or even advocate for communication in your field. How is this language not just critical to the world; but also essential to you?
Alumni Profiles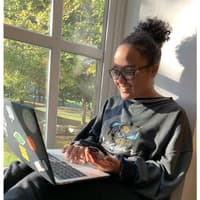 ---
---
Posted Date
April 28, 2023