Olivia Truesdale
Olivia Truesdale is an alumna of the 2020 CLS Korean virtual institute hosted by Chonnam National University in Gwangju, South Korea. She is a senior foreign languages major at Scripps College, studying Korean and Spanish and a Political and Security Affairs Intern at the National Bureau of Asian Research.
Getting to Know Olivia
I grew up in Southeast Minnesota and go to college in Southern California, but have also enjoyed living in Washington, D.C; Seoul, South Korea; and the Atlanta, Georgia area during my college years. I like to read, learn languages, go on walks, and meet new people. During college, I have enjoyed being on the ballroom dance team, working on campus, and being a staff member at the student newspaper as well as the campus international relations journal.

I studied abroad at Yonsei University in Seoul after completing a summer internship at the U.S. Embassy in Seoul in summer 2019 and was excited to visit Busan, Gangneung, and Yeongju while in South Korea. Since then, I have been pursuing my interests in Asia policy through an internship at The National Bureau of Asian Research that I started in summer 2020. I am writing a senior thesis paper in Spanish on the impact of global and local cultural flows on representations of youth experiences in South Korea and Spain using a Korean drama and a Spanish telenovela as the basis for my analysis.
Why Korean?
I first wanted to learn Korean after becoming close friends with a visiting student from Korea who attended my Minnesota middle school. Though I also did Taekwondo, a Korean martial art, for about eight years growing up, my friend was the main factor influencing my decision to learn the language. When she moved back to Korea, I promised her I would meet her there once I learned Korean. My goal of learning the language to reunite with her never faded but changed form as I discovered more about myself, grew in the language, and immersed myself in Korean political history and culture. My enthusiasm for international affairs is one of the driving factors in my continued interest in learning Korean.
I highly recommend learning Korean to anyone who is interested. Between the language itself — how it sounds, how it feels to speak, and how fun it is to master unique grammatical nuances — and the vibrant Korean culture and history there is so much to enjoy in the learning process. It is also easy to engage with Korean media such as dramas and music outside the classroom for additional listening practice that is fun, too!
Future Pursuits
I hope to pursue a career in foreign policy and diplomacy focusing on the Korean Peninsula. To develop the qualifications I need to best serve my goals, I plan to pursue a master's program in Korean studies and potentially security studies.
In my academic and professional career, I hope to use my knowledge of Korean language and culture to cultivate a context-based approach highlighting diverse and nuanced perspectives in order to more fully understand Korean foreign policy issues make well-informed policy recommendations and create insightful analyses.
Impact of the Program
One experience that was particularly valuable to me from the CLS Program was how I was able to strengthen my Korean-language presentation skills. At the beginning of the program, I remember feeling nervous to give a 5-minute presentation, but by the end of the program I was able to confidently present for 15 minutes and have fun while doing so! The presentations helped me get better at talking extemporaneously as well; when I got back to school in the fall, the Korean language resident was shocked by how much my Korean skills had improved over the summer.
Alumni Profiles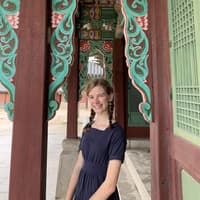 ---
---
Posted Date
May 10, 2021