Olivia Moffett
Olivia Moffett is an alumna of the 2018 CLS Chinese program in Xi'an, China. She's currently a fourth-year student at the University of Virginia where she majors in International Economics and Chinese Language & Literature and participates in student government. Olivia is an incoming Research Specialist at Gartner, plans to attain a graduate degree in international studies toward becoming a career civil servant, and dreams of finding a profession that allows her to use her Mandarin skills full-time.
A Varied Upbringing
I have lived my entire life in Northern Virginia, for which I am very thankful. My parents are divorced and remarried, providing me with a very large, diverse, and supportive family. As for my extracurricular activities, I grew up as a competitive dancer and began competitive cheerleading in college. I also enjoy hiking, drawing, and listening to music. Overall, I love trying new things and collecting new experiences.
The Road to CLS
I started studying Mandarin eight years ago because I was intrigued by Chinese culture and thought Mandarin fluency would help my interest in government. Since then, I have fallen in love with Mandarin and the Chinese culture. Nowadays, I am more inspired than ever to study Mandarin because of its growing importance in international relations.
Spending two months in a country that is incredibly different from your own is a very eye-opening experience. The cultural shock that I experienced made me more patient with and accepting of things that I am not used to. By communicating about my experiences abroad, I hope to foster a relationship between two cultures and combat misunderstandings that arise in our increasingly integrated global community.
Reflections on Learning Mandarin
I always recommend that others learn Mandarin. People are often daunted by it, but it is not quite as complex as people think it is. Once learn how to learn Mandarin, it comes quickly. It is fairly intuitive, and the grammar is not too difficult either. Studying Mandarin is also very rewarding. The characters are lovely, the poetry is beautiful, and the language is very useful considering that it is the most widely-spoken language in the world. There is also a huge need for the language in many fields of work, so it increases speakers' job prospects as well.
Learning from Mistakes
I had so many fun moments on the CLS Program. A particularly funny one was when, towards the end of the program, I went with a friend to the campus grocery store. I had been feeling pretty confident in my language abilities lately. That was until my friend pointed out that, because my tones were wrong, I had just accidentally asked the clerk for a kiss instead of saying, "excuse me" like I had wanted to say. It was hilarious in the moment and showed me that, although I had learned a lot, there is always room for improvement.
---
CLS Alumni Ambassadors are recent CLS participants who take leadership roles as active and positive representatives of the CLS Program by engaging with CLS alumni and representing the program to various audiences. If you would like to get in touch with a CLS Alumni Ambassador, please contact clsalumni@americancouncils.org
Alumni Profiles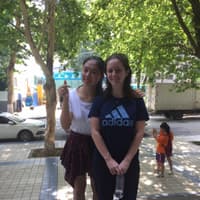 Olivia Moffett
Chinese 2018
Xi'an, China
---
---
Posted Date
May 06, 2019