Noah Lerner
Noah participated in the CLS advanced Chinese program in Guangzhou in the summer of 2014 after his sophomore year at Amherst College. Even after living in China for a year prior, the CLS Program had a great impact on advancing his Chinese language proficiency. After returning to the United States and graduating with a bachelors' degree in Biology and East Asian Studies, he worked in Beijing for several years with the Natural Resources Defense Council (NRDC), an international environmental non-profit through the Princeton-in-Asia Fellowship Program. Noah was one of just a few Americans in the office, and his ability to do his job was dependent on his language skills.
"I landed the job in large-part due to my Chinese language skills, which were cemented through the CLS Program. As a result of my work at NRDC, I became interested in clean energy and climate policy—interests that have helped to define my current professional trajectory."
While in Beijing, Noah co-founded and hosted Environment China, a bilingual Chinese environmental affairs podcast. The podcast aims to build connections among the community of environmental advocates and innovators in Beijing and inspire local and international listeners to take action and be more informed. This podcast continues to give Americans a different perspective about what initiatives are being taken in China to combat global climate change other than what is widely shown in the media.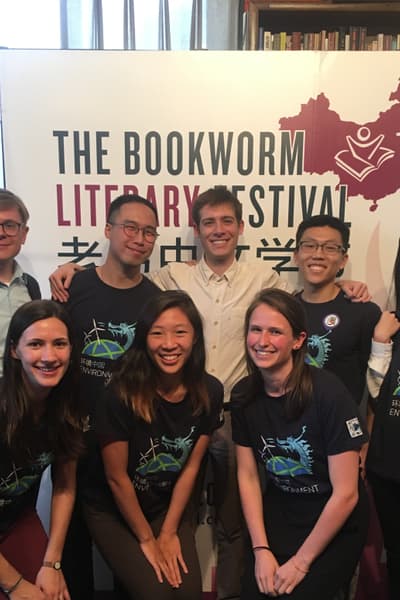 The Environment China podcast team hosting a live recording at the Beijing Bookworm International Literary Festival.
Years after the CLS Program, Noah is still pursuing the same set of interests. He is a joint-degree MBA and Masters' of Environmental Management student at Yale University focusing on how innovative business models can help accelerate the global transition to low-carbon infrastructure. While he does not currently use Chinese in his everyday life, he is intent on finding ways to stay connected. He serves as a Kerry Fellow at Yale, assisting former Secretary John Kerry with his policy initiatives focused on climate change and U.S.-China relations. He also keeps in touch with many of his Chinese colleagues, and recently traveled back to Beijing to celebrate the holidays with his Chinese friends. After finishing his degree, Noah plans to continue to use his language skills in his professional career.
"The rigorous pace of the CLS Program gave me a strong Chinese language foundation, which has opened many doors for me, exposing me both to professional opportunities and meaningful relationships. The immersive experience of being placed in a new city through the CLS Program has also trained me to be more adaptable in other parts of my life."
Alumni Profiles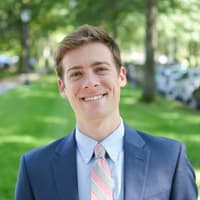 Noah Lerner
Chinese 2014
Guangzhou, China
---
---
Posted Date
January 30, 2020