Nikidrea Rey
Nikidrea Rey is an alumna of the 2019 CLS Russian program in Bishkek, Kyrgyzstan. She is working on a master's degree in Russian, East European and Eurasian Studies at the University of Texas at Austin and holds a bachelor's degree in international relations. Upon graduation spring 2020, Nikidrea plans to pursue a career in government service. She enjoys travel, hiking, reading, writing poetry, and exploring museums.
The Road to Studying Russian
Prior to participating in the CLS Program I studied Spanish for 8 years and spent a year living in South Korea learning the language and engaging in cultural activities. During the summer of 2017, I was fortunate to be extended an internship opportunity at the U.S. embassy in Moscow, Russia, which is when I started to learn Russian.
A Host Family Bond
One of my favorite memories in Kyrgyzstan occurred during a hike with my host family, when we all took on a difficult three-hour trek for the first time. During the three weeks leading up to our excursion, I was nervous about how well I was fitting into my hosts' home. Other students seemed to be much closer to their local families. They took out this quality time to show me not only that they were excited to have me in their home, but they packed games, lunch and everything I could think to make the trip special and successful. I realized that communication barriers also exist in body language and can be misperceived. From this point, we had an amazing summer together.
Dispelling Myths Abroad and at Home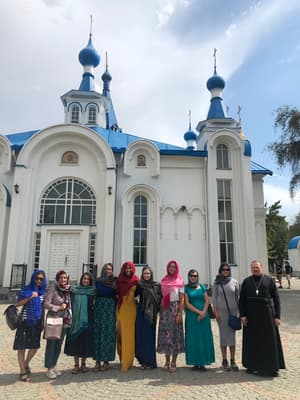 There are many misconceptions about the makeup of the black community and the meaning of black culture in America. In Kyrgyzstan, I was able to share who I am and explain how media does not directly reflect reality.
One of the professors at AUCA was well-known for making exceptionally delicious plov. He sent me the recipe and I was able to prepare it for my family in America. They were really excited to try it and asked to share it with more people. As we sat around eating the dish, questions came pouring in about Kyrgyz lifestyle and culture.
Why Russian?
Russian language is challenging, but beautiful and absolutely worth learning. It's among the world's most widely spoken languages and its popularity spans beyond the borders of the former Soviet Union. Exchanging a few words in Russian both in the U.S. and during travels abroad, I've been able to gain access to experiences and great people. My favorite Russian word is мир ("mir"), because it means both "world" and "peace." I believe that peace is the establishment of a common ground among people and language learning is an essential component in its foundation.
I hope to find employment in government working on capacity building in nations of the former Soviet Union. Having learned Russian, I will be able to communicate more effectively with U.S. government partners.
Alumni Profiles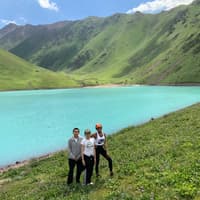 Nikidrea Rey
Russian 2019
Bishkek, Kyrgyzstan
---
---
Posted Date
April 29, 2020