Naimul Chowdhury
Naimul Chowdhury is an alumnus of the 2018 CLS Chinese program in Xi'an, China. He's currently in his first year of a Master of Data Science at the New College of Florida. He's also a Chinese Language Teaching Assistant and has a bachelor's degree in Pure Mathematics. Naimul hopes to apply his knowledge of Mandarin and the language learning process to design software for learning Chinese characters, tones, and grammar. He practices Chinese calligraphy every day.
Sharing a Multicultural American Identity
I was born in Yonkers, New York and raised in an English/Spanish bilingual household. My mother is from Puerto Rico and my father is from Bangladesh. My ethnicity played an important role in my CLS experience, as I often felt obligated to explain that there are many other Americans with similar backgrounds.
As a "non-traditional" student with a GED and a community college education, I had serious doubts that I'd be able to have an opportunity like CLS. I want prospective applicants, especially those from marginalized backgrounds, to know that they shouldn't shy away from the attempt because of self-doubt.
Finding Chinese
Initially, I wanted to study Mandarin to escape a course load composed entirely of math classes. However I quickly fell for the language, culture, and community of dedicated learners at my small college. Learning Chinese was a central part of my undergraduate career and a source of some of my fondest memories.
Mandarin was the first language that really put me out of my element. Learning to replicate tones was difficult and at times extremely frustrating. Memorizing my first 100 characters seemed so daunting. Chinese grammar hasn't been a cake walk either. But throughout the process I made lifelong connections with people across the globe and got a deeper look at a culture exceedingly different from my own. I now use Mandarin nearly every day in school, at work, on social media, and in my personal life. Studying this language has provided me with an endless source of joy, and I hope others feel compelled to do the same!
Career Applications
I'm currently interested in the application of statistical and computational methods to fields related to natural language. In particular, I'm interested in how machine learning and AI can be used to improve second language acquisition for people of all ages.
A Memorable Excursion
A small group of students decided to take a weekend trip to Tianshui, a small city in Gansu province, to visit a millennia-old Buddhist site. Organizing the independent travel was stressful for all of us, and we had to endure long hours of train and bus travel. When we finally arrived at our destination, we hiked for hours, took tons of photos, and ate enough ice cream to stave off the heat.
Before heading back to the hotel for the night, we decided to visit a local hot pot restaurant. As we were minding our broth and gossiping, we had an unexpected visitor come to the table. At first I assumed he had come to practice his English skills. Instead, he asked us where we were from, and what we thought of Tianshui. When we talked about all of the things we enjoyed earlier that day, it brought tears to his eyes. After expressing his disbelief that we had chosen to come to his hometown, he thanked us profusely for visiting and asked if he could take a selfie with us to remember us by. This was definitely the most unforgettable moment of my entire CLS experience.
Spreading Chinese Language Learning
When I returned from CLS, I was offered a teaching assistant position from the Chinese department at NCF. Due to my experience with the language pledge, CLS gave me the unique advantage of being capable of communicating solely in Mandarin, while still being able to modulate my speech to my audience of first year students. As a result, they get tons of listening and speaking practice, and in my opinion, are far more capable than I ever was in my first year of study! They also get to start every one of our classes with a curated list of Mandarin pop songs I learned singing karaoke with our language partners in Xi'an.
---
CLS Alumni Ambassadors are recent CLS participants who take leadership roles as active and positive representatives of the CLS Program by engaging with CLS alumni and representing the program to various audiences. If you would like to get in touch with a CLS Alumni Ambassador, please contact clsalumni@americancouncils.org
Alumni Profiles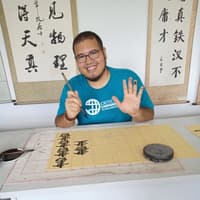 ---
---
Posted Date
May 06, 2019