Mycal Ford
Mycal Ford is an alumnus of the 2015 CLS Chinese program in Xi'an, China. He is the first of his family to graduate from college and pursue a Master's; he is studying global governance, politics, and security at American University's School of International Service. He has been a Fulbright ETA in Taiwan and is currently a Boren Fellow in China and a 100K Strong Foundation Student Ambassador. He once cycled and camped around the entire island of Taiwan in 10 days. When he isn't studying or cycling, he enjoys Latin dancing, hiphop choreography, and staying abreast of international news in Asia.
Why Chinese?
In the fall of 2010, I studied abroad in Chengdu, China. Through my personal interactions, I learned that many Chinese citizens have a limited understanding of Black Americans. My goal since has been to learn Mandarin in order to change that. I wish to promote greater US-China exchange by encouraging more Americans to study away. More specifically, I wish to help drive initiatives that prioritize sending students abroad who may not have the option otherwise, such as low-income or minority students who lack the access to financial support and networks necessary to make study abroad a reality. Ultimately, I hope to serve my country as a United States Foreign Service Officer in East Asia, because it will transform my passion for advocacy and service into material forms of action.
In a word…
Lǎozi once said "qiān lǐ zhī xíng shǐ yǔ zú xià." It means the journey of a thousand miles beings with one step. Learning Mandarin has been, for me, much like a journey of a thousand miles. It has been exhausting, frustrating even, but not the least of which, rewarding. And it all began five years ago, with one small step, one decision to study abroad in China.
On broadening perspectives
My CLS experience solidified my commitment to share with American students how not just race, but also gender, sexuality, education, Chinese level, ability, and class shape the way in which we engage China, the way China engages us, and finally the way we engage one another while in China.
On cultural exchange
During one of the CLS cultural activities, I learned how to do a traditional Chinese fan dance—that is, of course, after I taught my Chinese teacher the "watch me whip, watch me nae nae" dance.
If you had one day in China…
You must absolutely visit the unrestored Great Wall in Beijing. The seemingly endless man-made structure gives cause to reflect on how small we truly are. It almost situates us in both time and space.
On friendship (and facials)
Following a weekend-long trip from the famous Shaolin Monk's temple, I finally returned to my dorm. All I wanted to do was collapse. My Chinese roommate had something else in mind, though: he pulled out a box and suggested that we pamper ourselves with facial treatments. And that's what we did! My favorite part about being in my host country was interacting with my Chinese roommate. Our conversations ranged from American and Chinese culture, food, and hobbies to family, relationships, greatest fears, and wildest dreams. It was a unique opportunity to build a deep, authentic friendship.
Words of wisdom
Living in China was one of the hardest things I have ever done. Even so, it has been incredibly rewarding, partly because of my personal philosophy of saying "yes." Yes to the culture, history, food, people, and most of all, the language. My advice: say yes!
Alumni Profiles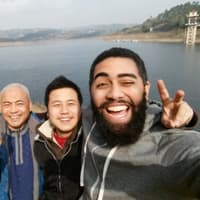 Mycal Ford
Chinese 2015
Xi'an, China
---
---
Posted Date
May 03, 2016