Monique Bowie
Monique Bowie is an alumna of the 2019 CLS Turkish program in Baku, Azerbaijan. She's currently a senior at the University of North Texas, majoring in International Studies with a concentration in Development and Humanitarian Affairs and a minor in French and Sociology. She is planning to attend graduate school to study global human development, followed by a career in foreign service. She loves to dance, travel and have game nights with friends.
Getting to Know Monique
I grew up in Houston, TX with a sister, raised by our single mother. We lived in a low-income area and I had the opportunity to attend a college preparatory school starting in 6th grade. At the University of North Texas, I take part in multiple organizations on campus such as the Spanish Club, Model United Nations, and Non-Profit Leadership. I am also fluent in French and Spanish.
Teaching Others
While browsing a mall in Azerbaijan with my best friend Adelia and my sister Gulay, a group of younger girls walked up to us and spoke to my friends in Azerbaijani. They asked Adelia if they could take a picture with me because they were so fascinated by my beauty and the color of my skin, and told her they weren't sure how to interact with me. I saw this as an opportunity to lead by example for other women of color who may have this type of encounter when visiting Azerbaijan. I let the group of girls know that they could interact with me like any other person; I allowed them to ask me questions about my life and where I came from, and also asked them about their lives and goals. This experience greatly impacted me because I was awarded the opportunity to expand another individual's thinking, and truly set the tone for appropriate interactions with Azerbaijanis and African American women. I still talk to this group of girls on Instagram to this day.
Advice for Future Participants
The reason my CLS experience had such a huge impact on me is because I was able to immerse myself into the community very well. I was on the Azerbaijani news, I was in two Azerbaijani commercials, I had the opportunity to speak at a Baku Youth Center event, and I made lifelong friends who I still talk to on a daily basis. Don't be afraid to go all out. Talk to people even if your language skills aren't the best—they love to see that you are trying. Do the extra work of looking for things to do around the city because I promise it's worth it.
Why Turkish?
I wanted to study Turkish because I fell in love not only with the language, but the culture when I visited the country in 2014. I would definitely recommend that others study Turkish because it is a unique language—when you tell others you have the ability so speak Turkish their eyes light up. I plan to use Turkish in my professional career as I hope to work in Turkish-speaking areas as a Foreign Service Officer. With knowledge of the language, I would be better able to integrate into society.
Alumni Profiles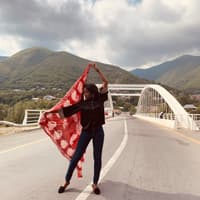 Monique Bowie
Turkish 2019
Baku, Azerbaijan
---
---
Posted Date
April 29, 2020