Mayisha Haque
Mayisha Haque is a two-time alumna of the CLS Korean Program having participated in CLS Korean in 2021 hosted by Pusan National University in Busan, South Korea and again in 2022, hosted by Chonnam National University in Gwangju, South Korea. Mayisha is a senior at Wayne State University double-majoring in Economics and Asian Studies. Mayisha plans to attend law school and ultimately bring her language skills and knowledge of the law to a career as a political diplomacy focused foreign service officer.
Getting to Know Mayisha
I grew up in Detroit, Michigan. I'm one of seven kids so I had a rambunctious childhood. Growing up as an Asian-American was an eye-opening experience; it allowed me to understand different perspectives and people from all walks of life. I also grew up in a bilingual household learning Bengali, and I think it made it easier for me to process different grammatical structures in other foreign languages I've studied. In my free time, I like to do yoga and read.
My biggest passion is foreign languages. My university did not offer Korean, so I decided to study Chinese (Mandarin) and Japanese! I'm on the board of the Chinese Culture Club, where we host outings to different Chinese festivals/celebrations in the area (e.g. Lunar New Year), host a pen pal program with a university in China, and offer language learning opportunities. The most memorable event we've had on campus was meeting Bei Ling, a poet that was a member of the Misty Poets that spoke out against the Cultural Revolution's restrictions on the arts.
Why Korean?
I've had an interest in foreign languages since I was in 3rd grade, but the language of interest changed over time. When I was in middle school, I was looking into study abroad programs and realized I wouldn't be able to afford to participate. I settled on watching study abroad videos and was looking for study abroad programs in Japan. The very first search turned out to be an American high school student in Korea and I was so interested in how similar and different Korean culture was to my own Asian-American upbringing. I also thought the language was interesting and decided to start studying it. I watched other Youtubers in Korea who were living abroad as well, and it was intriguing how different everyday things were in Korea, from taking out the trash to theme parks.
Navigating Korea in Korean
One of the very first mistakes I made was when we were checking into our dorms at Chonnam National University. We had to input our right pointer finger into the machine to be able to enter the dorms. I somehow managed to mix up my left and right…at least the staff found it cute! It's a very simple mistake, but it was important that I remembered which was which: getting places is a lot harder if you don't know your left and right. I ended up asking for directions a lot more frequently and my vocabulary around directions expanded with all the help I got. It made me more confident in going out on my own and exploring, knowing that I wouldn't have to worry about a communication barrier and getting lost.
Words of Advice
Don't be afraid to reach out to your CLS Advisor at your university!! Mine reached out to me first, and all her feedback on my essays are why I think I was able to become a finalist the second time around. If your application feels like it's missing something or isn't conveying the feeling you want it to, meet with your CLS Advisor!
Alumni Profiles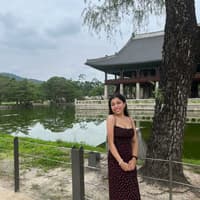 Mayisha Haque
Korean 2022
Gwangju, South Korea
---
---
Posted Date
March 24, 2023