Maya Best
Maya Best is an alumna of the 2020 CLS Bangla virtual institute hosted by the American Institute of Indian Studies in Kolkata, India. She graduated in 2020 from the University of Pittsburgh with a Bachelor of Philosophy in international and area studies, anthropology, and English writing, and a minor in Japanese. She received a Fulbright research fellowship for 2020 to Japan, which has been deferred to September 2021. She currently interns with The Center for Integration of New Americans in New York City, where she works with Bangladeshi immigrant communities in Queens, applying her CLS Bangla language skills.
Getting to Know Maya
I grew up in Pittsburgh, Pennsylvania and was raised in a bicultural family; my father is American, and my mother is from India. During my childhood, my grandmother lived with us and taught me to speak Bangla and engage in Indian cultural events and practices. From my grandmother, a writer, I also gained an interest in writing, which led me to attend a creative and performing arts high school in the writing program and continue my writing studies in college. Much of my extracurricular involvement included writing for magazine and newspaper publications, as well as engaging in cultural and international organizations. I developed a passion for migration studies, and volunteered for Pittsburgh refugee and immigrant organizations, as well as working as a mentor for international students in my university and city. My engagement with different cultures led me to become very interested in language learning.
Why Bangla?
I was raised speaking Bangla at home, but I never gained proficiency in reading and writing. My vocabulary was limited, and I couldn't engage in academic or political conversations. I decided to pursue formal study of the language after applying for a Fulbright research fellowship. My Fulbright research explores the integration of Bengali migrants into Japanese society in Tokyo, and historical and present intercultural relationships between Japanese locals and Bengali migrants. This research is an expansion of my undergraduate thesis for which I conducted fieldwork abroad in Tokyo, interviewing Bengalis primarily in the restaurant industry. At the time, I realized that my language skills were lacking as I struggled to academically discuss my research in Bangla. The CLS Program helped me to become fluent in reading and writing and expand my vocabulary, giving me the confidence to conduct my research when I go on my Fulbright.
Because Bangla is the 5th most spoken language in the world, its speakers are very culturally and religiously diverse. Bengali culture and language are often overshadowed by the more commercialized Hindi language and Bollywood industry in India. However, the Bengal state of India has a rich culture of its own, with a love for music (home to poet and song-writer Rabindranath Tagore), poetry and literature, a renowned film industry, arts, festivals, and distinct food.
Future Pursuits
During my Fulbright research fellowship, I will use Bangla to have formal and complex conversations with research participants during my fieldwork. After returning from Fulbright, I hope to attend graduate school and pursue a degree in international studies or foreign relations, with a focus on immigration policy. In the future, I hope to have a career working with migration issues, either in the nonprofit or government sectors, or in academia.
Memorable Moments on the Program
During CLS, we had the opportunity to have one-on-one weekly tutoring time with teachers, where we could focus on any area or project of our choice. I chose to work on translating a Bangla story that my grandmother had written and published in a memoir collection of short stories. It was very meaningful for me to read my grandmother's writing and learn about her experiences when she lived in Kolkata, India. Translating the story into English gave me the chance to share it with friends and family members who cannot speak Bangla but wish to read her writing.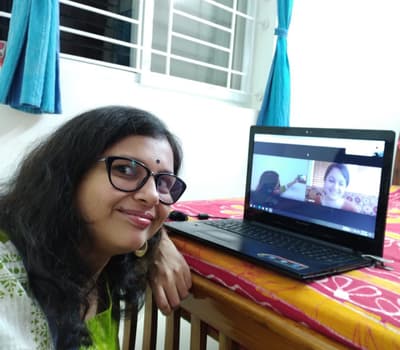 I really enjoyed the cultural activities that were a part of my CLS Program. We had guest speakers, performances, and virtual tours every week so that we could practice speaking with a variety of different people. We focused on themes of public health and sustainable development and, with the COVID-19 pandemic impacting the world, I often discussed how my city was responding to the pandemic amidst the US's political and social unrest occurring during summer 2020 and up until the presidential election. Through these conversations, I discovered many parallels between India and the US in how we coped with the virus through community organizing and collective initiatives. I particularly remember my favorite guest speaker, a famous puppeteer who used puppetry to discuss important topics. He had developed several skits and songs about coronavirus to educate low-income communities with less access to healthcare, about what safety measures to take to be safe during this pandemic.
Alumni Profiles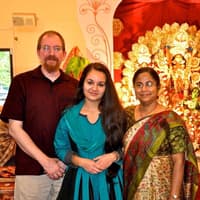 ---
---
Posted Date
May 10, 2021