Marcus Dunn
Marcus Dunn is an alumnus of the 2011 CLS Korean program in Jeonju, South Korea. His summer on the CLS Program followed his final undergraduate year at the Institute of American Indian and Alaska Native Culture, where he studied Fine and Studio Arts. He also holds a master's degree in painting from Savannah College of Art and Design. He's taught in a variety of spaces and participated in artist residencies at The Vermont Studio Center and Ox-Bow School of Art. Marcus is currently an art instructor at Richmond Community College in North Carolina, where he teaches painting, art appreciation, and drawing.
"Just having conversations with people and being open with them about what we did culturally where I'm from; I've always wanted to share that with people."
Nine years after completing the CLS Program in South Korea, Marcus is still passionate about language and the importance of intercultural exchange. As an enrolled member of the Tuscarora Nation of North Carolina and the Pee Dee Tribe of South Carolina, Marcus valued the opportunity to serve as a citizen diplomat to his host community.
Marcus was able to discuss his unique experience as an American both with his host community and other Americans in his cohort. While learning about Korean musical and dance traditions, he had the opportunity to share some traditional songs particular to the Tuscarora people, which he grew up performing with his family in a community dance troupe, touring the Southeastern United States to perform at festivals. He enjoyed sharing this aspect of his culture not only with Koreans, but also with other Americans who were not familiar with it. He remembers it as being very rewarding, "just having conversations with people and being open with them about what we did culturally where I'm from; I've always wanted to share that with people."
In turn, Marcus wanted to be sure to be respectful of his surroundings and the community in which he was a guest. Being a responsible citizen diplomat while abroad was very important to Marcus, and he felt that this approach would open him up to learning about his host culture while enjoying himself along the way. He particularly remembers learning about and seeing pansori performances, a Korean genre of traditional musical storytelling. In doing so, he had the opportunity to learn some pansori drumming, while being cognizant of the context in which the musical form existed. "I wanted to make sure that it was okay to explore that, that how we presented it was accurate and respectful, understanding that I was an outsider."
Marcus feels it is important for Americans to learn critical languages, not just for cultural exchange that happens abroad, but also to support communities in the United States. Considering communities near him in the United States where there are significant number of Korean immigrants, he says, "having people in those surrounding communities who have learned the language opens them up to welcoming immigrants who may feel isolated." He emphasizes that, "putting yourself in someone else's shoes" helps you to be more empathic and understanding of others, something that he feels is particularly important in this moment.
Since the CLS Program, Marcus has applied his passion for languages to Creek and Tuscarora. "These languages are important for ceremonial purposes and, even if you don't speak them every day, so many native languages have died out even in the past 20 years," says Marcus, who wants to help to keep these languages alive. Marcus also says that participating in the CLS Program, "ignited his desire" to explore the world and see how others live. It has prompted him to apply for other selective and intensive programs, like artists' residencies, and to continually be open to new experiences and places.
Alumni Profiles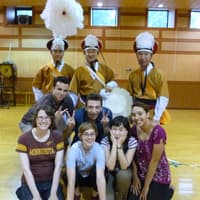 Marcus Dunn
Korean 2011
Jeonju
---
---
Posted Date
November 24, 2020