Mahli Knutson
Mahli Knutson is an alumna of the 2017 CLS Chinese program in Dalian, China and the 2018 CLS Japanese program in Hikone, Japan. She's currently a junior at Middlebury College, where she studies International Politics and Economics and prepares to lead the Japanese Club during her senior year. Her future plans include working in immigration policy and serving the Department of State as a consular officer. She reads science fiction novels, collects spoons, and has been keeping a journal since she was seven years old.
International Perspectives from Home
I was born in southern China and grew up near rural Middlebury, Vermont. Though I was excited to go away for college and did not expect to stay in-state, learning and volunteering in my home state has kept me grounded in my community. I am invested in equalizing access to education through language services. At Middlebury, I co-lead a Refugee Outreach Club to assist in English Language Learning (ELL) classrooms. While abroad in Japan and the U.K., I volunteered teaching English classes to elementary students and overseas workers.
Discovering a Love for Japanese
Guided by a desire to learn about many languages and cultures, I started studying Japanese in freshman year of college after meeting a couple of professors at an academic introductions fair. The Sensei were very friendly, and I soon found myself part of a welcoming and dedicated campus community. I was amazed by my college's extensive programming including lunchtime language tables and cooking, music and movie events at the "J-House" (where it is a rule to only speak Japanese).
One J-House cultural event about sumo wrestling—previously unfamiliar to me—pleasantly surprised me. I learned about sumo's national popularity, honor, and the regimented practices, eating, and dedication training requires. Genuinely curious, I asked who washes wrestlers' mawashi, or loincloth. Lower-ranked trainees within the same training studio do. The answer to my question revealed Japan's social hierarchies—also apparent, I found, in relationships within student bodies, professional circles, and linguistic levels of formality. Since that time, I have been curious to experience these social hierarchies first-hand (minus the loincloths!).
Cities are exciting, but I enjoyed studying in a smaller city in Kansai. I loved feeling close to nature, from visits to Lake Biwa to the daily commute past the rice fields near our school. Kansai dialect is also fun to learn and made me feel slightly rooted to a concrete place and local culture in this globalized environment.
Getting Lost and Finding Her Way
I grew up in a small neighborhood and used to think I had a horrible sense of direction, sticking to Google Maps and street signs amid the daunting road networks of big cities. Hikone was my first trip to Japan, when I found out that there are many unmarked streets. The CLS program provided a flip phone which was quite useful, but not so much for navigating. By landmarks and habit, then, I was slowly building confidence getting around the city. It was rainy season, and one stormy night I got lost on the way home from school. I spent almost an hour biking up and down a river I recognized, trying desperately to remember the route in the dark. I finally found a white road sign that read "30," with a red circle around it. When I called my host family, I described my location, along the river and on Road 30. In the end my host sister directed me home from the river, but I found out later that the street was indeed nameless—and the road sign turned out to be a speed limit marker! I finally learned the route the hard way, with my host family's support.
A Nuanced View
When others ask how my first time to Japan was, the three aspects I most readily describe are the people I met, the delicious food, and anime-like scenery—but study in Japan also granted me exposure to music, architecture, religion, technology, colloquialisms, and much more. Coming from an adopted Chinese American background, I knew I must approach Japan with fresh eyes. Putting aside uniform notions of "East Asia" and interacting with the culture and people in their own context, I strive toward a "truer" image of Japan, and hope to advocate this kind of exchange in my Vermont community and beyond.
---
CLS Alumni Ambassadors are recent CLS participants who take leadership roles as active and positive representatives of the CLS Program by engaging with CLS alumni and representing the program to various audiences. If you would like to get in touch with a CLS Alumni Ambassador, please contact clsalumni@americancouncils.org
Alumni Profiles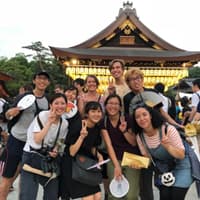 ---
---
Posted Date
May 06, 2019