Loren Macon
Loren Macon is an alumna of the CLS Korean Program hosted by Pusan National University in Busan, South Korea. She recently graduated from the University of Missouri-Columbia with a B.A. in Anthropology with a double minor in Studio Art and Korean Studies. She currently works at her alma mater as a Social Media Coordinator.
Getting to Know Loren
Most of my life has been surrounded by visual and performing arts. When I am not working, I am often sewing, drawing, crocheting, running my small business, or attempting home decor DIYs. I also love dancing and am currently a member of a K-Pop dance cover group. I was born and raised in Missouri. I grew up in a rural area of Missouri that lacked diversity. I struggled a lot with my identity as a Black female. I often looked to learning about other cultures to gain diverse perspectives. I discovered my interest in the Korean language and culture during my senior year of high school. I was scheduled to participated in a study abroad program in Seoul, South Korea in the spring of 2020. I ultimately had to come home after being there for only two weeks due to the pandemic. While my time was cut short, it only made me work harder to learn more about the culture and the language for the next time went back. I was lucky to have the opportunity through CLS to spend a summer in Busan.
Why Korean?
Spanish was the only language in high school I was told to prioritize. Yet, I always had a desire to learn an Asian language, knowing it would benefit me in the future. An interest in Korea's traditional clothing and art is what led my interest in the Korean language.
I soon learned that one of my friends was also into South Korean popular culture. She showed me her favorite musicians and dramas. I suggested we start learning together. Before I began self-study, I investigated the language's origins to understand its cultural and historical importance. I discovered some of my own values within the language such as humility, community, and respect —these aspects made me passionate about the language and culture. As a freshman in college I wasn't able to take any Korean-related courses as they were not offered at my university. Learning Korean fell to the back burner. It wasn't until my sophomore year that I was able to take my first official Korean class.
In the fall of 2020, I transferred to the University of Missouri-Columbia and started taking more Korean courses. I ended up applying to the CLS Program to have an opportunity to study abroad and continue my Korean language and culture studies.
Future Goals
Museums have been significant to me throughout my entire life. After getting into Korean culture, I noticed a lack of Korean art at the two major art museums in Missouri. With my love of art and my anthropology background, I made it my goal to become a museum curator of East Asian Art. I hope to broaden the collections and knowledge of Korean art history in the Midwest. I will be starting my M.A. program in the fall of this year studying Art History with an emphasis on East Asian Art. Knowing Korean at an advanced level will allow me to communicate and collaborate with Korean historians, artists, and curators in the future. After reaching an advanced level of Korean, I would like to study Mandarin Chinese and Japanese.
Becoming A More Confident Speaker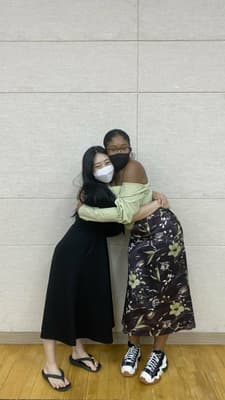 At the start of our program, we were given our language levels. I was surprised and discouraged when I found out I was in Level 1. I had been studying Korean for almost five years (on and off) and thought I would at least be placed in Level 2. On the first day of classes, my teacher allowed me to retake my speaking test. Due to my social anxiety, speaking Korean is very challenging for me (especially when speaking to natives). I have a hard time forming sentences on the spot, even though I have the knowledge to do so. My teacher told me that while I have a good grasp of Korean in other areas continuing in Level 1 would help me to become more confident in speaking. It became my goal throughout the summer to improve heavily on my speaking.
During our one-on-ones, we would either go over questions I had on grammar or just talk! I struggled often with the language pact, but my cohort and language partner were supportive throughout our program.
At the end of the program, one person from each level was chosen to give a speech at our closing ceremony. I was chosen to give the speech for Level 1. At first, I was extremely anxious about giving the speech and wanted to back out. I struggle with public speaking in English, so in Korean was even scarier. However, after giving the speech and hearing everyone laugh at the jokes I made in my speech, I realized I had reached the goal I had set for myself. My family came to South Korea at the end of the program, and I was able to communicate and translate for them confidently for the duration of our trip. It was even more evident to me when I took my final OPI and I moved up two levels!
Being a Black American in South Korea
One of my goals was to debunk the Black American stereotype in South Korea that is often presented through film and music. I wanted to show that Black Americans are unique in their backgrounds. While there were some tough moments, I was able to have great conversations with my language partner about the Black experience in America and South Korea. We also talked about current events surrounding gender, sexuality, and race. While I struggled to discuss these topics in Korean and had to use a translator sometimes, I could tell she was very interested in learning more.
Why Others Should Learn Korean
I am a big believer in learning other languages. Learning another language is a gateway to understanding other cultures. Korean should be in the top 5 (at least) of everyone's list of languages to learn. These days, whether you are interested in politics or the arts and entertainment, Korean is a great language to know for any career field. As I continue studying Korean, I am inspired by new phrases/ words often. Currently, my favorite phrase is " 원숭이도 나무에서 떨어진다." It literally translates to "Even a monkey can fall from a tree." Figuratively, it means that even experts make mistakes, and no one is perfect. I find a lot of quirky phrases that make expressing things more fun in Korean than in English.
Words of Advice
I applied to CLS twice, and both times were for Korean. The first time I didn't make it past the first round. I was hesitant to apply the second time as I was in my senior year and was still unsure if it was the best decision for me. I ultimately applied again and ended up receiving the scholarship! After I got in, I went back and compared my essays from my two applications. I realized how the reviewers didn't have a good idea of who I was in my first statement of purpose. I was all over the place with my interest and my background. But in the second, I was sure of myself. I was able to clearly articulate my academic/career interest and why Korean and CLS were important for me and my goals. Therefore, my advice is just to be yourself. It is okay if you don't know exactly what your future career goals are just yet. Just be certain why learning your target language is important to you. Don't write your essays for the reviewers, write them for you.
Alumni Profiles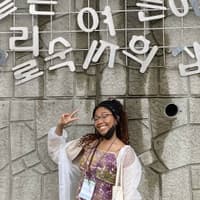 Loren Macon
Korean 2022
Busan, South Korea
---
---
Posted Date
March 27, 2023