Liz Thomas
Elizabeth (Liz) Thomas is an alumna of both the 2013 and 2014 CLS Bangla programs in Dhaka, Bangladesh. She is a Foreign Service kid, and grew up in Sri Lanka, India, Morocco, and France before moving back to the United States for college; she has worked in India, Pakistan, and Bangladesh, as well as Atlanta, Georgia and Bethesda, Maryland. She currently lives in Washington, D.C., where she works as a Senior Research Data Analyst at Johns Hopkins Bloomberg School of Public Health. She likes street food, being outside, code-switching, and a good ethnography.
Why Bangla?
I started my Master's program knowing that I wanted to go to Bangladesh for my field research. I planned to stay in Bangladesh for at least six months, and my proposed research methods required a grasp of the local language. Studying Bangla with CLS made it possible for me to move to Sylhet, Bangladesh for my Master's research, and to really live there – to be granted access to what real life in Sylhet was like and to become a part of it. After my second summer with CLS I'd reached an advanced level of speaking – something that my current employer values highly!
Bangla in the USA
I currently work in a research position at Johns Hopkins Bloomberg School of Public Health in which I address water and sanitation needs in communities in Bangladesh, Liberia, and North and South Dakota. I use Bangla on a daily basis both in my personal life and in my work; one of my responsibilities is to help with the development of project materials, and then ensure that the materials are translated properly from English to Bangla. Identifying appropriate local terminology surrounding a health issue is a research interest of mine, and something I hope to pursue during my doctoral studies this fall (also at Johns Hopkins Bloomberg School of Public Health).
Learning more than a language
Before my first trip to Bangladesh, I admit to being quite naïve about the history of Bangladesh's independence. Although I was familiar with Partition and knew that language had played a role, I did not understand the extent of the pride that people in Bangladesh feel toward that history, and toward their language. I'm not sure it's something you can appreciate fully unless you spend time in Bangladesh.
On inclusion
During my second summer in Dhaka, I spent Eid ul-Fitr with my language partner and her family. We'd spent the last Eid together, too, and everyone felt like this Eid wasn't living up to our expectations. Everyone was a little down, so we rallied and my three 'sisters' and I piled into a rickshaw and went to meet up with some cousins for snacks. Someone started playing a game, which I recognized as a variation of charades. It wasn't until later that I realized I hadn't had any trouble playing the game. And no one had even tried to explain it to me. I was just included, and expected to play. We spent the rest of the night wandering around, chatting, and snacking at various street vendor stalls. We definitely salvaged the day!
The ride of a lifetime
I think if I have to choose my favorite thing from Bangladesh, I would say the rickshaw rides. Rickshaw rides always mean conversation, new sights, and needing to stay on your toes (sometimes literally). If you get the chance, try to pilot a rickshaw. It gives you immediate respect for all the rickshaw-wallahs of the world. It's hard!
In a word…
I know there are a lot of words for 'love' out there, but to me the Bangla term is the absolute best: ভালোবাসা(halobasha). There are two words within that word: 'good' and 'home.' I think because I moved a lot as a kid, I associate love with the feeling of being at home - wherever that is! I like that there's a word in Bangla that fits that.
Words of wisdom
Figure out what you want to get out of the program, or out of your current skill level, and focus on that. It's easy to get caught up in what everyone else is doing and lose track of your own goals. And, when in doubt, get out on the street and practice. Take advantage of your weekends off. Travel!
Alumni Profiles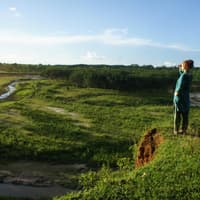 ---
---
Posted Date
May 03, 2016