Libby Pollak
Libby Pollak is an alumna of the 2022 CLS Turkish Program hosted by TÖMER Institute in Ankara, Turkey. Libby is an undergraduate student at CUNY LaGuardia Community College where she majors in music. Libby interns for the NYS courts as a translator and interpreter and hopes to use her Turkish language skills in this role in the future.
Getting to Know Libby
I was raised in a Hasidic neighborhood in Williamsburg, Brooklyn. It is a conservative religious community and most people do not go to college. Travel around the world is also limited due to many restrictions related to diet including Kosher laws around food and Shabbat observance which limits the use of electricity from Friday sunset through Saturday evening. Women in general are discouraged from being too visible or outspoken. I've found a way to retain cultural aspects of the traditions—great food, good humor, hospitality— while not adhering to the strict religion. Part of the insularity is also upheld through language. In my home we were only allowed to speak Yiddish, and Biblical Hebrew because they were considered holy for prayers or Torah learning.
Having learned English as a second language, I was aware of the culture gaps that it had caused even with my fellow native New Yorkers, but also of the possibility of becoming fluent if enough hard work was applied. I found the process of learning English very exciting, and composed poetry as soon as I knew enough to get by. This led me to wonder how it would be to add additional languages to my repertoire and discover new interesting things in the world.
Why Turkish?
I was fascinated with the language structure and culture during a previous visit to Istanbul in 2018. My favorite Turkish phrase is, "the sun will reveal itself through the mud" (güneş kendini çamurun içinden gösterecek). In other words, the truth will always come out.
An Unexpected Act of Kindness
I was on a trip to Cappadocia which coincided on the weekend of my birthday. I ended up getting an infection on my foot and the director suggested I stay behind and not hike, which seemed like a plausible suggestion, but I was really bummed about not being able to explore the amazing caves. The bus driver suddenly appeared with a first aid kit and offered to help me wrap gauze around my foot so I could still participate. He said his daughter recently had something similar. It was an act of kindness that meant a lot to me. The moral of the story is that help often comes from unexpected sources. He could have just enjoyed his break but he offered his time and assistance so that I could enjoy my trip to the fullest.
Up for a Challenge
Turkish is very different than Indo-European languages. The vocabulary is foreign if you're not familiar with Turkic languages or Arabic, and the sentences are structured very differently. The grammar is a lot to process and an adjustment. I would recommend this to someone who is very dedicated and is willing to invest many years in the pursuit of this language. It is very rewarding when you start to grasp the concepts and find yourself conversing with others without having to rely on English, but it takes a lot of work, more than the standard Germanic, or Latin/ Romance languages, for example.
Sharing Turkish Culture with Fellow New Yorkers
In New York City, despite the fact that it is so diverse and we are home to many immigrant communities, it's relatively rare to find Turkish speakers. When I mentioned to my friends, classmates or colleagues in NYC that I spent a summer in Turkey learning Turkish, people are very intrigued and want to hear more about my experience. I like to show them my photos, videos, and locations on the map of places I've visited. If someone is musically inclined, I'll send them my favorite music. If they are foodies, I'll send them Instagram accounts with tantalizing recipes.
Words of Advice
Have a strong passion for the language you're pursuing, and the culture related to the people who speak it. Do research on the country where the program takes place. Try to visit in person, if possible, but at the very least, be informed about the various regions. Listen to their music, watch their shows with subtitles, go to a restaurant that serves their food—understandably easier in large cosmopolitan cities.
Alumni Profiles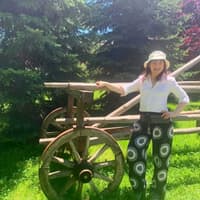 ---
---
Posted Date
April 27, 2023