Leona Amosah
Leona Amosah is a heritage speaker of Russian and went on to study the language and Russian literature at the University of North Carolina at Chapel Hill. Russian literature classes enabled them to connect more deeply with the history and culture of Russia, and helped prepare Leona for their first trip to Russia with the CLS Program in 2016.
Despite starting at an advanced level after taking university-level Russian courses and growing up speaking the language, Leona's language skills improved significantly on the CLS Program, allowing them to use these enhanced language skills professionally.
Leona worked for the Atlantic Council's Eurasia Center, using their Russian skills daily in doing translation, monitoring Russian news media, and drafting tweets in Russian. They even had the opportunity to plan a full-day conference in Kiev, Ukraine, where they engaged with local staff primarily in Russian. Their language skills were crucial to the success of the conference.
Leona now works as the Advocacy Content Coordinator for the American Society for the Prevention of Cruelty to Animals (ASPCA). They are also involved in a few Russian-speaking clubs around the D.C. area and babysit for a Russian-speaking family. Additionally, they are fond of reading stories by their favorite Russian writers like Anton Chekhov and Aleksandr Pushkin.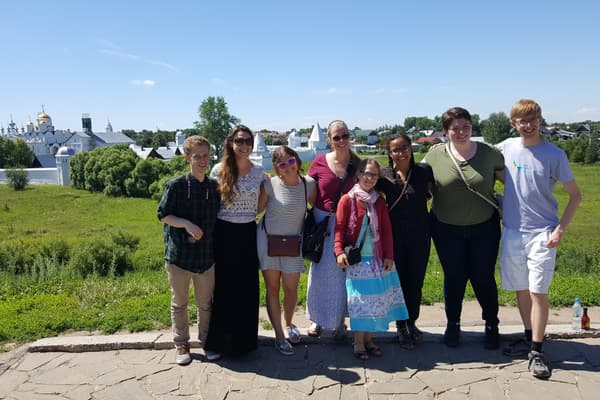 "This is a photo taken during our group field trip to Suzdal, one of the oldest Russian towns situated northeast of Moscow. The city boasts beautiful Russian architecture, especially stunning churches and cathedrals. My Russian language professor in the blue dress, is standing to my left. She offered great insight into the history and culture of Suzdal."
Leona learned how to navigate spaces as a multiracial person in Russia and engaged in cultural exchange with people in their host community. They were able to use cultural knowledge as a heritage speaker to talk about their rich cultural background.
"Simply by existing in predominantly white spaces and learning Russian, I have been able to break down stereotypes about Russian language-learners and speakers."
Leona cherishes their experience in Russia especially during times when Russian influence is a frequent topic in the media. They try to share their positive experiences in Russia with people at home in order to help break down stereotypes and challenge people to think about Russia in a different way.
Alumni Profiles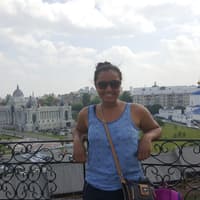 ---
---
Posted Date
May 18, 2020