Lauren Sobran
Lauren Sobran is an alumna of the CLS Persian Program hosted virtually by Dushanbe Language Center in Dushanbe, Tajikistan. Lauren is committed to lifelong language learning an interest first sparked by French which has expanded to include Chinese and her CLS target language, Persian. Lauren is majoring in Peace and Conflict Studies at Colgate University. She hopes to put her language and diplomacy skills into action in a career as a U.S. Department of State Foreign Service Officer.
Getting to Know Lauren
I grew up in the suburbs of Boston where my middle school's French program sparked my lifelong fervor for language learning. This interest was furthered by my participation in a Chinese exchange program during my junior year of high school. The following year, I became an English tutor for Chinese and Haitian immigrants at my local public library. My exposure to cultural exchange motivated me to pursue similar opportunities for cultural exchange throughout my college career. Serving as a representative for Colgate University at National Model United Nations was one of the many culturally enriching endeavors that prepared me to be an effective citizen diplomat during my CLS experience.
Why Persian?
One key factor behind my aspiration to learn Persian was the opportunity to learn a new script. I loved the process of learning Chinese characters and wanted to continue expanding my knowledge of different alphabets. In addition, my aspiration to work in diplomacy motivated me to learn a Southwest Asian language to help to forge stronger cultural and political understanding between countries in that region.
A Favorite Memory
My favorite memory from my CLS experience was during a cultural class on traditional Tajik dance. Our professor planned to screen share a video but became frustrated with the audio buffering that she turned it off and did the demonstration herself. Her husband quickly joined in and by the end of class, we were all out of our seats and dancing along. It was a moment of unity that transcended the linguistic barriers my peers and I had been struggling with as beginner students in an immersive program.
One phrase that I found especially interesting was "قدمتون روی چشمام" which translates to "your footsteps on my eyes." This derives from Iranian culture's view of eyes as the most sensitive part of the body and is used to convey respect.
Bringing Cultural Insights Back Home
As a liberal arts student, I often bring my CLS experience to classroom discussions and collaborative assignments. I am always eager to share my first-hand experience with Tajik cultural sights and historical events in academic settings.
Future Goals
After completing my undergraduate degree, I plan to pursue a Foreign Service Officer career track where I would look forward to joining the consular cone at the Department of State. I am eager to build specializations in MENA, Central Asia, and democratization efforts abroad with the knowledge I gain in my post-grad endeavors.
Words of Advice
Go for it! The opportunity to learn a critical language is incredibly rare and equally rewarding.
Alumni Profiles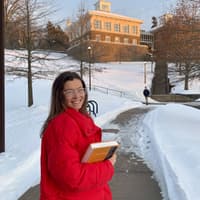 ---
---
Posted Date
June 27, 2022