Kyla Harrison
Kyla Harrison is an alumna of the 2017 CLS Arabic program in Ibri, Oman. She recently graduated from the University of Texas at Austin, double majoring in the Plan II Honors Program and Middle Eastern languages and cultures. She is involved with UT Austin's outreach for the Plan II Honors Program and works as a language partner with the Arabic Flagship Program. Kyla plans to take a gap year after completing her bachelor's degree before applying for graduate school. She is interested in pursuing work related to human rights, international relations, education, and sustainability.
Developing Cultural Competency
I took up Arabic as a freshman because I needed to fulfill a language credit. By my second semester studying Arabic, however, I decided to view the requirement as an opportunity. I learned that UT Austin has one of the best Arabic programs in the country, so I set out to take advantage of the resources at my school.
Learning Arabic has really helped me develop cultural competency and I have found that it is a great way to build trust with people. When I start speaking Arabic with native speakers, the initial reaction is usually shock, followed by gratitude. I believe by speaking Arabic, I'm demonstrating my genuine interest and commitment to learning about the Middle East. I plan on living and working in the Middle East in the future, and I feel that my Arabic skills will continue to guide me and enhance my experiences abroad.
Experiencing Ramadan
While in Oman, our group had the privilege of experiencing the holy month of Ramadan. While it was initially difficult to adapt, I'm proud of our commitment to respect the local customs. During Ramadan, eating and drinking in public is illegal in Oman; although we were aware of this, we did not realize how difficult it would be to find food during the day. On a weekend trip to Muscat, we spent hours searching for food in the scorching sun. Eventually, we found a grocery store that was open and bought some food. We decided to eat in the bathroom to avoid being seen eating in public. When we emerged from the stalls, we received very strange looks. After this experience, I began to understand the challenge of fasting all day and gained newfound respect for those observing the fast.
Breaking Stereotypes
After returning home, I felt privileged to have lived in a country that many Americans have not visited or cannot locate on a map. In the South, many people view the region through negative stereotypes, so I could not wait to tell my friends, family, and strangers about the tranquil and geographically diverse gem in the Arabian Peninsula. I felt it was important to tell people that the Middle East is not all sand, nor is it a region completely characterized by turmoil and corruption.
Why Arabic?
There are approximately 420 million Arabic speakers worldwide and as globalization increases, so does the necessity for Arabic speakers in the West. For those not familiar with Arabic, it is a very difficult language and can seem impossible to learn. Nevertheless, I find that it is actually a very logical and structured language. I appreciate the passion that Arabic speakers have for preserving their language, and I see beauty in its antiquity.
Alumni Profiles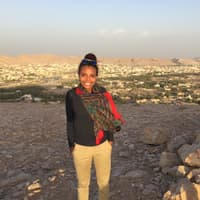 Kyla Harrison
Arabic 2017
Ibri, Oman
---
---
Posted Date
July 23, 2018